Our Christmas Contest continues—check it out here.
SHORT CRIME STORIES FOR THE SEASON
mostly by Rob Lopresti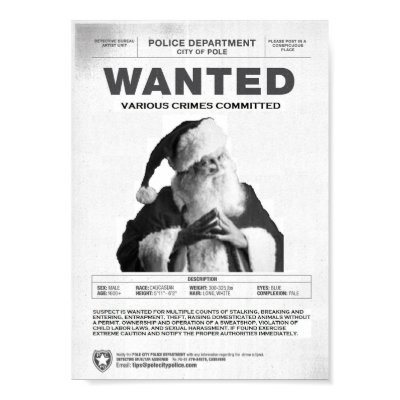 After the Christmas Party
Your drinking was out of proportion;
Your dance was a crazy contortion.
Attached are some pix
Of your zaniest tricks.
We wish you a merry extortion!
Woe Woe Woe
The fat man who dresses in red
Admits, "I've got poundage to shed.
But kids on my route
Don't give carrots or fruit.
Those cookies are making me dead."
Don't Make Me Get Deuteronomic On You1
A synagogue near Bora Bora
Found somebody swiped their menorah.
His prints in hot wax
Made quite obvious tracks
And his punishment came from the Torah.
Ungifted
Said a grumpy department store Santa,
"I wish I was sting ray or manta.
Each brat who gets whiny
I'd zap on the heiny."
His wish never did find a granta.
Bagged
There once was a Christimastime shopper
Whose handwork was very improper.
Her fingers did pry
In each purse passing by.
One day she was cuffed by a copper.
Bonus Poem One: Christmas in Chicago
(by Our John, the Mississippi Mudcat)
Christmas morning Capone's cousin Bess,
Eating brownies, announced: "I confess —
These were under his tree
But he gave them to me
'Cause he thinks they're from someone named Ness."
Bonus Poem Two: Here's My Biogr—What Was I Saying?
(by Our Short-Attention-Spanned Inspector, Whose Name I Forget)
Scientists, some say, are mad.
Computer geeks, nuts— just a tad.
With writers it's worse
When they do it in verse
And one is both wicked and bADD.
Bonus Poem Three: A Hint Concerning the Contest
(by Our Obsessive Editor-in-Chief)
An editor, name of James Warren,
Regarded our contest as foreign:
"Though we've gone to the dogs
Comme sophistiqué 2 Frogs,
I have to admit it ain't borin'."
Notes: