Our Christmas Contest continues—check it out here.
A LETTER FROM SANTA CLAUS
by Rob Lopresti
Dearest Friend;
It is my joy to write to you about a business opportunity that gives you a chance to make money and at the same time be of great service to the youngsters of the earth.
I am the director of a non-profit organization which has, for many years, made it our mission to provide toys and other gifts to young persons at Christmas time. It may perhaps have happened that you, when younger, found some of our presents under your tree. I assure you that we have no purpose other than to provide joy to the tiny tots who have come to depend on us.
I regret that a recent change in U.S. Customs Statutes is interfering with our standard system of providing gifts on Christmas Eve. As you may know, we are pioneers in "green" transportation systems, having used reindeer as our primary energy system for centuries. U.S. Customs has decreed that bringing foreign creatures in this way is too dangerous for your nation's biosecurity. In order to carry out our work we must find an American citizen who agrees to sponsor us by sending in the necessary forms to permit our reindeer to cross into American space.
We have spent many hours searching for the perfect sponsor. Friends whom you and I have in common have assured me that you are trustworthy, honest, and in short a person who is nice, not naughty. I am praying that you can agree to participate in this arrangement.
As you may understand, money is not a concern for our organization. However, under the statutes of U.S. Customs, the fees must be paid from an American bank account. I am hoping that you agree to give the appearance that the money comes from your account. Of course, we can provide the funds and, in order to to thank you for your kindness we intend to add a token of $30,000,000 (US $30M) to your account. We suggest that you use this money to bring joy to the youngsters of your acquaintance, but of course, there are no strings attached, and we trust your judgment.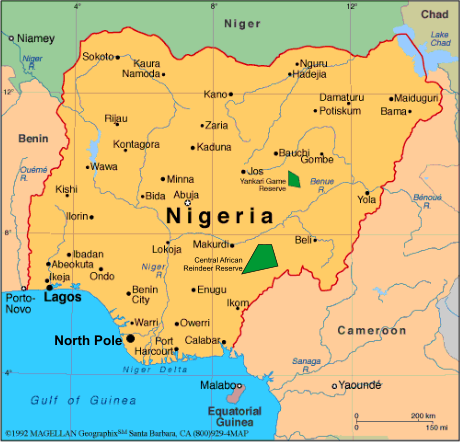 If you agree to assist us, we need you to send your BANK NAME, ACCOUNT NUMBER, and any NECESSARY PIN NUMBERS for entering and withdrawing funds to my assistant Virginia at her e-account in Nigeria. Rest assured that we can then take care of the paperwork for the Customs permit and you won't have to worry about the money in your account, ever again.
I trust you to keep this proposition secret. Many tiny tots are counting on you.
With gratitude and good wishes of the season I remain,
Father Christmas (S.C.)