GETTING A CLUE
by James Lincoln Warren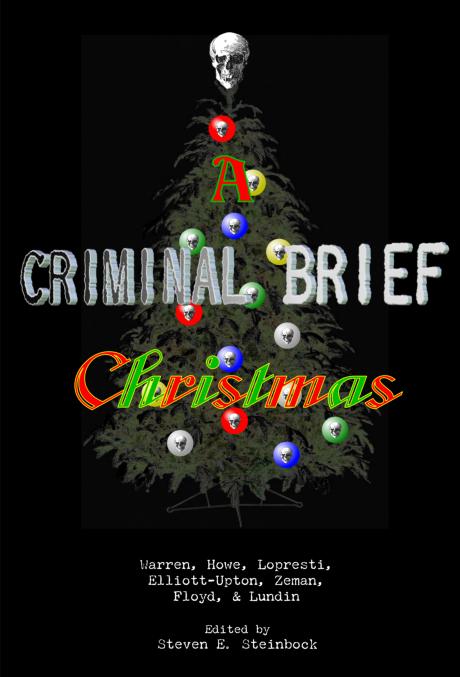 Last week, we ran a series of columns, each with a hidden clue that gives a Christmas message. The opportunity to enter the contest actually started yesterday when the Entry Form was posted on the website. The prizes, as we indicated, are copies of a slender volume of short stories specifically collected for the purpose, the cover of which you can see above. Several of us have already ordered and received personal copies for ourselves, and I have to say that the books look terrific. Barry Zeman, Angela's husband—a bibliophile and regular CB contributor himself—predicts that they they will have collector value in the future. None of us are being paid for our contributions to the anthology, and we're sharing the cost of the prizes.
We've received some correspondence from regular visitors indicating that they have no idea where to begin, that the puzzle is too difficult. On Saturday, Rob wrote to all of us suggesting that we all include additional hints this week in our columns to nudge our readers in the right direction toward a solution — but first of all, giving you some hints of what the nature of the puzzle is, and what it is you should be looking for. Rob included a list of hints for solving the puzzle that he suggested we dole out during the week. And that's what we're going to do.
But first: you should know that last week's columns each featured a version of the same puzzle. Although the answer could theoretically be found in any one of them, it's easier if you can figure out what they all have in common.
Hiding clues is a mystery writer's stock in trade. In a classic "fair play" mystery, the clues should be there, but they should be presented in such a way as to hide their significance. That way, the solution to the mystery should come as something of a surprise, while at the same time the reader says to himself, "Of course! I see it now!"
But sometimes the clues can be too well hidden, and the reader says, "Not fair! How was I supposed to know that???"
Good question. We want to play fair. So consider the following excerpt from Raymond Chandler's The Big Sleep:
She approached me with enough sex appeal to stampede a business men's lunch and tilted her head to finger a stray, but not very stray, tendril of softly glowing hair. Her smile was tentative, but could be persuaded to be nice.

"Was it something?" she enquired.

I had my horn rimmed sunglasses on. I put my voice high and let a bird twitter in it. "Would you happen to have a Ben Hur 1860?"

She didn't say: "Huh?" but she wanted to. She smiled bleakly. "A first edition?"

"Third," I said. "The one with the erratum on page 116."

"I'm afraid not—at the moment."

"How about a Chevalier Audubon 1840—the full set, of course?"

"Er—not at the moment," she purred harshly. Her smile was now hanging by its teeth and eyebrows and wondering what it would hit when it dropped.

"You do sell books?" I said in my polite falsetto.
The joke, of course, is that there is no such thing as a Ben-Hur 1860 third edition with an erratum on page 116—but the girl, who supposedly works in an antiquarian bookstore (it's really a pornography shop) doesn't have a clue that Marlowe is asking for something that doesn't exist. For Marlowe, her ignorance confirms that there's something foul afoot.
Remember how I wrote about the "curious incident of the dog in the night-time" last week? What do you suppose was the point of that column?
Still confused? Fear not, and stay tuned. More hints to follow in ensuing days.