Our Christmas Contest continues. Today we consider references to other places on the web we pointed to during the week aimed at helping our readers solve the puzzle. Here are your hints:

On Tuesday, December 15, JLW gave a big hint by linking to a certain piece by Leigh — and provided a linguistic clue at the same time.

On Sunday, December 13, Leigh offered three Chanukah presents. One of them can be used to find the solution.
CHRISTMAS WITH FATHER BROWN
by Steven Steinbock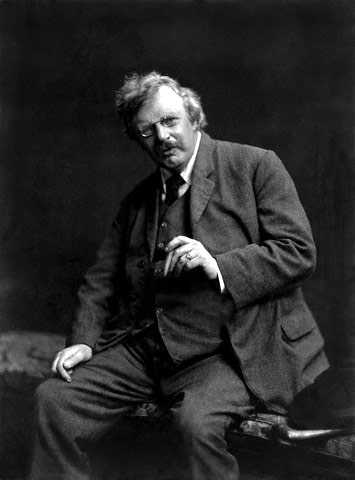 G.K. Chesterton had a great love of paradox. In fact, if there is any unifying element to all his writing, it is the juxtaposition of seeming opposites to create an experience of shock, surprise, and often laughter in the reader.
So it is oddly appropriate, in the most Chestertonian sense, that on this day when most faithful Criminal Brief readers are busy unwrapping gifts and otherwise enjoying the yuletide spirit, that I, the lone member of Criminal Brief who belongs to what Chesterton would have called the Hebrew race am here, addressing what is likely an empty assembly hall. I'm glad you stopped by.
Chesterton, for anyone who hasn't met him (and other than in-print, I doubt any of us have), I like to think of him, especially on a day like today, as an odd cross between Father Christmas and Ebenezer Scrooge. If you've read any of John Dickson Carr's books about "Dr. Gideon Fell" then you've met a character who was directly modeled on Chesterton.
The writings of G.K. Chesterton are too many and too varied to discuss at any length. He was probably most well known for his book of Christian apologetics, Orthodoxy as well as for his fifty-odd detective stories about that little priest from Essex, Father Brown. His novel The Man Who Was Thursday (1908) is something of a thriller and dark-farce in the form of an anarchist espionage adventure. The Club of Queer Trades (1905) is a collection of mystery adventure stories about men with very unusual occupations. Four Faultless Felons (1930) is a collection of stories about criminals who are not really criminals. Paradoxical enough?
In 1901, Chesterton published a book of essays collectively called The Defendant. Each of the sixteen essays are written "In Defense of" something that Chesterton believes is unjustly maligned. All these essays are clever and worth reading. (You can find the complete book online at Project Gutenberg). The penultimate chapter is especially relevant to us, as mystery devotees. (I've posted the entire essay on my blog, here). It's short, pithy, and beautifully written. I like, for instance, the following passage, which highlights his sense of understated sarcasm and paradox:
The mere absence of artistic subtlety does not make a book popular. Bradshaw's Railway Guide contains few gleams of psychological comedy, yet it is not read aloud uproariously on winter evenings. If detective stories are read with more exuberance than railway guides, it is certainly because they are more artistic.
Chesterton tells us that detective fiction "is the earliest and only form of popular literature in which is expressed some sense of the poetry of modern life." So begins his analysis of what – in a metaphysical sense – distinguishes detective fiction above other forms of literature.
Before I close, I'd be remiss if I didn't say something about the accusations lobbed at Chesterton that he was anti-Semitic. In his stories he often featured smarmy villains who were clearly Jewish, and occasionally, both in his fiction and in his essays, made negative comments about Jewish culture and Jewish conspiracies. I won't defend or dismiss any of this. The things Chesterton often wrote about Jews are ugly, hurtful signs of the times he lived in.
However, it isn't just a cliché to say about Chesterton that some of his best friends were Jews. He was a close acquaintance to Israel Zangwill, who wrote stories about Jewish culture in Victorian London (and was the author of the first book-length locked-room mystery). Two of Chesterton's very best friends were his boyhood pal Waldo D'Avigdor and his wife Mildred, both Jewish. It was to Mildred that he confided his plans to marry Frances Blogg((the original mystery short story blog)). And it was to Waldo and Mildred, ironically, that he dedicated his first collection of "Father Brown" stories. Chesterton criticized the Nuremberg Laws and the general scapegoating of the Jews of Europe and was an advocate for the establishment of a Jewish State in Palestine. London's Weiner Library, the world's oldest institution for the study of anti-Semitism and the Holocaust, defended Chesterton against charges of anti-Semitism saying, "he was not an enemy, and when the real testing time came along he showed what side he was on."
Keep warm. Read a good story. Merry Christmas and Happy New Year.