GOOD YEAR, BAD YEAR?
by Rob Lopresti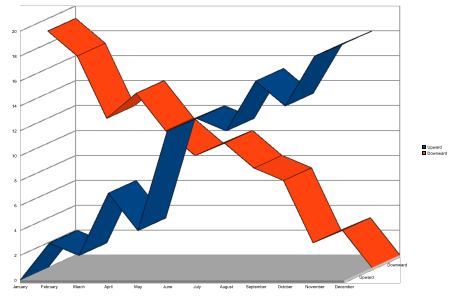 It being the time for it, I have been looking back at 2009, trying to decide if I had a good year. Writing-wise, I mean. The problem is, there are so many ways to judge it. I have written before about the seasons in a writer's life; not surprisingly, the writer's year can be equally complicated.
The public standard for judging my year might be this: I had four short stories published. According to the Mystery Writers of America website, the only other authors who had that many stories published in professional markets in 2009 were Doug Allyn and Loren D. Estleman. That's really heady company for the likes of me. So by that standard I had a very good year.
But not so fast. Two of those stories actually sold in 2007 and the other two sold in 2008. They were only published in 2009. I only sold one story this year (plus the introdcution I wrote for a Mystery Classic feature in Alfred Hitchcock's Mystery Magazine.) So by that standard I had a pretty mediocre year.
On the other other hand I sent out six new stories this year, and four are still making the rounds. Any year I send six new stories in the world I have to be pretty pleased with myself.
But on the other – never mind; I seem to be turning into an octopus. But my second novel remains an unfinished masterpiece.
And yet, digging into my black notebook, I find that I have written first drafts of seven stories this year. So there is hope for the future.
In the long run I think you have to try to judge your writing on the quality, not the quantity. The problem with that is that writers are notoriously bad at judging their own work. We measure it by how close it came to being what we wanted, not by how good it actually turned out.
So how do you judge the success of your writing this year? By what you finish or what you start? By what you think you have accomplished or by what the editors approve?
I know one way I can judge mine that is fairly objective. I still can't quit my day job.