THE END OF AN ERA
by Deborah Elliott-Upton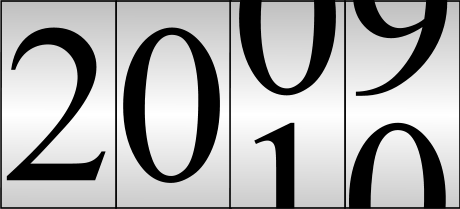 Several of my friends have remarked, "How can it be almost 2010? Where did the decade go? Weren't we worrying about Y2K just a couple of years ago?" Time supposedly flies, but isn't that only when you're having fun? Not always. This has been a decade of major changes. The times, they are a-changing.
2000
The dire prediction that computers would go bonkers as 1999 rolled over into 2000 fizzles. (Twentieth Century Fox doesn't go bonkers, as some have supposed strictly due to their name).
Beginning February 9, torrential rains in Africa lead to the worst flooding in Mozambique in 50 years, which lasts until March and kills 800 people.
The final original Peanuts comic strip is published, following the death of its creator, Charles Schulz.
The billionth living person in India is born.
Hillary Rodham Clinton is elected to the United States Senate, becoming the first First Lady of the United States to win public office.
The Texas 7 escape from their prison unit in Kenedy, Texas, and start a crime spree.
2001
A horrific foreign terrorist attack in and against America shocks the world.
Al-Qaeda, Taliban, and Osama Bin Laden all become household words.
The travel industry and our freedom have not been the same, nor has our feeling of being protected. But United States patriotism took a leap in popularity unseen since World War II.
2002
The United States invades Afghanistan
The Beltway sniper attacks begin with five shootings in Maryland.
United Airlines files for bankruptcy.
Kidnapped Wall Street Journal reporter Daniel Pearl is murdered in Karachi, Pakistan
In Houston, Texas, Andrea Yates is found guilty of drowning her 5 children on June 20, 2001. She is later sentenced to life in prison.
The Mars Odyssey finds signs of large water ice deposits on the planet Mars.
The dot-com bubble bear market reaches bottom, when the Dow Jones Industrial Average slips below 7,200.
2003
350,000-year-old upright-walking human footprints are found in Italy.
A deer named Dewey is cloned by scientists at Texas A&M University.
The celebrated Martha Stewart is indicted for using privileged investment information.
CIA operative Valerie Plame's cover is blown by a Washington Post columnist.
The "Green River Killer," Gary Ridgway, admits to murdering 48 women.
Saddam Hussein is captured by U.S. 4th Infantry Division.
Astronauts Michael P. Anderson, David M. Brown, Kalpana Chawla, Laurel Clark, Rick Husband and William McCool are killed during re-entry to the earth's atmosphere.
2004
Facebook is founded in Cambridge, Massachusetts.
The Republic of Ireland bans smoking in all enclosed work places including restaurants, pubs, and bars.
Four American private military contractors working for Blackwater USA are killed and their bodies mutilated in Fallujah, Iraq.
The last coal mine in France closes, ending nearly 300 years of coal mining.
The last Oldsmobile rolls off of the assembly line.
The Boston Red Sox win the World Series for the first time since 1918, breaking the Curse of the Bambino.
A male Po'o-uli dies of avian malaria at the Maui Bird Conservation Center in Olinda before it can breed, making the species in all probability extinct.
2005
George W. Bush is inaugurated in Washington, D.C. for his second term as the 43rd President of the United States>.
North Korea announces that it possesses nuclear weapons, justifying them as a necessary protection against a hostile United States.
Pope John Paul II dies.
Andrew Stimpson, a 25-year old British man, is reported as the first person proven to have been 'cured' of HIV.
Johnny Carson passes away.
2006
The Blu-ray Disc format is released in the United States.
Warren Buffett donates over US$30 billion to the Bill & Melinda Gates Foundation.
Cuban president Fidel Castro temporarily relinquishes power to his brother Raúl before surgery.
Liquids and gels are banned from checked and carry-on baggage.
Edvard Munch paintings The Scream and Madonna are recovered in a police raid in Oslo, Norway.
2007
A 2,100-year-old melon is discovered by archaeologists in western Japan.
The final book of the Harry Potter series, Harry Potter and the Deathly Hallows, is released and sells over 11 million copies in the first 24 hours, becoming the fastest selling book in history.
Track and field star Marion Jones surrenders the 5 Olympic medals she won in the 2000 Sydney Games, after admitting to doping.
The Writers Guild of America goes on a strike that lasts until February 12, 2008.
Art Buchwald, Sidney Sheldon, Anna Nicole Smith, Kurt Vonnegut, Tom Snyder, Merv Griffin, Luciano Pavarotti, Norman Mailer, Evel Knievel and Dan Fogelberg all breathe their last breaths.
Doris Lessing wins the Nobel Prize for Literature.
2008
America elects Barack Obama as their first African-American president.
Sarah Palin is chosen by the Republican Party as their first female vice-presidential candidate.
The price of petroleum hits $100 per barrel for the first time.
Stock markets around the world plunge amid growing fears of a U.S. recession, fueled by the 2007 subprime mortgage crisis.
Surgeons at London's Moorfields Eye Hospital perform the first operations using bionic eyes, implanting them into 2 blind patients.
The 2008 Summer Olympics take place in Beijing, China.
The longest serving ocean liner in history, the Queen Elizabeth II, is retired from service.
Ruins of an ancient Wari city are discovered in northern Peru.
2009
Oprah Winfrey announces she will leave her television talk show after the 2010 season.
Following more than a quarter-century of fighting, the Sri Lankan Civil War ends with the total military defeat of the LTTE.
The outbreak of the H1N1 influenza strain, commonly referred to as "swine flu", is deemed a global pandemic.
Michael Jackson and Farrah Fawcett die on the same day.
John Updike, James Whitmore, Ron Silver, Natasha Richardson, Dom DeLuise, Walter Cronkite, Frank McCourt and John Hughes die, but none are given half the press coverage as the reporting on Michael Jackson's death.
Two long-running television dramas are cancelled in favor of cheaper game shows. (Many of us grew up with our mothers and their mothers and their mother's mothers watching "Guiding Light" and "As the World Turns." With each of these programs running every week day for more than half a century, the viewership has been steady. A friend told me she thought the reason they were being canceled were because so many women worked outside the home now. My reply? "Then why is there a Soap Opera channel? TIVO was invented for a reason and soap operas may have been one of them.)
These are indeed things that have changed the world, whether for the good or the bad. What do any of these have to do with writing? Every event in the past decade has changed the world. History changes the way the public perceives everything. What would be plausible in a story written in 1950 probably wouldn't stand up today as viable unless it were written as invoking a historical viewpoint. Maybe that's why the soap operas are soon to be memories of times gone by, but maybe not. What are "Desperate Housewives," "Brothers and Sisters" and "The Shield" but primetime soap operas? Has the end of the Cold War meant the demise of spy movies? Not so, says the popularity of the "Bourne Identity" series. Are freedom-fighting stories new? No. People have been fighting for freedom from the beginning of time. None of that is changing, but the way we portray contemporary fighters must. A spy in today's world can't sleep his or her way to find information without fear of AIDS. No one calls the police with false information without leading a trail back to themselves via phone tracing. Security cameras are on a lot more intersections these days to track suspects. Today's writer has to be as savvy as his readership. Yes, the times are changing and the short story writer has to adapt and overcome like the Marines. He has to outwit like a Survivor player. And he has to still entertain, hopefully like a master who has proven himself over time.