COMING TO A NEWSSTAND NEAR YOU
by Steve Steinbock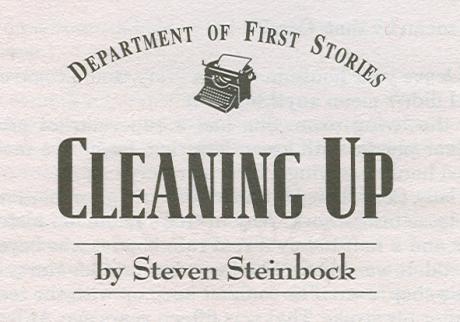 The emails started coming in last weekend, on Saturday to be precise. My pal Neal in sunny Florida wrote:
I just pulled the new Ellery Queen Mystery Magazine out of my mail box. As usual, I checked out the TOC before even closing the mail box door and there you are!!!
Wow, I was keyed. I stomped through the snow to get to my own mailbox, but nothing had arrived yet. Mail was especially late that day. It slows down deliveries when the poor postal carriers have to drive along the edges of snowbanks all day. When the mail arrived, I was greeted by a few bills and a few catalogs, but not EQMM.
Sunday there are no mail deliveries, and Monday was Martin Luther King Day. Tuesday didn't bring the magazine either. But today I was greeted by the brand-spanking new double issue (March/April 2010) of EQMM. It's a dandy.
In addition to my story, "Cleaning Up," filling the Department of First Stories space, there are stories by Doug Allyn, Michael Z. Lewin, Terence Faherty, Val McDermid, Robert Levinson, and Bill Link, to name a few. Immediately following my story is a story by my friend Art Taylor. The opening story in the issue is a special one, a horror tale by Edward D. Hoch that was suggested to EQMM by Doug Greene. Ed's story, "The Faceless Thing," is a very short, but powerfully moody story that for me conjures up something from the vast realm between Stephen King and H.P. Lovecraft.
For about ten years it was a tradition that Doug Greene, Ed and Pat Hoch, and I would go out to dinner on the Friday evening of Bouchercon. Those dinners were fun and memorable. I can't bring back those days, but in a sense, this issue of EQMM marks a reunion of sorts.
The Story Behind the Story
For those who haven't read "Cleaning Up" I won't spoil any surprises. But I thought I'd share a little of the genesis of the story. The two main characters, Frances and Cora, had been battling it out in my head for quite a while. These two women are composites of a lot of people, including as much as I hate to admit a certain amount of myself. But most of the inspiration was drawn from the arguments I had the pleasure of witnessing between my mother and my grandmother, and to a lesser extent between my grandmother and her older sister.