GUNS and ROSES
by Leigh Lundin
This week I focus on two unrelated stories, the latter peculiar in a mysterious sense and the first peculiar in a What-the-hell-were-they-thinking? sense.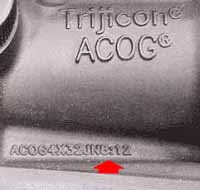 Last year, one of our readers mentioned he was so disgusted by the unChristian-like behavior of the Christian Ultra-Right, he couldn't bring himself to capitalize the term 'christian' when referring to their political dogmatism. In news stories reported around the world this past week, our reader's shift key is in little danger of wearing out, and I'm not discussing Pat Robertson's damnation of Haiti or the Screwtape reply. <== MUST READ!
In violation of the Constitution, federal laws, national policy, common sense, and common decency, a federal arms supplier in Wixom, Michigan, Trijicon, inscribes rifle scopes etched with secret New Testament messages. Although known for years by weapons enthusiasts, the not-so-secret codes were only recently reported around the world, including of course, the Middle East. In response, the company and its supporters called critics unChristian and atheists.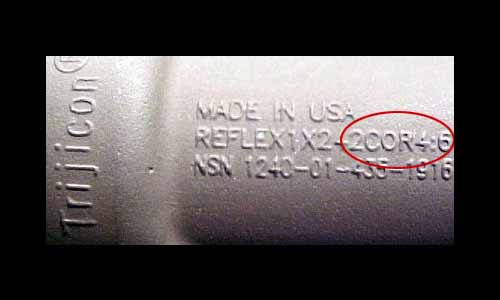 So be it: It's difficult to think of anything more sacrilegious and unholy offensive to all religions including the one they purport to embrace.
From a crime writing standpoint, this tidbit will likely show up in a thriller. I haven't seen the model/verse correlations published elsewhere, so following are the models of immediate concern and their corresponding verses.
Trijicon Rifle Scopes and New Testament Verse Codes
type
model
spec
ref
verse*
TA31
ACOG
4.0x32
JN
8:12
Then spake Jesus again unto them, saying, I am the light of the world: he that followeth me shall not walk in darkness, but shall have the light of life.
TA11
TA55
ACOG
3.5x35
5.5x50
MT
5:16
Let your light so shine before men, that they may see your good works, and glorify your Father which is in heaven.
TR2n
Reflex
all
2COR
4:6
For God, who commanded the light to shine out of darkness, hath shined in our hearts, to give the light of the knowledge of the glory of God in the face of Jesus Christ.
RMnn
MSnn
RedDot
MCOG
all
most
2PE
1:19
We have also a more sure word of prophecy; whereunto ye do well that ye take heed, as unto a light that shineth in a dark place, until the day dawn, and the day star arise in your hearts.
MS07
MCOG
all
1TH
5:5
Ye are all the children of light, and the children of the day: we are not of the night, nor of darkness.
RXnn
Accu-
point
REV
21:23
And the city had no need of the sun, neither of the moon, to shine in it: for the glory of God did lighten it, and the Lamb is the light thereof.
RX30
TX42
Reflex
AmbDot
1.0x42
IS
60:1
Arise, shine; for thy light is come, and the glory of the Lord is risen upon thee.
* They all mention "light": rifle scopes… light… snuffing it out… get it?
Opinions on the Topic
"A disgusting use of the New Testament in itself… this is an outrageous abuse. Now in the open, it's also a further impediment (reminiscent of the Christian imagery discovered on Pentagon war reports) to our efforts to assure the rest of the world that U.S. foreign policy is not driven by religious fervor.

Military contracts with the supplying company, Trijicon, should be halted immediately, until assurances can be made this won't continue. … What good is it to have our civilian leadership traveling the world with the promise America does not fight religious wars, when the military has our soldiers training Afghans and Iraqis, and killing others, with guns that proclaim otherwise? This revelation deserves a quick and corrective response."

– Don Byrd, Baptist Joint Committee for Religious Liberty

Fox News Fox & Friends, after hinting the "logos" might be something other than Biblical, concluded the impiously-coded scopes were "awesome" and "comforting" and asserted the company was well within its rights to put anything on its products it wishes. (Trijicon admitted the codes were Biblical, but apparently Fox didn't get the memo.)

Carrying "Christian guns" into battle is sacrilegious: This must be the fundamentalist version of Jesus, "a war-making torturer of Muslims." It sure isn't mine. It's bad enough to entangle the government in religion— but it's just wrong to put "the teachings of Jesus" on a gun.

– Andrew Sullivan, The Atlantic

"Trijicon knew they were doing something wrong and trying to get away with it or they would not have encoded messages that, when used appropriately, need no disguise. The company should be ashamed of its actions, which do no favor either to the United States military or to Christianity; just the opposite. Messages of life and peace should not be prostituted by placing their imprint on instruments designed for death and war.

As a Christian, I am offended by Trijicon's dismissal of the criticism saying that the organization raising the issue is "not Christian." This is not a time for attacking critics, it is a time for Trijicon to clean up its behavior. As a patriot of this nation, I am outraged at this corporation's lack of appreciation for our first freedom—religious freedom—and its corollary of separation between institutions of religion and institutions of government."
---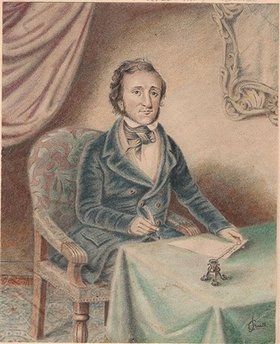 For 61 years on Edgar Allan Poe's birthday (19 January 1809), an unknown visitor has left three roses and a half bottle of cognac at his Baltimore grave site. This birthday, the mysterious visitor did not appear. (Hmm… Poe… Dick Stodghill…) Fortunately, Cynthia Pelayo of Chicago was one of a handful who picked up the slack and continue the tradition.
In other Poe news, a portrait of the author is up for auction and offers an insight different from the austere, boding daguerreotypes we're used to seeing.
Also on Poe's birthday, Spenser author Robert B. Parker died in Cambridge, Massachusetts.