HUMORESQUE
by James Lincoln Warren
When I worked for Barnes & Noble several years ago, I had a young friend in the store, twenty years my junior, who was an aspiring author hard at work on a novel. To protect the innocent, by which I mean me since I'm about to be a bit critical of him, I will refer to him as Brian, not his real name.
Brian and I were sitting down over coffee talking about writing when I could see that he was gathering up his courage to say something.
"What is it?"
"Don't take offense," he said, "but I was wondering … "
"I won't be upset," I replied, encouraging him to get whatever it was off his chest.
"Well, you're obviously brilliant … "
"Hard to take offense at that," I said, smiling and preening like a peacock.
" … so why do you waste your time writing genre stories when you could be writing literature?"
Well, that was unexpected. So I blinked hard twice, took a deep breath, and said, "Well, because I know I'm not James Joyce. I write according to my gifts. Besides, I don't think there's anything wrong with genre fiction."
"Well, I think you should be writing something serious," he said.
"Tell me about what you're working on," I said, desperate to change the subject.
"It's a novel about two young men, best friends, one a writer and the other an actor. They discuss their lives as they struggle to find meaning." (Not entirely by coincidence, Brian's best friend was an actor, the kind of absurdly handsome young man who plays misunderstood juvenile delinquents. Like Brian, he was a good guy. We occasionally played poker together.)
All right, Gentle Reader, I know what you're thinking, and it's what I was thinking too, but for once I curbed my tongue because Brian was a really nice and intelligent guy and I didn't want my maniacal laughter to hurt his feelings.
"Sounds a little … grim," I said.
"Yes, it's very serious," he replied.
"Is there, uh, any humor in it?"
He scowled at me. "No. Humor would be completely out of place. I told you, it's serious."
And there's the rub. Brian thought that serious literature has no sense of humor. The funny thing about it was that Brian himself had a very good sense of humor. His God was James Joyce, who certainly had a sense of humor—remember Poldy in Ulysses wondering if Greek nude statues had arseholes?—and he had recently discovered Jane Austen, whose wit was so sharp we had to wait for Oscar Wilde to even come close, so Brian should have been free from the ridiculous concept that great literature is unrelievedly glum—except that he was engaged in Serious Work.
Well, I never trust a story that has no sense of humor, myself. Life itself is funny, after all. We laugh when we can't cry. And any portrayal of life that misses that powerful point is going to be two-dimensional.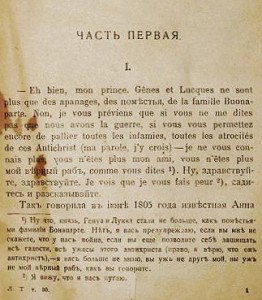 One of my favorite sequences in War and Peace is steeped in black humor. It concerns the circle of human vultures attending the gloomy death bed of the inexhaustibly wealthy Count Kiril Bezukhov, while his bastard Pierre (another serious youth like Brian) remains blissfully ignorant of all the intrigue going on around him, suspended as it were in a state of childlike innocence. Eventually, the machinations resolve in Pierre's favor, with the Count legitimizing his birth and bequeathing one of the largest fortunes in Russia to him. Pierre comes out smelling like a rose, all because Anna Mikhailovna Drubetskoy can't afford to pay for her son Boris' military kit—and she has great ambitions for Boris. Against all odds and formidable opposition, Anna Mikhailovna arranges things so that Pierre inherits, because and only because she knows Pierre will generously give her the money she needs to buy uniforms. It is one of the funniest scenes in literature.
It is also a dead-on accurate portrayal of human behavior and motivations.
I usually try to interject some touch of humor in everything I write. Even "When the Wind Blows", my story about a serial baby killer and certainly the darkest story I've ever written, has a scene in it where a chili bacon cheeseburger disintegrates as the protagonist tries to answer the phone. He's overweight and out of shape (somewhat like his creator), characteristics that come into play at the story's climax, and the scene helps in illustrating same. I admit, it's not slap-your-thigh, breath-emptying, blind-you-with-tears-of-hilarity comedy, but it is amusing, and it shows that my cop is a regular guy with regular foibles.
Carmine Ferrari, the narrator of my Cal Ops stories, is your typical private eye smartass, so he gets many opportunities for exercising his wit.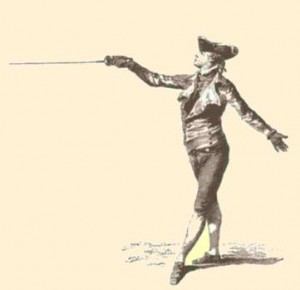 The humor in the Alan Treviscoe stories usually involves some kind of breach of manners in keeping with the 18th century setting, although I also poke fun at those characteristics he inherited from his literary father, namely irrepressible tendencies towards a certain pompousness and some hard-core pedantry. Here, in "The Apollo Progression" (AHMM, November 2005), he expounds a little-known fact to his sidekick, Hero:
"Attend. 'Tis been fewer than a score and ten years since some very sagacious Frenchies at the Royal Academy of the Sciences in Paris were able to determine, through careful experiment, that sound itself travels through the air at a velocity of some one thousand and eighty-nine feet per second."

"Indeed. Quite fascinating."

"Do you think so?" Treviscoe looked pleased with himself.

"Actually—no."
Later in the story, Treviscoe has some fun playing at being a complete twit on board a privateer:
They were greeted by Mr. Benefit Jackson, the mate, a short sturdy man with a prominent nose and a receding chin, who was somewhat puzzled by their arrival.

"Perhaps you had not heard," he said, "that our Captain hath been murthered."

"Then don't that make you the new Captain?" Treviscoe bubbled, punctuating this question with a guffaw that could only have presaged idiocy, or madness, or both. "I always thought that when the Captain fell, the first mate took charge, what? That's you, an't it? Pleased to meet you, sir, pleased to meet you. Allow me to introduce meself: Alan Treviscoe, esquire, and this is my man Hero. Captain gone, damn me, rotten luck—but ye must have an openin' for a new officer, what?"
Treviscoe pays for this imposture by receiving a bad knock on the head and getting violently seasick a little later. But "The Apollo Progression" is not a comedy, and the murderous villainy eventually exposed by Treviscoe is not at all funny. The humor is there to add depth to the story.
Of course, sometimes humor has no depth at all, as in the only story I ever wrote specifically for internet publication, "The Stain". It was intended to be the worst crime story ever written. It is no longer available on the 'net, but I recently unearthed this audio version of the immortal work, if anybody's interested. But I give you fair warning: it is low humor, satire of the most unsubtle stripe intermingled with insensitivity, farce, and scatology, punctuated by clichés. About six minutes' worth.
Farce is easy, but comedy is very, very hard. In a farce, you know that the characters are nothing more than representations of type. In a comedy, you should care as much about the characters as if they were in a tragedy. That's why Hollywood makes so many farces and so few comedies. My next story, which will be in the November 2008 issue of AHMM, due out in a couple months, is an attempt at a comedy, my very first. ("The Purvess Incident", my first published story, is supposed to be funny, but it's very much a mere farce.) But just as it's a good thing to make the reader smile periodically when you are embarked on a solemn journey, so it is good to stop and reflect on the human condition between laughs.
Either way, humor is a saving grace.