MUSICAL MYSTERY
by Leigh Lundin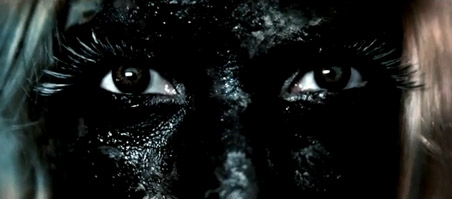 Several of us wrote about music recently. I hadn't intended to continue the, em, theme but an internet musical mystery too intriguing to resist is circulating on the web.
In late December, a surreal clip less than a minute long appeared on YouTube submitted by 'iamamiwhoami'. A second appeared and then a third. By then, Chris Cantalini and MTV writer James Montgomery picked up on the clips fueling speculation that had been building in blogs.
I won't attempt to trod in the domain of MTV and pop music, but I shall lay out the hints and the various arguments. There's a mystery to solve.
The Case
To date, iamamiwhoami has released six short videos featuring a provocative slime-covered girl and, as Montgomery says, "a dendrophiliac's wet dream, loaded with images of a mud-smeared woman licking a tree and some strangely sexualized sap." Hours after this article went live, a seventh video appeared with a woman wrapped in plastic. The music is a mix of fusion, alternative, industrial, and trance, not everyone's cup of tea, but compelling.
I find the sixth clip the most intriguing. It ends with the question, "Why?" Or is it the letter "Y?"
The Clues
The first six videos are titled with a series of numbers and the seventh simply with the letter "b". When indexed into the alphabet, these spell out words such as "educational", "I am", "its me", and "mandragora". Mandragora officinarum is the mandrake, particularly when used for psychedelic purposes.
The first six clips close with a drawing of an animal– a goat, an owl, a whale, an insect, a llama (or alpaca, according to a reader), and a monkey.
The seventh clip features a woman clad in loose clear plastic, watched over by three men and a black cat. Unlike the others, it does not include an animal illustration at the end.
James Montgomery received an anonymous packet by messenger with a lock of hair from a blonde wig, a piece of bark, and the following pictogram:

What is the message? The pictograms don't appear to be a rebus where pictures substitute for words, phrases, and syllables, as shown by this example from the Oxford Electronic Dictionary:

The seventh video contains no pictograph.
The Evidence
Prelude 699130082.451322-5.4.21.3.1.20.9.15.14.1.12 (goat)
9.1.13.669321018 (owl)
9.20.19.13.5.723378 (whale)
13.1.14.4.18.1.7.15.18.1.1110 (bee)
15.6.6.9.3.9.14.1.18.21.13.56155 (llama)
23.5.12.3.15.13.5-8.15.13.5.3383 (monkey)
b (no accompaning illustration)
The Unusual Suspects
Much speculation focuses on the production. Bloggers argue the sets, scenes, and composition look costly and reason major money funded the videos. They look to the big names in the business, which I'll mention.
Trent Reznor heads the project Nine Inch Nails (NIN) and is one of the most innovative minds in the music industry, the kind of business brain any ossified business could use. Reznor experiments with marketing models and finds ways to make money giving music away free, a major thorn in the side of the Japanese-American entertainment business. Beyond NIN, he's also a very good singer, as you can hear in this minor key version of Hurt.

The NIN 2007 tour T-shirt contained a list of cities with certain letters in bold. Puzzleists soon discovered the letters spelled out "I Am Trying To Believe" and made the leap to the IAmTryingToBelieve.com web site, the gateway to an alternative realty, one of Reznor's marketing brainstorms.

Industry pundits suggest this is similar and the iamamiwhoami campaign is just Reznor's cup of tea. I'm not sure. To me, the Twitter exclusivity doesn't sound like Reznor's modus operandi. The operator may simply be someone who believes in creative marketing.

We've mentioned Lady GaGa before on CB. I believe blogs include her name because (a) she's all about drama and (b) usually appears as a blonde. Beyond that, I'm not sure I see a connection.

Beyond their forest video Electric Feel, I also don't see a connection with electro-synth-pop group MGMT, even if they are considered neo-psychelelic. While I recognize a 60s acid rock influence in the videos– hints of King Crimson, Yes, Styx, Moody Blues, the Strawbs, and of course, Pink Floyd– I don't think the post-teen-oriented MGMT has achieved the kind of maturity or sophistication to pull this off. It took the Beatles years to evolve from their Beatlemania days to Yellow Submarine, Sergeant Pepper, the White Album, and eventually Abby Road. I might be wrong, but I don't consider MGMT even close.

The repeated mention of Christina Aguilera as the overwhelming favorite surprised me. One of the reason bloggers consider her a contender is that, like Lady GaGa, she's changed personas a number of times. Ladened with an impression of her as one of the bevy of plastic blonde pop singers, I checked into some of the newer stuff she's done.

She has matured past the bubble gum genre. Although the studs in her nostril and lower lip distracted, I found Impossible charming, Beautiful itchy, and the 1940s-50ish pastiche Candyman fun. More impressive, the fascinating camera work starting halfway through The Voice Within is worthy of Orson Welles. But a contender to pull off this campaign? I suspect her surreal video Fighter makes fans think of the iamamiwhoami videos and she is due to release an album called Bionic, but I don't see her as a contender. But hey, I might be wrong.

Not as many consider European groups and projects similar (or not) to Adiemus, particularly those on the continent, yet one artist comes to mind. The iamamiwhoami videos remind me of Goldfrapp's Seventh Tree, although the comparison might be too obvious.

Until I saw it mentioned, I hadn't considered the Scandinavian synth pair The Knife. They combine psychedelia with threads of Jethro Tull, The Doors, and Abba-like harmony, blending 60s and 70s with 21st century fragmentation and occasional playfulness. Their releases vary widely, some which I like a lot and some not at all.

I'm not sure past is prologue and all of the above have denied involvement. It's possible, even likely, the amateur and professional guesses are wrong. Personally, I hazard someone is breaking into a new subgenre rather than expanding an established mode. Of course, none of that rules out Trent Reznor's involvement– except for Reznor's emphatic denial.
The Jury
That's the evidence so far. So, readers of mystery and intrigue, what are your thoughts?