HYPERBOLE KILLS
by Steven Steinbock
This past Monday I fell victim to a series of unpleasantries. After a delightful Left Coast Crime Convention in Los Angeles, I had a painless five-hour flight to the East Coast. Then, my two-hour layover at Newark Liberty International Airport turned into a nine-hour headache. Continental Airlines, it seems, lost track of Flight #3296. As one hundred of us sat in the waiting area of gate C103, a gate attendant named Carlos with a sense of humor that made up for his questionable English skills reassured everyone that as soon as they could find a plane, they would begin boarding us.
In the quiet airport during the middle of the night, I found that every fifteen minutes or so the PA system broadcast an insidious message read by an obnoxiously perky female voice:
This is a special announcement. For security reasons, please keep your luggage and all other packages with you at all times until they are checked. Unattended baggage may be removed for inspection and may be damaged or destroyed. . .
In the nine hours I sat at gate 103, I heard this message repeated thirty-something times. My question is this: how can it be a "special announcement" if they repeat it ninety-odd times a day, thirty-something-thousand times a year?
BOOKED IN LA
Your beamish host sandwiched by Gayle Lynds and Melodie Johnson Howe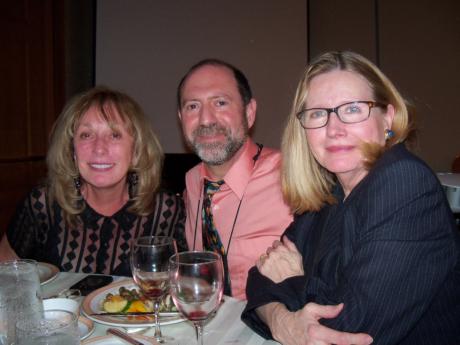 The unpleasantness of the final hours of my trip were not enough to diminish the fun of the seventy-two hours I spent in the good company of the crime community. I've said it before: Mystery people are the nicest people around. In particular I spent a lot of time with James Lincoln Warren and Melodie Johnson Howe, as well as Melodie's bff (and goddess of espionage fiction) Gayle Lynds.
Orange Country Noir panel: Kris Neri, Nathan Walpole, Gary Phillips, Robert Levinson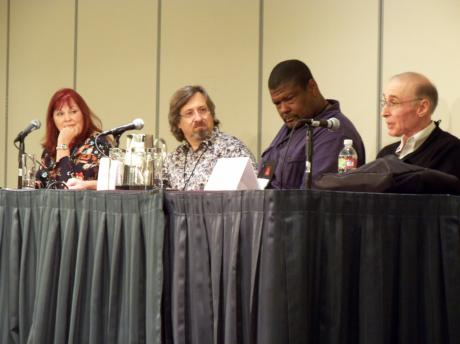 Typically, when I attend mystery events like Left Coast or Bouchercon I don't spent a lot of time going to panels. But this time I found myself sitting in on quite a grand total of eight sessions. It's also worth noting that short fiction was well represented in the sessions. There were two panels dedicated to the launches of two new Noir titles from Akashic Books: Orange County Noir and Los Angeles Noir 2. There was also an all-star panel devoted to Sherlock Holmes moderated by Holmes annotator Les Klinger and including Laurie King, Jan Burke, Lee Child, and Michael Connelly. Later in the day on Friday Criminal Brief veteran Melodie Johnson Howe moderated a panel called "The Art of the Short Story."
Sherlockian annotator Leslie Klinger being haunted by Melodie Johnson Howe at the Biltmore Hotel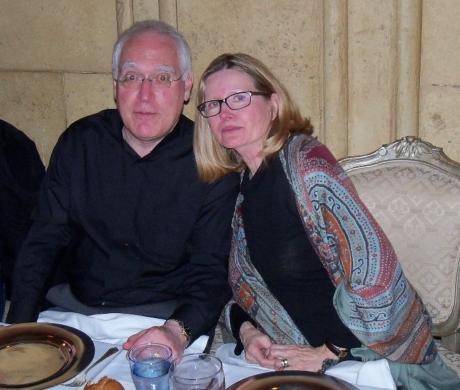 Other highlights included a panel featuring four members of the Kellerman family (Jonathan, Faye, Jesse, and seventeen year-old Aliza), a mostly impromptu dinner at the Biltmore hotel, and the auction/banquet MCed by Bill Fitzhugh. One of the lowlights of the weekend occurred when James Lincoln Warren walked into a sculpture while engaged in a telephone call and badly cut his forehead. (You can see the damage, albeit bandaged, below).
Thriller writer Gayle Lynds applying the death grip to James Lincoln Warren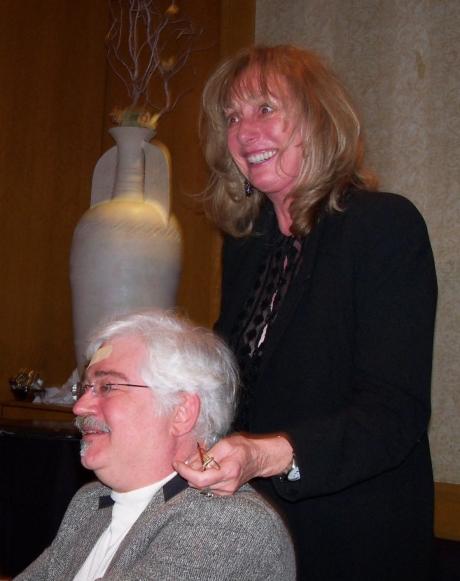 Next year Left Coast will be in Santa Fe, New Mexico. See you there!