KINDLE THIS
by Steven Steinbock
I'm not an advocate of e-books. I don't own a Kindle or a Sony e-Reader. I may one day. It's hard to tell. But I haven't gone down that road. I have an antique iPaq – a pocket PC device that's a little bigger than an iPhone (which I also don't have) but without all the bells and whistles. If I really wanted to, I could load e-books onto the iPaq. But why would I want to?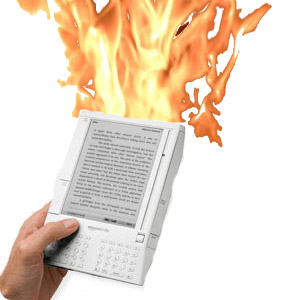 Is it just me, or is Kindle a really bad name for a reading device? When I hear the word "kindle" I'm far more likely to imagine book burning rather than book reading. I mean kindle and Fahrenheit 451? Come on.
Having said all the above, it is tempting. I'm not immune to the draw of gadgetry. But in the balance, the high price-tag and my love of physical books has kept me on the skeptical side.
Then our friends over at Killzone come along and mess me up. I sat in the hotel bar with four of them one afternoon during Left Coast Crime. These are nice people, good bloggers, and even better novelists. They have a short story collection out now, Fresh Kills which is only available as an e-book. The book features seven short stories – one from each of the seven Killzoners: James Scott Bell, Michelle Gagnon, John Gilstrap, Clare Langley-Hawthorne, Kathryn Lilley, John Ramsey Miller, and Joe Moore.
The book is available for $2.99 from Amazon as well as from Smashwords and Scribd.
And no, I haven't bought it yet. I haven't decided which source to use. (I'm leaning toward the Scribd version which comes as a nice, neat, cross-platform PDF format.)
But in the process of downloading the preview of Fresh Kills to my computer, I installed the Kindle for PC application. This led me to ManyBooks.net, a site that offers 26,598 free e-books. I was astounded at what was available for the lover of classical mystery short stories. From R. Austin Freeman there are over a dozen books, including at least three short story collections. (In particular, I would draw your attention to John Thorndyke's Cases and The Singing Bone). There are sixteen novels, stories, and collections by Jacques Futrelle, but nothing very complete or comprehensive. You'll find H.C. Bailey's Call Mr. Fortune
There are fifteen titles by Maurie LeBlanc, forty-three titles by G.K. Chesterton, and (apropos to Bandersnatches) a bunch of Lewis Carroll titles (including seven versions of Alice's Adventures in Wonderland).
Stay tuned for more Bandersnatches next week. But for the moment I have a lot of reading to do.