YOU HEARD IT HERE FIRST
by Deborah Elliott-Upton
We at the Criminal Brief headquarters are pleased to announce the publication of a first edition of what we hope will be an annual event. Utopia Publications has agreed to publish a collection of short stories written by the Criminal Brief staff and we couldn't be more thrilled. This is an honor for us and we hope you'll be as excited as we are about this endeavor. Actually, this book is in response to the e-mails we have received asking for such a collection. Without our fans' support, this couldn't have happened.
We have created a short story for each month, including murders, thefts and spies. The range reaches from cozy to police procedural to thriller . . . and there's more: we've managed to add some bits of humor in a few capers.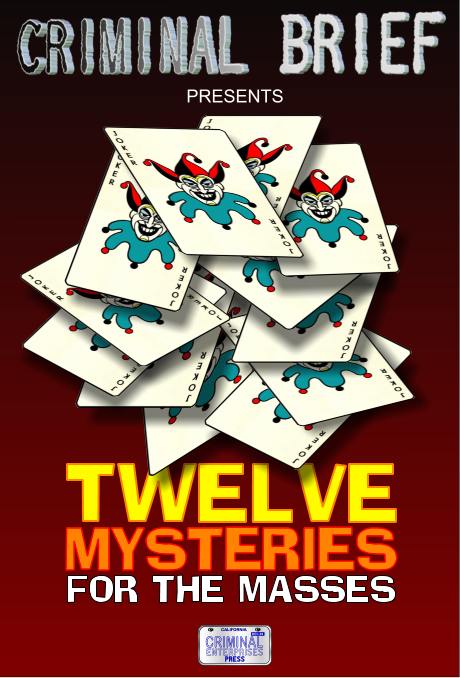 Criminal Brief Presents Twelve Mysteries for the Masses includes these titles and authors:
"New Year Caseload" by Rob Lopresti
"Valentine's Box of Chocolate Murders" by Deborah Elliott-Upton
"St. Patrick's Death Plot" by Leigh Lundin
"The Foolish Burglar" by James Lincoln Warren
"Angela Potts Solves the May Day Murder" by John F. Floyd
"Junebug Jailhouse" by Steven Steinbock
"Independence Militia" by Leigh Lundin
"The August Night Killer" by Deborah Elliott-Upton
"Labor Day Blues" by Rob Lopresti
"Columbus Day Detective" by James Lincoln Warren
"Theft of the Thanksgiving Turkey" by John Floyd
"Holiday Crime Spree" by Velma
Utopia promises a nationwide booksigning with most of the authors in attendance at each signing. Yea! We'll be coming to a town near you. Please come out and meet us face-to-face (we've been wondering what all of you look like in person!) Until then, the books can be pre-ordered directly from the publishers. Mention that you have commented on this date at Criminal Brief and the publisher will issue an automatic half-off price for the second book you order. Thereafter each book will be discounted another 15 ½ %. Shipping is free to the Continental United States and its territories.
One more surprise: we were honored to have the Foreword written by the talented Bill Crider.1
Notes: