WHAT MY CATS WOULD READ if cats could read
by Rob Lopresti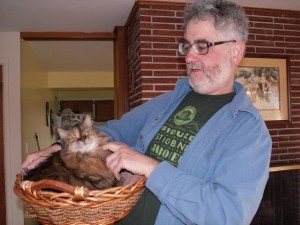 Chloe is a tortoiseshell lady of a certain age. She is the smallest, oldest, and dominant member of the feline force.
Nonfiction: Chloe is known from the attic to the very basement as the Great Commun- icator. She never hesitates to tell us what she thinks or wants or what we should do about it. I see her as a reader of popular political texts, and since cats are natural conservatives (highly adverse to change) she would probably be reading some of the right-wing rabble rousers. It wouldn't help her temper any.
Fiction: Since her favorite hobby is being carried around the house in a basket or cardboard box I suspect she has a secret longing for aviation fiction. I picture her reading Rob Is My Co-Pilot.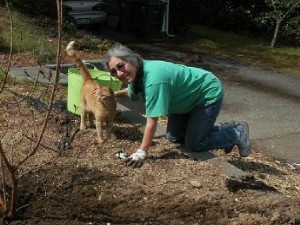 Jaffa is a mid-sized orange. He is so neurotic we recently got a spray-release container of feline pheromones – my wife calls it "kitty happy juice" to keep him calm. Less drastic than kitty Valium.
Nonfiction: Definitely gardening guides. He loves helping my wife in the vegetable patch. Well, he isn't that much of a paws-on gardener, but he loves to be out there supervising. I could picture him whiling away the winter with seed catalogs, like some people I know.
Fiction: Definitely suspense and thrillers. Jaffa would enjoy books that support his paranoid belief that everyone who doesn't live in his house is a positive threat. If we have guests he stays away for hours after they leave, because you can't be too careful these days.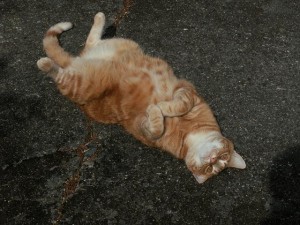 Bob is another orange, almost as large as the other two put together. He is – how shall I put this – not the intellectual in the crowd. If he could read and he bothered to, I think he'd stick to the sports page. But I'll give him the benefit of the doubt.
Nonfiction: Bob's favorite sport is lying on his back looking cute as the dickens. When you reach down to scratch his tummy he turns your hand into sushi. Little things amuse little minds. Bob might enjoy books on hoaxes and practical jokes.
Fiction: Considering how much time he spends looking at the world upside-down, I diagnose a taste for fantasy novels.
So there you have it; a gift guide for my cats' birthdays. Please print it out for those special occasions.
Now, what would your pets read?