VAMPIRES DON'T SUCK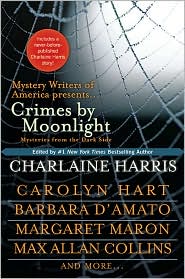 by Leigh Lundin
Last week, I wrote about Terrie Moran's top flight banshee mystery, 'The Awakening' in the MWA anthology, Crimes by Moonlight. The sounds you hear are Irish fairies singing its praises, especially since Women of Mystery are giving copies of the anthology for free!
With a slight detour for a fun undead Mike Hammer story, I headed for Toni Kelner's 'Taking the Long View'. For the second time, I was blown away. (That's literary talk for 'most highly impressed'.) It's little wonder– Terrie and Toni competed against 240-300 or so top mystery writers and we're reading the crème de la crème.
A big concern of mystery fans is whether clues make sense to readers in the real world. I can assure you they do. 'Taking the Long View' contains one of the cleverest mystery plots I've read in a long time and the evidence is fairly laid out for the astute reader. I won't embarrass myself by revealing how I interpreted a major clue except to say it was simpler and more obvious than my take– but then I've never met a vampire. (Well, not counting my Great Aunt Viktoria, but that's another subject.)
Toni's tale closes the anthology on its highest note. Here's the story behind the story in her own words: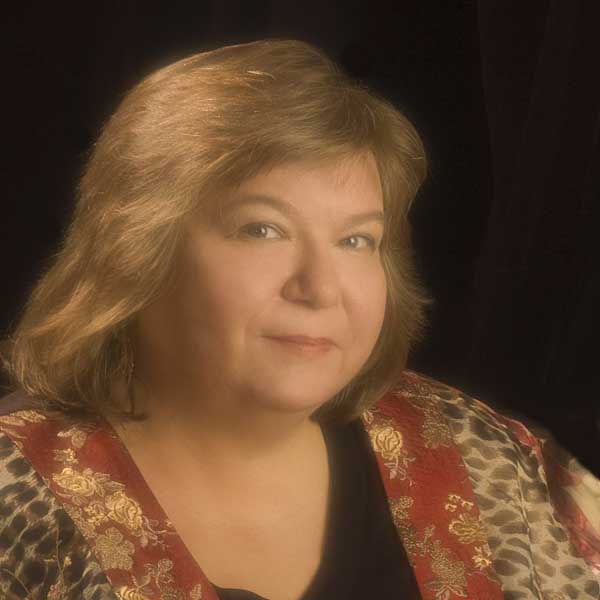 Toni Kelner
Taking the Long View
by Toni Kelner
"Taking the Long View" is the second outing for my vampire sleuths Mark and Stella. The couple first appeared in "How Stella Got Her Grave Back," (published in Many Bloody Returns), and solved the mystery of a Jane Doe buried in Stella's grave. Several readers asked me if there were more Mark and Stella stories because they seemed like such well-established characters. That's a tremendous compliment to me, and I really appreciated it. So it would have been awfully nice of me to write this new story to make them happy. Sadly, I'm not that nice. I had another motive entirely.
You see, I was kind of pushing the deadline on this story. I know I shouldn't do that. I also know that I shouldn't wait until mid-April to do my taxes, but… Anyway, I only had eight days to write this story. This was cutting it a whole lot tighter than I like.
Often with short stories, I start with a plot point or gimmick of some sort, and then hunt and search and meander until I figure out who the viewpoint character is. No matter how much I like the plot idea, I cannot write the actual story until I hear that protagonist's voice in my head. If I pick the wrong person, I've got to start over again. That wasn't really an option with this story–I just barely had enough time to write it once, let alone rewrite it.
I decided that I could save a lot of time if I stuck with a protagonist I already knew, whose voice I could already hear, whose background I'd already sketched out. Unfortunately, the collection was going to be paranormal mysteries, and I'd only written two paranormal stories before. One was about a teenaged werewolf and the other was about Mark and Stella. Guess who won the coin toss?
Next I needed to kill somebody– this had to be a mystery, after all– so I went looking for motives. In "How Stella Got Her Grave Back," I'd established Mark as an investments counselor who met Stella while handling her portfolio. Since the economy crash was big news at the time, I figured I could work around that a bit. I'd also recently read something about the economics of keeping mistresses in New Orleans back in the late 1700s, which reminded me of the negotiations for Leslie Caron's favors in the movie Gigi. Money, sex, vampires–who couldn't come up with murder with those things combined?
But I needed more characters. Back to the first Mark and Stella story, where I'd mentioned two vampires who didn't actually appear. One was Vilmos, the vampire who sired Stella. Mark was more than a little jealous of him. The other was Ramon, a vampire with a fondness for practical jokes. Mark was usually extremely annoyed by him. Since a happy character isn't much fun, naturally I threw in both Vilmos and Ramon to bug Mark.
Once I had all those pieces, I shuffled them together, tossed in some more characters, got the mystery worked out, and started typing as fast as I could. I turned the story in a whole day early!
And yes, I'm well aware of the irony of waiting until the last minute to write a story called "Taking the Long View."
Every story I've read has been superb. Conjure up a spooky good read with Crimes by Moonlight.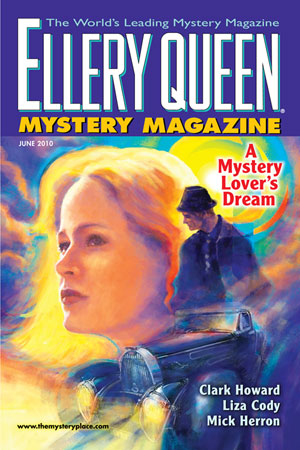 While we're on the subject of good writing, pick up the June 2010 issue of Ellery Queen Mystery Magazine (I know, I know: It's only April, but you'll be able to buy your 2011 Chrysler shortly) with Michelle Phillips on the cover. There's a story in it that contains very clever writing and, to my impressionable ear, some of the best dialogue I've ever read. No, I didn't write it, but someone else you know did. It's called 'Jungle Music'. If you can't find it your bookstore, try an eBook.