AMERICAN IDOLS
by Deborah Elliott-Upton
Contest Judges James Baldwin, Jane Austen, and William Shakespeare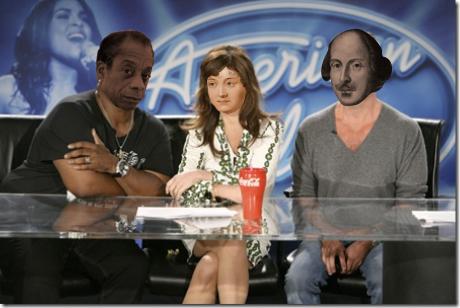 Currently one of the highest rankings on television's Nielsen charts is American Idol – and remember, they're doing that twice a week, season after season, with no sign of let-up. News of those voted off by American viewers are as eagerly awaited as any horse race results at the Kentucky Derby.
Alfred Hitchcock Presents, The Twilight Zone, and Steven Spielberg's Amazing Stories had a great following, but nothing to compare with American Idol.
I'm wondering if a television program showcasing great writers reading their own flash fiction works (stories usually somewhere between 100-1,000 words) could have such an opportunity.
Writing is an entertainment form as much as singing, just usually without as much as money being generated by a single story as by a single recording. But why the snub by the entertainment industry – or for that matter, the public itself?
Writers struggle as much as singers. Writers are known to starve while perfecting their craft and waiting to be discovered. I've even heard a few "I-had-to-live-in-my-car" stories à la Jewel.
So, why not a prime time show for us?
Just imagine how it could be. In the beginning, judges could be picked either from their own expertise as a writer who made good or as an editor who had made a career from recognizing others' talents. The auditions taking place across the country would bring out everyone who brought a story home from high school English and was told by his mother he was talented. Sure, there would be some really awful stories that made the audience groan. What fun to watch the former writer wince and say, "Sorry, sweetie," and the editor, his face completely deadpan, remark, "That was hideous. Find something else to do with your time. You just don't have it."
Town after town would find all those people who plan to finish their novel as soon as they find some extra time sitting in bleachers awaiting their turn to audition for the next American Writer Idol.
Writers would watch spellbound thinking to themselves: Next year, I'll be one of those up on stage. Why, I could win this!
The first few weeks where American Writer Idol showcases the extremes – the very best juxtaposed with the very, very worst could be more entertaining than singers. Anyone who's attended an open mike reading can attest it is as equally good or bad as Karaoke Night.
Our own motley crew of writers at Criminal Brief serves as a test market. Even here we do have a ranking of sorts with the amount of comments left by our "viewers." (Some weeks our articles get better "reviews" than others.)
I wonder if our readership today is saying, "She was a bit pitchy and didn't hit all the high notes she was attempting," or "I didn't think that subject was a good choice today." Or even, "She's certainly no Bill Crider."1
Trying to compete with a best-selling artist's signature style is difficult unless you're really, really good. Chris Daughtry did it when he sang "I Walk the Line," and made it sound like anything but a Johnny Cash song. We can't all be John Grisham, Patricia Cornwell or Mary Higgins Clark. That's okay because there's always room for a new bestselling author's style. The only time a writer would want to blend in would be if he wrote a series like "Nick Carter" or "Nancy Drew" where many authors have continued in the vein of the creator.
As contestants on American Writer Idol would discover, some genres would be better suited to his talents than others, but it would be interesting to see if a horror writer could write a decent romance2 or a mystery writer could give literary a whirl.3
Writers, like singers, should stretch their artistic muscles and see what happens when they step beyond their comfort zone. What about readers? Probably long ago you decided what you liked to read best. Maybe you're a horror buff, but you might enjoy an occasional side trip into science fiction. A romance reader may enjoy a jaunt with mainstream. In my opinion, you all should give mysteries a try.
If an enterprising television producer would like to give American Idol a spin and land on the writers block, I think you'll find plenty of people lining up to be contestants. They probably all have family and friends—perhaps even entire home towns – cheering them on to be viewers that advertisers would love to reach. Sounds like a win/win situation.
It could all be quite entertaining.
Notes:
If you think at least one of us at Criminal Brief must mention Bill Crider every week, you may be right.