CRIME SCENERY
by James Lincoln Warren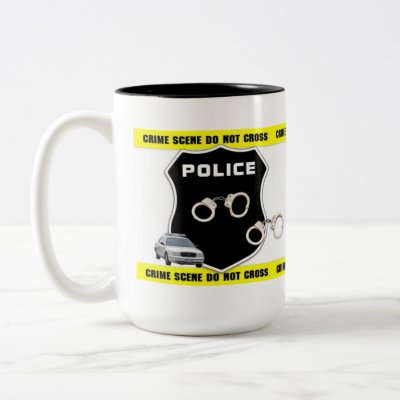 There's nothing a mystery writer loves better than pulling out the old yellow tape and marking off the scene of the crime. In these days of crime dramas that depend almost exclusively on physical evidence, it is often more critical to story development than motive and opportunity. I must confess, though, that I'm not all that mad for contemporary forensics mysteries, assuming as they do a high level of expertise to interpret what the physical evidence sums to—you can't deduce anything from a DNA sampling until it gets back from the lab. More fun to me is the scene that contains evidence from which conclusions can be drawn by any competent observer. Holmes may have written his expert monograph on tobacco ash, but where he really shines is putting together evidence that leads to an inescapable conclusion where the evidence is understandable to the most casual reader, like the famous beginning to The Hound of the Baskervilles (abridged below):
I stood upon the hearth-rug and picked up the stick which our visitor had left behind him the night before. Just under the head was a broad silver band nearly an inch across. "To James Mortimer, M.R.C.S., from his friends of the C.C.H.," was engraved upon it, with the date "1884." It was just such a stick as the old-fashioned family practitioner used to carry—dignified, solid, and reassuring.
"Well, Watson, what do you make of it?"
"I think that Dr. Mortimer is a successful, elderly medical man, well-esteemed since those who know him give him this mark of their appreciation."
"Good!" said Holmes. "Excellent!"
"I think also that the probability is in favour of his being a country practitioner who does a great deal of his visiting on foot."
"Why so?"
"Because this stick has been so knocked about that I can hardly imagine a town practitioner carrying it. The thick-iron ferrule is worn down, so it is evident that he has done a great amount of walking with it."
"Perfectly sound!" said Holmes.
"And then again, there is the 'friends of the C.C.H.' I should guess that to be the Something Hunt, the local hunt to whose members he has possibly given some surgical assistance, and which has made him a small presentation in return."
"Really, Watson, you excel yourself," said Holmes, pushing back his chair and lighting a cigarette. "I am bound to say that in all the accounts which you have been so good as to give of my own small achievements you have habitually underrated your own abilities. I confess, my dear fellow, that I am very much in your debt."
I was proud to think that I had so far mastered his system as to apply it in a way which earned his approval. He now took the stick from my hands and examined it for a few minutes with his naked eyes. Then with an expression of interest he laid down his cigarette, and carrying the cane to the window, he looked over it again with a convex lens.
"Interesting, though elementary," said he as he returned to his favourite corner of the settee. "There are certainly one or two indications upon the stick. It gives us the basis for several deductions."
"Has anything escaped me?" I asked with some self- importance.
"I am afraid, my dear Watson, that most of your conclusions were erroneous. Not that you are entirely wrong in this instance. The man is certainly a country practitioner. And he walks a good deal."
"Then I was right."
"To that extent."
"But that was all."
"No, no, my dear Watson, not all—by no means all. I would suggest, for example, that a presentation to a doctor is more likely to come from a hospital than from a hunt, and that when the initials 'C.C.' are placed before that hospital the words 'Charing Cross' very naturally suggest themselves."
"Well, then, supposing that 'C.C.H.' does stand for 'Charing Cross Hospital,' what further inferences may we draw?"
"You know my methods. Apply them!"
"I can only think of the obvious conclusion that the man has practised in town before going to the country."
"I think that we might venture a little farther than this. On what occasion would it be most probable that such a presentation would be made? Obviously at the moment when Dr. Mortimer withdrew from the service of the hospital in order to start a practice for himself. We know there has been a presentation. We believe there has been a change from a town hospital to a country practice. Is it, then, stretching our inference too far to say that the presentation was on the occasion of the change?"
"It certainly seems probable."
"Now, you will observe that he could not have been on the staff of the hospital, since only a man well-established in a London practice could hold such a position, and such a one would not drift into the country. What was he, then? If he was in the hospital and yet not on the staff he could only have been a house-surgeon or a house-physician—little more than a senior student. And he left five years ago—the date is on the stick. So your grave, middle-aged family practitioner vanishes into thin air, my dear Watson, and there emerges a young fellow under thirty, amiable, unambitious, absent-minded, and the possessor of a favourite dog, which I should describe roughly as being larger than a terrier and smaller than a mastiff."
I laughed incredulously as Sherlock Holmes leaned back in his settee and blew little wavering rings of smoke up to the ceiling.
"As to the latter part, I have no means of checking you," said I, "but at least it is not difficult to find out a few particulars about the man's age and professional career." From my small medical shelf I took down the Medical Directory and turned up the name. There were several Mortimers, but only one who could be our visitor. I read his record aloud.

"Mortimer, James, M.R.C.S., 1882, Grimpen, Dartmoor, Devon. House-surgeon, from 1882 to 1884, at Charing Cross Hospital. Medical Officer for the parishes of Grimpen, Thorsley, and High Barrow."

"No mention of that local hunt, Watson," said Holmes with a mischievous smile, "but a country doctor, as you very astutely observed. As to the adjectives, I said, if I remember right, amiable, unambitious, and absent-minded. It is my experience that it is only an amiable man in this world who receives testimonials, only an unambitious one who abandons a London career for the country, and only an absent-minded one who leaves his stick and not his visiting-card after waiting an hour in your room."
"And the dog?"
"Has been in the habit of carrying this stick behind his master. Being a heavy stick the dog has held it tightly by the middle, and the marks of his teeth are very plainly visible. The dog's jaw, as shown in the space between these marks, is too broad in my opinion for a terrier and not broad enough for a mastiff. It may have been—yes, by Jove, it is a curly-haired spaniel."
There was such a ring of conviction in his voice that I glanced up in surprise.
"My dear fellow, how can you possibly be so sure of that?"
"For the very simple reason that I see the dog himself on our very door-step, and there is the ring of its owner."
All right, I admit that 221B Baker Street is not exactly a crime scene, but the examination of the evidence is on point.
But the fun is in mixing up the scene to mislead the reader. Conan Doyle does it by having poor Watson give a credible but entirely inaccurate interpretation of the evidence—the old Inpector Plod ploy, where the dimwitted police detective is used as a foil for the brilliant detective's rapier intelligence. There are other ways, though, just as much fun.
The Unlikely Locus in Quo
Why was Geraldine, who had a well-known phobia of dishwashers, in the kitchen when she was murdered? There can be several ways to handle this one—Cuthbert used the dishwasher to frighten Geraldine into immobility before killing her with the coffee pot, or Cuthbert killed her in the salon and dragged her body into the kitchen, or Geraldine was in the middle of an aversion therapy session and coincidentally happened to be there when Cuthbert became unhinged—he would just have happily whacked her in the chauffeur's quarters. The trick is to get the reader worry so much about the location that they miss the significance of the coffee pot.
Alternatively, Geraldine's body is discovered in the vicar's library.
Not Enough Clues
Sylvia finds her cousin Mortimer's monogrammed cufflink on the linoleum next to Geraldine's corpse, and steals it so the police won't suspect Mortimer of doing the nasty old battle-axe in. The detective is stymied—until he learns that the cufflink was taken from the scene, whereupon he is able to determine with precision that the murderer was Cuthbert, since Cuthbert stole both cufflinks when he realized that the only shirts he owns not at the cleaners had French cuffs.
Too Many Clues
Cuthbert kills Geraldine in a rage by whacking her over the head with a coffee percolator when he learns that Geraldine has been squeezing the communal toothpaste tube from the middle. (This is a period piece from the days when coffee was made in percolators and toothpaste tubes were made of metal foil rather than plastic.) He subsequently flees. Sylvia, badly in need of a caffeine rush, enters the kitchen and finds Geraldine dead on the floor. Sylvia has always hated Geraldine for making better coffee than Sylvia, so in a gesture of hatred and contempt, she pours out the entire can of Folger's into Geraldine's mouth, and then leaves. When the police come to the scene, they assume that the ritualistic force-feeding of dry grounds is a clue to why the murder took place. Mortimer's membership in a Coffee Cult makes him the prime suspect.
The Locked Room
I don't really need to explain that this means, ostensibly at least, that no one could have entered or departed the kitchen at the time Geraldine appears to have been murdered, do I? Of course someone did. Probably Cuthbert, Sylvia, and Mortimer all did. Or maybe it was the dog.
Any which way, I conjure you to please take the time to stop and smell the coffee.1 And enjoy the crime scenery.
Notes: