MENTAL MONUMENTS
by Rob Lopresti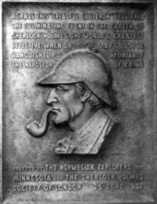 Beside a certain waterfall in Switzerland there is a plaque commemorating an event that never happened. I suppose that isn't unique. There are probably many monuments around the world celebrating things that never happened — thousands if you assume that the world's religions can't all be historically true.
The plaque at Reichenbach Falls is not the only one commemorating Sherlock Holmes. There is one at the hospital where Watson met Holmes, for example, and several on Baker Street. But Conan Doyle's creation is not unique in that regard. In Burritt Alley in San Francisco there is a plaque reporting the death of Sam Spade's partner, Miles Archer (and, shamefully, revealing the identity of the murderer in The Maltese Falcon. Tsk, Tsk.) The Wolfe Pack has put up a plaque on West Thirty-Fifth Street in Manhattan identifying the most likely site of Nero Wolfe's famous brownstone.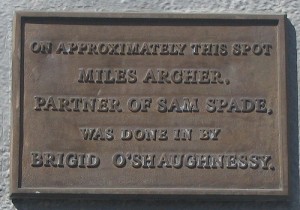 Now, how would you explain all this to, say, a creature from another planet? This sign was placed here to remind people that this is the location of an event that never happened to people who never existed.
Did the commemorators believe these things really happened? No. Were they trying to fool other people into thinking so? Not a bit. Then for heaven's sake, why did someone put those plaques there?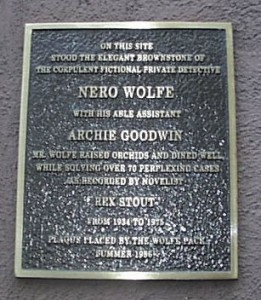 Good question. And yet people can get quite passionate about it. There is a famous story, not apocryphal I hope, about one or another Sherlockian society debating which house on Baker Street deserved to be commemorated as the house. After a long bitter quarrel one participant finally got up and left, after announcing indignantly, "A plaque on both your houses!"
Invisible celebrations
I have established my own collection of monuments, but they are more difficult to find because they exist only in my own head. But I know where they are.
For example, in a certain coffee shop in Montclair, New Jersey there is a non-existent sign reading: At this table one Saturday in the 1980s Robert Lopresti got the idea for the short story "Shanks at Lunch."
And in a particular concert hall I have located a carefully polished but entirely invisible plaque that says: During a concert here Robert Lopresti figured out the plot for "Snake in the Sweetgrass."
And I would very much like to put up a modest sign in Jericho Beach Park in Vancouver that reads: The idea for the song "Glass Woman Blues" was lurking under this tree on July 5, 1989. Rob Lopresti captured it and took it home.
Inspiration point
The inspiration for most stories and songs I have written can't be tied to a specific geographical spot, but some can. For example, the idea for "Take A Box," one of my most popular songs, jumped out at me as I turned the corner into my driveway one day. Every time I make that turn I wait for another song to do the same. So far, no luck.
If nothing else, this point of view does give you a unique answer to the Worst Question people ask writers: "Where do you get your ideas?"
"Well, I got the idea for this novel on Route 46, just east of Wayne, New Jersey. Almost drove right off the road. Why do you ask?"