IN THE NICK OF TIME
by Deborah Elliott-Upton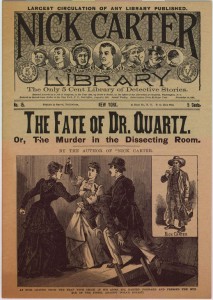 One of America's last traditional dime novels produced one of the country's best-loved amateur sleuth turned private investigator. On September 18, 1886 in Street and Smith's New York Weekly, the adventures of 19th century detective, Nick Carter, made his first appearance. A dedicated master of disguise, the young Nick Carter was known for his confidence, trivia expertise and being a non-smoking, non-drinking, clean-cut "kid detective." In print a year prior to Sherlock Holmes, Nick Carter was often called America's counterpart to England's crimefighter extraordinaire.
Nick Carter's creator, John Coryell (1848-1924), wrote three stories featuring his exploits for the publication. After the initial success, Coryell found he had little time to spend with Carter's adventures since writing romances under the pseudonym of Bertha Clay seemed more fruitful. The phrase "In the Nick of time" is rumored to have been coined from the heroic Nick arriving just in time, which is exactly what saved the characters in jeopardy. Taking the helm from Coryell, Frederick Rensselaer Dey (1862-1922) took his creation to new heights. Dey wrote one 25,000 word novel a week every week for seventeen years, creating thousands of stories for Street and Smith's publications.
Dime novels were being replaced by pulp magazines around 1915, but Nick Carter's popularity (like Sherlock Holmes') refused to die.
As public fascination propelled Nick Carter beyond dime novels, his character evolved. Four French films of his adventures were completed between 1909 and 1912. In America, a series of silent movies were made about the detective before he debuted in a "talkie" in 1930 with Walter Pigeon portraying Nick.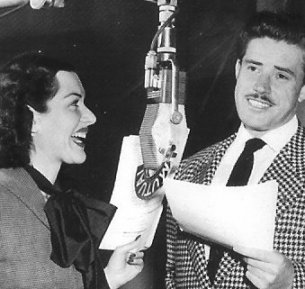 1 Nick Carter stories popped up in another medium, radio. Each broadcast began with a dramatic knock on a door. In answer to Carter's sidekick, Patsy's "What's the matter? What is it?", a male voice repeated the same phrase for each shows' opening, "Another case for Nick Carter, Master Detective!" The program – complete with dramatic organ music — had a strong following. (Listen to episodes here.) Sitting close to the radio, many armchair detectives hoped to figure out the clues as quickly as their hero. Just as Dey's weekly novels in the pulp magazines had inspired a following, the radio series proved the public still loved Nick Carter adventures. The program had a twelve year run with over 700 episodes. Lon Clark portrayed Nick Carter throughout the entire time span.
During the 1940s, Nick Carter was again immortalized in a comic book series.
It's said there have been more Nick Carter adventures than any other fictional detective. In the 1960s, many "men's adventure" paperbacks were issued under the title Nick Carter: Killmaster. Like the Nancy Drew series, these books were written by a plethora of impressive writers and all attributed as "written by Nick Carter," including Michael Avallone with Valerie Moolman, Sean Flannery, David Hagberg, Robert J. Randisi, Dennis Lynds, Gayle Lynds, Bill Crider, Michael Collins and Martin Cruz Smith.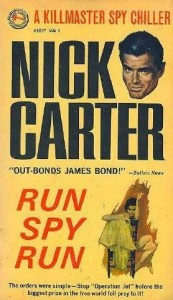 As the 1960s era of spy and secret agent influenced the times, so did the influence on the newest incarnation of Nick Carter. The books during this time period noted the character is credited only with being inspired by the original pulp fiction hero. The latter 20th Century Nick Carter is in his 40's, lean and mean and uses three weapons: a stripped down WWII German Luger he names Wilhelmina, a pearl handled stiletto (Hugo) and Pierre, a poison gas bomb shaped like a small egg and carried as a third testicle at his scrotum. Each book required Nick to use each of the weapons at least once. Obviously, Nick is now a bit dangerous and no longer depicted as the "a clean-cut kid detective" of the earlier stories, but he does continue to right the world's wrongs. The series novels counted 200 + titles in print and delivered another hit series for Nick Carter.
In 1972, Robert Conrad starred in the title role in "The Adventures of Nick Carter, " a 90-minute unsold pilot that was broadcast as a made-for-TV movie. I haven't seen this film, but imagine Conrad's Carter dares anyone to not take him seriously.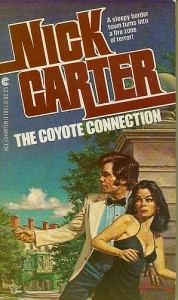 Perhaps a writer's true greatness is revealed when his characters live on longer than its creator. Many of our favorite characters have lived only once in a book. How nice when a character is not just discovered by a new generation, but revived repeatedly and still finds a thirsty audience. Perhaps someone at this moment is creating such characters. It's happening just in the nick of time.
P.S. Many thanks to Bill Crider for his expertise in verifying some of the facts for the Killmaster series.
Notes: