ALOHA SUMMER
by Deborah Elliott-Upton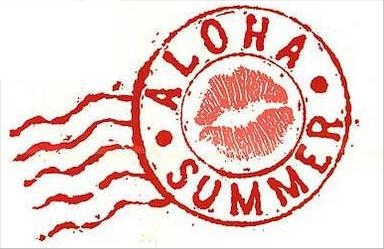 It's been nine months, but feels like only weeks since my intern and I got together to discuss writing, writers in general, and how to make the obsession we shared into a career. Summer is graduating high school and will be on her way to college this fall. She'll be living away from home in a dorm and finding her own way to new adventures in seeking out her Muse. I almost feel left behind.
Two other local writers shared Summer's mentoring with me. Jennifer met with Summer on Tuesdays and Jodi on Thursdays. Wednesdays were mine.
In the fall we were invited to an afternoon Meet and Greet session at the school to see how our intern was doing. Her project was like the other students', in that everyone had filled three poster-sized boards with information about their chosen careers.
Among her classmates, one student was being mentored by a TV sportscaster, another by an equine veterinarian, and another by a park ranger. All the boards listed the expected income from their profession. Summer had typed in a number slightly in excess of $50,000 as an expected writer's salary. Jennifer and I exchanged amused expressions. "We'll have to ask her where she got that figure," Jennifer said. Summer's answer was it was an estimate she'd found on the Internet. I suppose if you add together those writers working for free and the Tom Clancy type salaries and average it with the number of people claiming to be a writer, there are surely some who are paying Uncle Sam their fair share of that $50,000. I'm not so sure about a beginning writer making that much, but it could happen – there are a lot of those people writing their true stories that make it to the New York Times bestseller list the first time out. I'm not so sure about fiction writers, though, and definitely not a short story writer.
This past week, we met again at the high school to see how our protégé had progressed. Jennifer and I both remarked how we wish a program like this had been in effect when we were in high school. Obviously, we believe we made a difference in her goal to become a published author and mentally patted ourselves on our backs. Summer gave a PowerPoint presentation detailing how a novel travels from idea to a sold commodity. I leaned close to Jennifer and whispered, "Our baby girl's all grown up."
Watching Summer's presentation regarding how a story is born, nurtured, and thrown out into the world where some editor somewhere may one day adopt it and love it as much as she had, was a revelation to many in the room. For some unknown reason, people think you write a book and alakazam, it's on the bookstore shelf. If only.
Summer's mother had thanked us for helping her daughter so much during the year, but actually, our intern had given us something in return. True, she helped me edit some short works of fiction, assisted Jodi with her web blog, and taught Jennifer how to work a PowerPoint presentation, but it was more than that.
Jodi had been freed from some of the business end of writing to ensure she finished her 30th novel on deadline. Jennifer learned up-to-date teen slang and terminology she needed for her young adult book. Still, I think I may have received more.
Summer and I had several conversations about life, probably not what Mrs. Cook expected from our meetings. I knew what color her prom dress would be, her hopes to be on a missionary trip to Peru between graduation and beginning college, and how she imagined her future would turn out. By listening to her goals, I learned a lot about myself. I had kept so busy I was allowing some of my dreams to wander just outside my peripheral vision. It was time to yank them back into the limelight.
At the closing ceremony, all the mentors were thanked in turn by their interns and presented with nice plaques. I was pleased by Summer's kind words because I knew she had thought about what she was saying. There was no prepared speech; she spoke from the heart. Before we knew it, the festivities were over and Summer rushed off to a Scholarship Awards Ceremony where she was being awarded with a scholarship.
Jennifer, Jodi, and I sat munching cookies and drinking the mystery punch (we knew it was made with pineapple juice, but what else?). There is always a mystery to be solved!
"Do you think you'll do this mentoring again?" Jodi asked us.
"I had a lot of fun," Jennifer said.
We all nodded agreement.
"I don't know," I said. "I'm not sure we'd ever get another Summer."
The mentoring hadn't been what I had expected. I don't remember a time where I thought anything Summer and I worked on together was anything more than fun, even when we worked on the dreaded synopsis. Sharing information with someone who seemed as interested as me was a joy. Every week, I was surprised when her cellphone alarm went off and we were done. It never seemed like a job, even when I was tired from other duties. It all happened so fast, but such are the good times in life.
I told Summer I was writing a book about our experiences titled 9 Months of Summer. I'm not sure why, but she looked a little scared. I think she knows me too well.
I've decided not to say goodbye to Summer, but borrow from my Hawaiian friends and bid her Aloha. We'll meet again. I hope it's sooner rather than later, but definitely someday we'll both make it to the better end of the pay scale. It's where our dreams dwell and friendships thrive.