A SERIES SITUATION
by John M. Floyd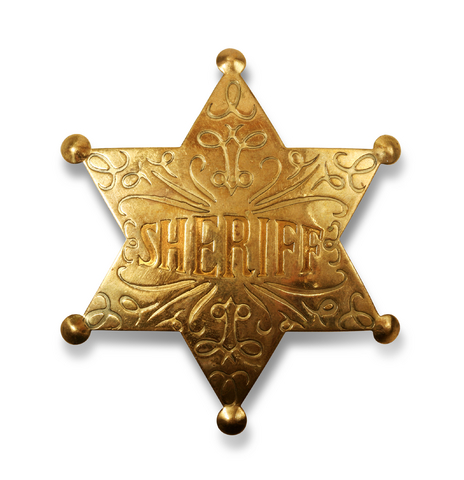 Over the past couple weeks I've had something take place, writingwise, that hasn't happened often. In fact it hasn't happened to me since maybe 2002.
No, I didn't write a story without committing a comma error, and no, I didn't come down with an attack of writer's block. What did happen was that two of my short stories appeared in back-to-back issues of Woman's World magazine (the May 17th and May 24th issues). And what's really odd about it is that this time they're both "series" stories, but they're each part of a different series. Not that it matters, but the first story is called "The Quilt Caper," the second one "The Gospel Truth."
South of Mayberry
For several years now, I've written two sets of small-Southern- town mystery stories, one of them starring self-professed crimefighter Angela Potts and her long-suffering former fifth-grade student Sheriff Charles (Chunky) Jones. The other series features retired schoolteacher Frances Valentine and her daughter Lucy, who also happens to be the county sheriff. Both Angela and Fran annoy the hell out of their sheriffs and manage to publicly correct them on matters of both grammar and police procedure; in Fran's case, she's also on the lookout for a suitable future son-in-law for Lucy. The biggest thing they have in common, though, is that both of these crafty but bossy ladies usually figure out how to solve whatever mystery is afoot before their law officers do. (One fan wrote me to say that Angela and Chunky remind her of Bea and Andy Taylor, on TV. I was pleased to hear that, but in truth Angela's smarter than Aunt Bea was and my sheriff isn't nearly as smart as Andy was.)
So far, twenty-five of the Angela Potts stories, including "The Gospel Truth," have appeared in Woman's World, and one in Amazon Shorts. Thirteen of the Fran and Lucy Valentine stories showed up in Futures Mysterious Anthology Magazine under the series name "Law and Daughter," one story was included in the Seven by Seven anthology by Wolfmont Press, one was featured in the now-defunct Mouth Full of Bullets e-zine, and the aforementioned "The Quilt Caper" come out in Woman's World. The entire Fran and Lucy series is also upcoming in future issues of Mysterical-E, edited and published by my friend Joe DeMarco.
Reservoir puppies?
Most of my mystery stories are standalones, not installments in a series. Why, then, would I create a series in the first place? Well, for one thing, they're fun to write. Ask JLW or Rob. Another advantage, in my case, is brevity. With short stories — especially the 600- to 700-word mini-mysteries that WW publishes — a writer doesn't have a lot of room for character development, and when you're doing a series you already know these people: how they look, how they talk, how they act. And readers know them too. There's no need for backstory; you can hit the ground running.
Also, there's a lighthearted mood that plays a big part in these mystery series of mine. It's a chance to include a lot of humor, not as a byproduct of the storyline but as a main ingredient, and that's great fun for me as a writer. If I've done my job properly, readers expect Angela to order Chunky around and call him by his dreaded nickname and embarrass him in front of the mayor and interfere in just about everything he does, and they expect him to hate that. But they also know that he knows how lucky he is to have her around, although he would never admit it — even to himself.
Keeping up with the Joneses
The disadvantage of series stories? For me, it's the fact that I have to keep everything straight, like the names of friends, neighbors, stores, restaurants, etc. Especially when I have two currently-running series that are fairly similar in terms of structure, characters, and setting. It'd be pretty easy, in a period of brain-lapse (and I have plenty of those), to put the wrong deputy or the wrong landmark in the wrong story. For that very reason, I keep a long list of characters, major and minor, who have appeared in each series, along with place names. And I do a lot of double-checking.
The other disadvantage is that it would be really easy to get lazy and keep writing similar versions of the same story, time after time. In order to avoid that, I try to open each story differently, vary the crimes and the settings, and even have the "solution" present itself in an unusual way now and then. Once I even had Sheriff Jones solve the case, an outcome which surprised him as much as it surprised Angela.
To those of you who have written series mysteries: Do you find it more fun, or less, than writing standalone stories? More work? Less?
Series possibilities
Who knows, I might one of these days arrange for my two sheriffs, Chunky and Lucy, to meet, maybe at a state law enforcement conference. I don't think I'll kindle any kind of romantic interest between them, though. For one thing, Chunky's already married — I doubt Lucy's mother, matchmaker though she is, would stand for that. Besides, Lucy Valentine is pretty darn attractive, in an overworked, disheveled kind of way; Chunky Jones is not only lazy, he's . . . well, he's chunky.
Who knows, I might even have him go on a diet at some point and lose a hundred pounds or so. It could work; I would just have to figure out a way to adapt.
Maybe Angela could start calling him Skinny instead . . .