LISTENING TO POE
by Steven Steinbock
I've been a devotee of Old Time Radio from way back. I was born too late to catch "The Shadow" in its original run. But over the years I've spent a good bunch of hours listening to recordings of the old shows.
I was intrigued when Radio Spirits sent me a box set entitled "Smithsonian Legendary Perfomers: Edgar Allan Poe." This six-hour, six-CD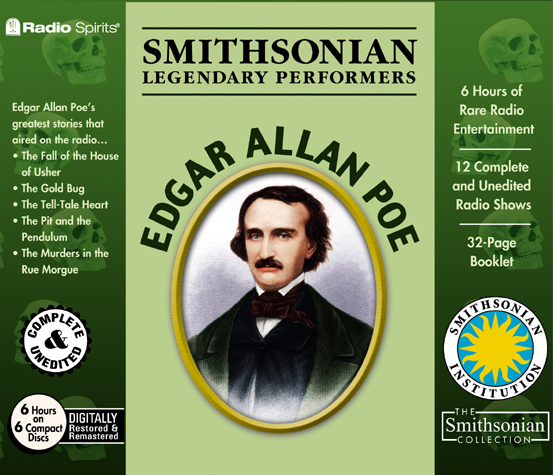 set includes twelve episodes from programs like "Suspense", "Mystery in the Air", and "Inner Sanctum", each depicting one of Poe's classic tales. Most of these segments are from the late 1940s or 1950s, so production and sound quality tend to be good. (I don't know how the programs were originally recorded, but all too often its like listening to a rusty radio being recorded onto a scratchy Victrola that had been lost at sea for forty years).
The opening story comes from a November 10, 1957 episode of "Suspense" in which Vincent Price reads a faithful and chilling adaptation of "The Pit and the Pendulum." As with most of these programs, the story was enhanced, often with characters and sometimes entire plotlines added to keep the interest of radio listeners. Sometimes the adaptations are stretched beyond recognition (as in some of those American International movie adaptations), while at other times I think even Poe would have approved. That's the case with this story, which was thankfully rewritten by John Dickson Carr.
Peter Lorre, who would later play in Roger Corman's adaptation of the same story, gives a brilliant performance of "The Black Cat." One of the better pieces of acting in the entire box-set, Lorre gives an unrehearsed, natural, and brilliant portrayal of the tormented wife-killer in this 1947 episode for "Mystery in the Air."
Commemorating the 100th anniversary of Poe's death, Maureen O'Hara introduces "The Gold Bug," starring Howard McNear (who would later have two regular roles as town barbers for television series "Leave it to Beaver" and "The Andy Griffith Show."
Daws Butler's unmistakable comical voice is right for the satirical "Never Bet the Devil Your Head." This 1957 recording of "The CBS Radio Workshop" is a nice reminder that Poe wrote more than tales of the macabre. This is a satirical tale that reads (and sounds) a lot like O. Henry on crack.
"The Tell-Tale Heart," read by Boris Karloff, is disappointing, with a scratchy recording and a script that wanders too far from the original. Karloff had a great voice for radio, but this 1941 episode of "Inner Sanctum Mysteries" isn't one of them.
Other highlights include a 1944 episode of "Weird Circle" in which "The Murders of the Rue Morgue" is faithfully retold, a 1948 episode of "NBC University Theater" featuring "The Purloined Letter," and Paul Frees narrating "The Fall of the House of Usher" on a 1947 episode of "Escape."