POLITICAL HACKING
by Leigh Lundin
While much attention has been given to the end of the series Lost and Law & Order, another wildly popular award-winning television show wound down as well.
Born of the rage and pain and fear of 9/11, 24 burst onto the small screen with innovative visuals and a countdown clock, one testosterone episode per hour in a twenty-four day.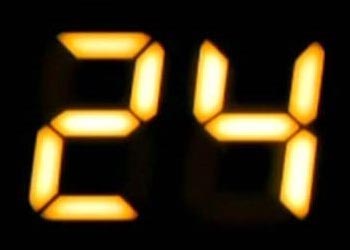 While greatly admired in some circles, the show has been criticized for its orgies of torture and mind-numbing body counts. Fan sites actually track deaths with specific rules requiring dying to be on-screen and "confirmed". Enthusiasts dispute the number of 'diegetic deaths' (narrative targeted deaths as opposed to mass casualties, well into the thousands), but the total body count reportedly is 13,628 on-air deaths (71 each hour), of which Jack Bauer is personally and solely responsible for at least 266, or 33 corpses per twenty-four hour day.
Fifty years ago, such a story would have been found in the darkest corner of bookstalls in adventuring soldier-of-fortune "man's fiction". Eight years ago, death and torture became mainstream. These days, even a Justice of the US Supreme Court blurred the lines of 24's reality.
As I debated which direction this article should take, I thought of John McCain and a line from the 2008 election that stuck with me. When frothing commentators asked if he would support torture, McCain replied,
"No, we're better than that."
Honor Killings
Although fans (which included Ted Kennedy) call 24 "the best TV drama on the best network" and the show that "can't be criticized", we're better than that. Some conservative commentators who thoughtfully review films and television programs reportedly declined to comment on 24 and, if comments are true, William F. Buckley, Jr. disdained 24 (although he once called Colin Powell's concerns about torture "maudlin"). I suspect Bill, like his son, Christopher, wouldn't think much of today's political climate.
The problem with 24 is this: When we think of past or present enemies, what distinguishes the program's essence from the worst we believe about our antagonists? When the great statesmen and thinkers like George Orwell warn us against becoming like our enemy, how do we differentiate the fictional CTU from a Soviet, Nazi, or North Korean agency?
We can't. It's not enough to say we're the good guys and that makes it right. I prefer the Tom Clancy model, where people struggle with internal bureaucracy and external terror, but strive to maintain the high ground. Like Professor Owens and the venerable Sun Tzu before them, General John Beishline made the transition from soldier to the classroom, and he emphasized this point:
While some argue victory at any cost, there is no triumph without humanity, no honor without honor itself.
Demonization
Long before I started writing, I came across a novel, probably a thriller set at least partly in Washington, DC. I don't recall the title, the author, or the plot, but one thing stuck in my mind: it depicted the actual sitting president as being snide and supercilious to the White House servants.
That was peculiar because that same president was probably the most unlikely of men to be unkind. The denigration must have been important to the author because it jarred me out of the novel. Years later, it's the only thing I remember about the story.
Why would a novelist write such a thing?
The short answer is that authors are people, too, often with strong views, opinions that left unchecked might color what they write and cloud better judgment. In this case, the writer's disparagement marred my enjoyment of the story and probably put off others.
Is it necessary to gut stories of political belief? Although I distrust extremist positions of any stripe, I don't think a fictionist has to check his (or her) beliefs at the door, only their prejudices.
Take Jonathan Kellerman and Tom Clancy. I don't know if Kellerman is liberal or that Clancy is conservative, but when I try to think of examples, they come to mind. They're good writers and I enjoy both. At least two factors make them acceptable and even likable across political boundaries: respect for differing opinions and a focus upon common values.
Terror as Entertainment
To the degree war threatens the Korean peninsula, the current Korean situation reminded me of Tom Clancy's Op-Center. It became a television series, reasonably well-received and in many ways what 24 wasn't, applying intelligence and reason to unravel saboteurs and thwart enemy plans.
Clancy also holds up as a master plotter. The Hunt for Red October and Red Storm Rising are devised as cleverly as any of their genre. Like Sun Tzu, he doesn't demonize the enemy, but respects the opponent as a means to defeating him.
Politics as Entertainment
Not a television viewer, I'm at a disadvantage discussing The West Wing. but the program was well viewed by conservatives as well as liberals. National Review's Mackubin Thomas Owens wrote:
Although his administration is reliably liberal, President Bartlet possesses virtues even a conservative could admire. He obeys the Constitution and the law. He is devoted to his wife and daughter. Being unfaithful to his wife would never cross his mind. He is no wimp when it comes to foreign policy— no quid pro quo for him.
I'll have to take his word for it, but the point is the writers' success stems from mutual respect and common ground. As any political science course will tell you (or any libertarian, for that matter), left and liberal, and right and conservative are not synonymous– and that's not entering into economics or social issues. If a writer can avoid the pitfalls on the left and right (the "wingnuts" as pundits call them), plenty of territory remains.
In Contrast
In 24, the (presumably liberal) opposition is portrayed as weak and even whimpering, aimed for cheap effect, pleasing the network's audience. Jack Bauer must have been the topic for interesting family conversations in the Sutherland household. Kiefer Sutherland– not at all an American– is the liberal son of liberals and the grandson of a Baptist minister, the first socialist to lead a government in North America. It makes one's head hurt wondering who is playing whom.
Perhaps the primary positive of 24 is the debate itself.
Sidestepping the argument the war on terror should be called a war, the advice of Sun Tzu nevertheless rings true– we need understanding and respect to prevail. Like Mackubin Thomas Owens said about fiction, we admire virtues and values. As writers, we need to embrace them.
---
Lost
Not having seen a single episode of Lost, in researching this article, I stumbled upon what strikes me as a huge clue: