SCHRODINGER'S CUP
by Steven Steinbock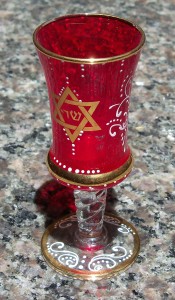 Twenty-five years ago or so, my sister was spending a year in Denmark as part of a college exchange program. During that year she took a trip through several European countries. One of the first stops was Venice, where she saw a cute Venetian glass Kiddush cup that she bought for me.
I still have that cup. But it wasn't until just a couple months ago that my sister told me the daring story behind it.
As any American college student in the early 1980s would do while on such a trip, she was living out of her backpack. Because Venice was one of the first stops, she had to carry that tender little Kiddush cup for the next couple of weeks while hiking, taking trains, and going from country to country, hostel to hostel.
When she bought the cup, she had it wrapped carefully and put in a box. Throughout her journey, she dared not open the box for fear of seeing broken shards of crimson glass instead of a Kiddush cup. When she got back to Copenhagen she decided not to tempt fate. She decided that as long as she didn't open the box, as long as she didn't know whether or not it was broken, the cup was safe.
As luck would have it, the cup did make it back to the States in one piece. And as I said, I still keep it on a shelf with other items of China, crystal, and silver.
After my sister related the story of the cup's journey to me, I told her how much it sounded like the story of Schrodinger's Cat. My sister didn't know what that was. So I explained it.
Schrodinger's Cat isn't so much a story as it is a thought experiment. I'll do my best to recollect it, but astute reader, please keep in mind that while I'm being as precise as I can, I'm a storyteller and not a physicist.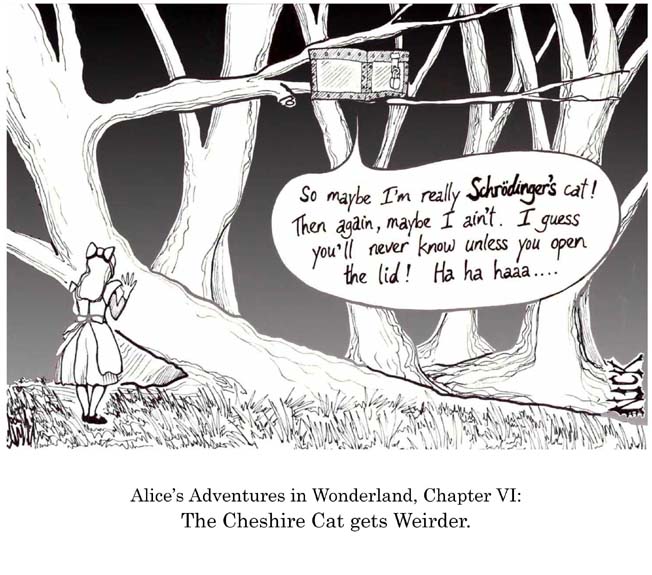 One of the paradoxes of Quantum Mechanics is that it allows the possibility for a single item of matter to be in two mutually exclusive states at the same time. I think this means that on a subatomic level, a particle is in every state that it could be.
Image a camera lens, for instance. The light reflected from a tree passes through the lens where the light particles (or are they waves?) flip upside down where they hit the film. The tree is right-side up, as are the light waves (or were they particles?) on one side of the lens. But on the opposite side of the lens the light representing the tree is upside down. There must be a single point – a singularity, if you will – at which the upside down and right-side up images meet. At that single point, what is the state of the tree image? Is it upside down or right-side up? I assume that at this point the image is in both states, as impossible as this sounds.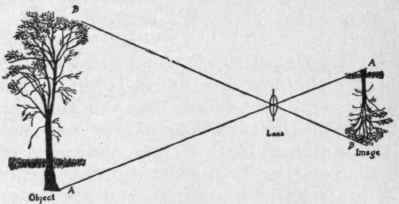 So back in 1935, Erwin Schrodinger used the metaphor of a cat to illustrate the paradox to Einstein. I don't think Schrodinger ever intended it to be understood literally. I may be wrong. He referred to this as a ridiculous example. So I think he was simply illustrating the point.
A cat is locked in a sound-proof, light-proof box. You can't see or hear how the cat is doing. Along with the cat is a capsule containing deadly radioactive material. There is exactly a 50/50 chance that the capsule will release radiation that will kill the cat. Schrodinger suggested that while the cat is sealed inside the box, it is in a state of being both alive and dead.
From the cat's point of view, the whole notion is absurd. He knows if he's alive even if the scientist doesn't. Just the same, the thought experiment has led to a number of other important theoretical schools of thought in the world of physics. Not to mention, it's given me a Schrodinger's Kiddush Cup.
Anecdotal Reporting
You don't have to be trapped in a box in order to be in two states simultaneously. It's possible for a person to be both artistic and scientific. However, there are two areas in which physicists and storytellers see the world in completely incompatible terms.
The word anecdote is an anathema to scientists. I live with a scientist, and when she says the word, it is with the same inflection and emotion as she might say "urinary tract infection." To a scientist, the word anecdotal is synonymous with unproven (which in most scientist's minds is equated with false). Because an anecdote is a one-time event, it can't be measured or repeated. Therefore it can't be used as data and therefore isn't true.
To a storyteller, an anecdote is a beautiful thing. It is kernel of a story, a story-within-a-story, a multifaceted gem asking to be gazed at. In The Maltese Falcon, Hammett uses the anecdote about Flitcraft to help establish Sam Spade's drives and character. This is the beauty of anecdotes: they give you a picture worth a thousand words told in fewer than a thousand words.
The other difference is that a storyteller would never let the cat die.