Here is the second installment of Edgar Wallace's 1910 short story,"The Greek Poropulos". You can read Part I here.
THE GREEK POROPULOS Part II
by Edgar Wallace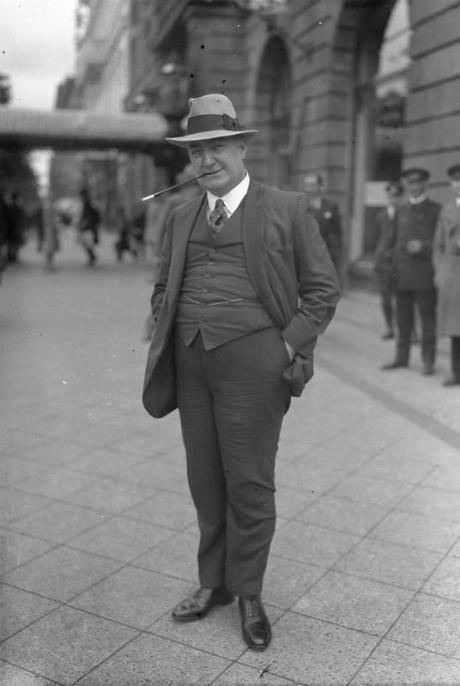 One forgets things in war time. I joined the Imperial Light Horse and went to the front. The doctor passed me as sound, so I suppose that all that is claimed for the climate of Africa is true.
We went into Ladysmith1, and I survived the siege. I was promoted for bringing an officer out of action under fire. I earned a reputation for daring, which I did not deserve, because always I was courting swift death, and taking risks to that end.
Before Buller's2 force had pushed a way through the stubborn lines to our relief, I had received my commission. More wonderful to me, I found myself a perfectly healthy man, as hard as nails, as callous as the most-experienced soldier. Only, somewhere down in my heart, a little worm gnawed all the time; sleeping or waking, fighting or resting, I thought of Lillian, and wondered, wondered, wondered.
Ladysmith was relieved. We marched on toward Pretoria. I was transferred to Hampton's Horse with the rank of major, and for eighteen months I moved up and down the Eastern Transvaal chasing a will-othe-wisp of a commandant, who was embarrassing the blockhouse lines.
Then one day I came upon Poropulos.
We were encamped outside Standerton when he rode in on a sorry-looking Burnto pony3. He had been in the country during the war, he said, buying and selling horses. He did not mention Lioski's name to me, and so studiously did he avoid referring to the man, that I saw at once that he knew.
It was brought home to me by his manner that he had a liking for me that I had never guessed. In what way I had earned his regard I cannot say, but it was evident he entertained a real affection for me.
We parted after an hour's chat—he was going back to Carolina. He had a scheme for opening an officers' club in that town, where there was always a large garrison, and to which the wandering columns came from time to time to be re-equipped.
As for me, I continued the weary chase of the flying commando. Trek, trek, trek, in fierce heat, in torrential downpour, over smooth veldt and broken hills, skirmishing, sniping, and now and then a sharp engagement, with a dozen casualties on either side.
Four months passed, and the column was ordered into Carolina for a refit. I went without qualms, though I knew she was there, and Lioski was there.
We got into Carolina in a thunderstorm, and the men were glad to reach a place that bore some semblance of civilization. My brother officers, after our long and profitless trek, were overjoyed at the prospect of a decent dinner—for Poropulos's club was already famous among the columns.
My horse picked up a stone and went dead lame, so I stayed behind to doctor him, and rode to Carolina two hours after the rest of the column had arrived.
It was raining heavily as I came over a fold of the hill that showed the straggling township. There was no human being in sight save a woman who stood by the roadside, waiting, and I knew instinctively, long before I reached her, that it was Lillian. I cantered toward her. Her face was turned in my direction, and she stood motionless as I drew rein and swung myself to the ground.
She was changed, not as I expected, for sorrow and suffering had etherealized her. Her big eyes burned in a face that was paler than ever, her lips, once so red and full, were almost white.
"I have been waiting for you," she said.
"Have you, dear? You are wet."
She shook her head impatiently. I slipped off my mackintosh and put it about her.
"He has turned me out," she said.
She did not cry. I think she had not recovered from the shock. Something stirred from the thin cloak she was wearing; a feeble cry was muffled by the wrapping.
"I have got a little girl," she said, "but she is dying." She began to cry silently, the tears running down her wet face in streams.
I took her into Carolina, and found a Dutchwoman who put her and the baby to bed, and gave her some coffee.
I went up to the officers' club just after sunset and met Poropulos coming down.
He was in a terrible rage, and was muttering to himself in some tongue I could not understand.
"Oh, here you are!"—he almost spat the words in his anger—"that dog Lioski—"
He was about to say something, but checked himself. I think it was about Lillian that he intended to speak at first, but he changed the subject to another grievance. "I was brought before the magistrate and fined £100 for selling field-force tobacco. My club will be ruined—Lioski informed the police—by—"
He was incoherent in his passion. I gather that he had been engaged in some shady business, and that Lioski had detected him. He almost danced before me in the rain.
"Shylock dies tonight," he said, and waved his enemy out of the world with one sweep of his hand. "He dies tonight—I am weary of him—for eighteen—nineteen years I have known him, and he's dirt right through—"
He went out without another word. I stood on the slope of the hill watching him.
I dined at the club, and went straight back to the house where I had left my wife. She was sleeping—but the baby was dead. Poor little mortal! I owed it no grudge, but I was glad when they told me.
All the next day I sat by her bed listening to Lillian's mutterings, for she was very ill. I suffered all the tortures of a damned soul sitting there, for she spoke of Lioski—"Arthur" she called him—prayed to him for mercy—told him she loved him—
I was late for dinner at the club. There was a noisy crowd there. Young Harvey of my own regiment had had too much to drink, and I avoided his table.
My hand shook as I poured out a glass of wine, and somebody remarked on it.
I did not see Poropulos until the dinner was halfway through. Curiously enough, I looked at the clock as he came in, and the hands pointed to half past eight.
The Greek was steward of the club, and was serving the wine. He was calm, impassive, remarkably serene, I thought. He exchanged jokes with the officers who were grumbling that they had had to wait for the fulfillment of their orders.
"It was ten to eight when I ordered this," grumbled one man.
Then, suddenly, Harvey, who had been regarding Poropulos with drunken gravity, pointed downward.
"He's changed his boots," he said, and chuckled. Poropulos smiled amiably and went on serving. "He's changed his boots!" repeated Harvey, concentrating his mind upon trivialities as only a drunken man can. The men laughed. "Oh, dry up, Harvey!" said somebody.
"He's changed—"
He got no further. Through the door came a military policeman, splashed from head to foot with mud.
"District Commandant here, sir?" he demanded. "There's been a man murdered."
"Soldier?" asked a dozen voices.
"No, sir—storekeeper, name of Lioski—shot dead half an hour ago."
I do not propose to tell in detail all that happened following that. Two smart C.I.D. men came down from Johannesburg, made a few inquiries, and arrested Poropulos. He was expecting the arrest, and half an hour before the officers came he asked me to go to him.
I spent a quarter of an hour with him, and what we said is no man's business but ours. He told me something that startled me—he loved Lillian, too. I had never guessed it, but I did not doubt him. But it was finally for Lillian's sake that he made me swear an oath so dreadful that I cannot bring myself to write it down—an oath so unwholesome, and so against the grain of a man, that life after it could only be a matter of sickness and shame.
Then the police came and took him away.
Lioski had been shot dead in the store by some person who had walked in when the store was empty, at a time when there was nobody in the street. This person had shot the Jew dead and walked out again. The police theory was that Poropulos had gone straight from the club, in the very middle of dinner, had committed the murder, and returned to continue his serving, and the crowning evidence was the discovery that he had changed his boots between 7.30 and 8.30. The mud-stained boots were found in a cellar, and the chain of evidence was completed by the statement of a trooper who had seen the Greek walking from the direction of the store, at 8.10, with a revolver in his hand.
Poropulos was cheerful to the last—cheerful through the trial, through the days of waiting in the fort at Johannesburg.
"I confess nothing," he said to the Greek priest. "I hated Lioski, and I am glad that he is dead, that is all. It is true that I went down to kill him, but it was too late."
When they pinioned him he turned to me.
"I have left my money to you," he said. "There is about four thousand pounds. You will look after her."
"That is the only reason I am alive."
"Did you murder Arthur Lioski?" said the priest again.
"No," said Poropulos, and smiled as he went to his death. And what he said was true, as I know. I shot Lioski.
Notes:
One of the most famous battles of the Second Boer War in 1900. An account can be found here.