IT'S NOT ALL ABOUT ME?
by Deborah Elliott-Upton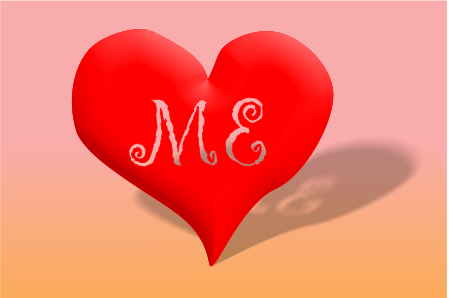 Summer elbowed my favorite season out of the way and it was too hot to want to be anywhere except in a pool or in front of an air conditioner. My family abandoned me for the week with pursuits of their own out-of-state and out-of-country and I was left alone with two cats refusing to tell me why they stared at me with odd expressions. (I keep saying I wish they could talk to me so I'd know what they were thinking and my daughter keeps telling me I should be happy they can't. She may be right, but I'm still curious.) At practically the last minute, I decided to attend a nearby writer's conference.
Frontiers in Writing offered a day and a half of quality programs at a minimal price along with opportunities to dine with and talk to other writers. I needed to be rejuvenated, inspired and rekindle friendships.
While there I met some magnificent writers including Joy Jordan-Lake and Frank Ball, both who shared insights on how we could enhance our storytelling. Their suggestions kept me scribbling barely-readable notes throughout the conference. I already knew author Diane Sagan and agent/author Terry Burns.
Terry and I had recently spent several hours side-by-side at a library sponsored book signing in Clarendon, Texas, just down the road from Greenbelt Lake. About 8 authors representing genres for every taste were surrounded by great people who actually liked to read. My table was nestled between Terry's and Jodi Thomas', so I had a choice position for traffic. Terry always has great stories to share about his travels about the country for Hartline Literary Agency and Jodi's group is always fun.
Although I have been a speaker at Frontiers in Writing in the past, this time I enjoyed being just another writer in search of acquiring new information about how books are written and sold. I wanted to spend time with friends and make some new ones. Conference attendance is usually an "all about me" networking sales tool and hopefully proving ourselves as being a valuable commodity to book buyers.
Meeting Thomas Umstattd, CEO of Umstattd Media and AuthorTechTips.com, was probably one of the most eye-opening experiences for me this time around. In his workshop, "Effective Author Web Sites," Thomas stated, "It's not all about you."
Maybe that's what the cats are conveying to me telepathically. It would explain so much.
I've learned not to hesitate too long when considering an opportunity — especially a free one. This practice has gotten me a few free lunches along with some that weren't really free at all, but that's the risk. Thomas offered a free critique of author web sites and knowing time allowed only a couple, I quickly volunteered mine at ExpressedImagination.com
When my home page popped up on the big screen, I almost choked. I'd never seen my photo so large. Thomas looked at it, then at me and asked, "What's your web site about?" I proudly said, "All about me, Thomas. It's all about the author, isn't it?" The audience laughed and Thomas smiled.
I forgot to mention Thomas always smiles, even when he's disagreeing. It's hard to disagree with someone who smiles so much, especially when he's correct.
Thomas explained the reason people go to any web site is to receive something back for their time whether it be for gathering information or just for entertainment. The goal of the web site owner is to over-deliver on the promise we make to our readership.
One of the redeeming factors on my personal web site was the immediate link on the home page to Criminal Brief. Thomas agreed what we offer here is appealing to the public. We deliver something worthy for your time spent in our company. I've always been proud of being in this group of writers and his validation was nice to hear.
In my opinion, every personal encounter should provide a lesson. Sometimes we are the giver, sometimes the receiver of information. It's not always easy to be open to new lessons, but it is always to our benefit. If it isn't a lesson, at least we should be fun to be around.
Smiles, compliments and pats on the back are free. Free is good. I'm not absolutely sure that on some days I wouldn't pay for someone's lunch who gave me encouragement when I really needed one. Oh wait. I think I may have already.
Whether we're together in person, or sharing via a web site, I want you to feel at home. Kick off your shoes and let's just chat. If you're reading a story I've written, I want it to be just as much about your enjoyment as mine was in creating the characters and the plot.
Thomas was right: It isn't really all about me. I want you to have a good time, too.