NUMB3RS, Part 2: LIKE TOTALLY
by Leigh Lundin
A few months ago, a reader sent me an on-line puzzle and asked how it worked. I did a step-by-step explication of that little mystery at the time. Recently another reader, Wendy, sent in an on-line puzzle.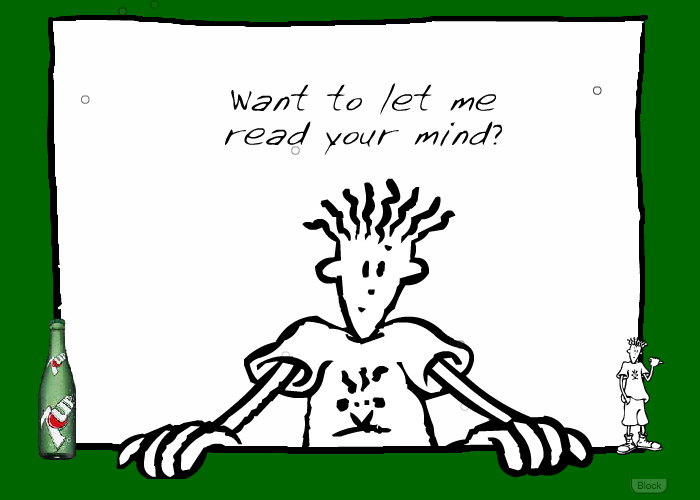 This one, called Fido, has a higher level of sophistication, based upon a couple of nearly forgotten mathematical principles. First, try the Fido puzzle and return here to discover the secret of its inner workings.
If you want to find out how it's done, keep reading. If you don't, skip to How Old Is Your Brain? below for a different kind of challenge.
The Trick Revealed
Following, I'll lay out how it's done along with a little (very little) math, so feel free to jump to the next test below.
Scholarly non-mystic numerologists study historical, usually religious texts, often related to gnostic studies. The Qur'an is one such fascinating subject of study. No one's certain of the meaning of its occurences, but the gematrical number 19 apppears imbedded in multiple ways.
Once upon a time, a girlfriend asked me to take a look at numerology. There's at least a dozen flavors, each in conflict with the others. The most popular are Kabbalah and Greek (raising the question of transliteration of non-Roman alphabets).
Most forms of mystic numerology rely upon "fadic addition" or "sum-of-the-digits", to obtain a single digit. The Fido trick also relies on 'fadic addition'.
James managed to track down a possible etymology for 'fadic', conceivably from an old English word faed, meaning "to reduce". I can think of two practical applications of fadic addition.
My good friend Dr. Ray reminded me of casting out nines this evening as we discussed the article. For centuries, a method called "casting out nines" was used to double-check math results in the days before computers. Largely forgotten today, engineers and accountants once used check digits to determine if they might have an error in extended calculations.
Check digits are also used to check the validity of account numbers, such as bank checking accounts. These days, banks usually use a more sophisticated calculation, but the idea is the same. You'll find check digits on bar codes and the end of ISBN numbers.
Calculating a fadic sum is simple in a shampoo-rinse-repeat way:
Add all the individual digits in a number.
If the result has more than one digit, repeat step (1) using the result as the new number, until you've reduced everything to one digit.
For example, say your numerology 'number' of a birthday is 19741205. You add all the digits together and you get 29. Add 2+9 together and you get 11. Add those digits, 1+1 together, and you get 2. The number 2 is your fadic sum.
What does this have to do with Wendy's magical sleight of hand?
Fido uses a couple of mathematical tricks based upon fadic addition, which we'll notate as ƒ(). Notice that Fido makes no attempt to guess any part of your original number, only a digit it has you devise.
The Fido program has you perform a transformation that it can work with, resulting in a fadic sum of 9. It does this by having you take your original number, rearrange the digits into a second number, and subtract one from the other. This difference, related to "casting out nines" above, will be used in the following step. Experiment with any two or more digit number, scramble the digits and subtract it from the original, and you'll always get a fadic sum of 9.
Since the program knows the difference results in a sum-of-the-digits of 9, once you 'hide' any one digit, it simply subtracts the sum of the digits you provided it from 9, revealing the number you circled.
Say you select 97531 and in rearranging the numbers, let's simply reverse them, 13579. Subtracting the smaller from the larger, we get 83952. The fadic sum of this difference is, ƒ(83952)=27, ƒ(27)=9.
Now, get rid of one digit, say 5. The fadic sum of this number is ƒ(8392)=22, ƒ(22)=4. To find our missing digit, we subtract, 9-4=5.
That was fun, wasn't it. (Don't answer that!)
The following, from another reader, Sheena, purports to determine your mental age. To try it, use these steps:
| | |
| --- | --- |
| 1. | Click the BRAIN TEST. |
| 2. | Click on START: |
| 3. | Wait for the countdown of 3, 2, 1. |
| 4. | Memorize each number's position on the screen: |
| 5. | After a moment, you'll be presented with a number of circles. |
| | Click each circle in order from the smalles number to the biggest number: |
| 7. | At the end of test, the computer provides a guess of your age. Remember, this is someone's opinion, not necessarily a reflection of reality. |
---
Thanks to Wendy for the Fido puzzle, Sheena for the Brain Test, Dr. Ray Ferguson for casting out nines, and James Lincoln Warren for digging out etymology of the word fadic.