WHERE WERE YOU WHEN IT HAPPENED?
by Rob Lopresti
So, like the title says: Do you remember where you were when it happened?
I'm not talking about the day a great leader died, or a plane crashed, or any of the other events that usually spark that question. I'm talking about a much more personal event that many of you reading this column experienced.
It was the moment that turned you from a person who reads many kinds of books into a mystery reader. Do you remember?
In my case, I can think of three such moments, three stages if you will, but I know exactly which one was the fatal dose, so to speak.
First and Last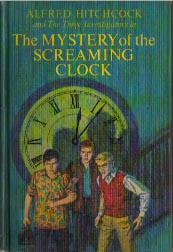 The first moment was when I was ten years old and started reading The Three Investigators, a series of Hardy Boys imitations, featuring cameos by none other than Alfred Hitchcock. The first set was written by Robert Arthur and they had wonderful scary titles like The Mystery of the Screaming Clock.
The third moment came when I was about thirteen and hiding from a librarian. At the Plainfield, NJ, public library in those days, they felt that children should be seen in the children's room and not heard in the adult section. The best way to avoid being banished pack to the kiddy books was to stay out of sight – and the mystery section was out of sight. That's where I discovered Rex Stout. I have all thirty-three of his Nero Wolfe novels, and I still reread them from time to time.
The Defining Moment
So both Arthur and Stout have their spots in my hall of memory, but neither has the place of honor. No, the moment I became a convert, a helpless lifelong sucker for this kind of literature, occurred when I was about twelve. I was sitting on the screened-in side porch of our house on a glorious sunny day (when I probably should have been out playing).
Instead I was reading. I was enjoying the book, but I can't say it was a big deal. Then I reached the sentence that changed my life. I can truly say I wasn't the same person at the end of that sentence as I was when I started reading it. It changed me that much. I can still remember the chill that went down my spine when I read it.
I looked up and was surprised that it was a summer afternoon in modern New Jersey, and not a chilly morning in Victorian England.
By now some of you have already guessed what the sentence was.
"Mr. Holmes, they were the footprints of a gigantic hound!"