DEPARTMENT OF ODD SOCKS VIII
by Rob Lopresti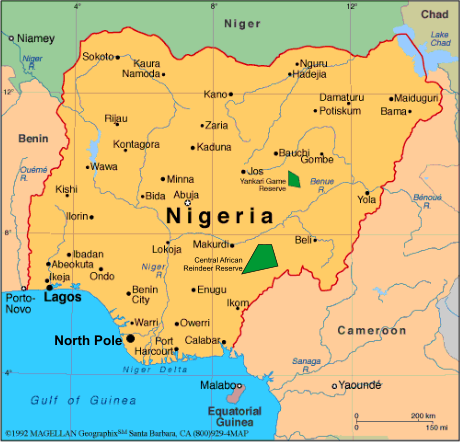 You can't argue with success they say, so I suppose I have no business criticizing the working style of a man who manages to rip people off for three million bucks, but seriously. . . . If you were in the U.S and trying to pull off the Spanish Prisoner (also known as the 419 scam) wouldn't Nigeria be the last place you mention?
According to The Seattle Times, Scott Allan Stuart of Blaine, Washington, allegedly squeezed $3.2 million out of investors by convincing them that he needed their help to get thirty million dollars out of Nigeria.
. . . Stuart, [the] prosecutor says, was able convince a number of investors that the money was waiting for him in a Canadian bank, where it was left by his father, who had gotten rich building an oil pipeline in Nigeria. All he had to do was pay the taxes, he explained, and the money would be released to him so he could pay them a premium for their help.

According to an indictment issued by a Seattle grand jury earlier this week and unsealed Friday, the "loans" ranged from $500 to $450,000, and several investors gave him $100,000 or more. Others were encouraged to recruit friends to invest, the indictment says.
The article does not explain where he found the investors but I believe P. T. Barnum reported that one of them is born every minute.
Your chance to help me with my homework
A cozy is a mystery in which someone gets killed but nobody gets hurt.
You have probably heard that definition before. Anyone know who came up with it? If so, please inform me. But what I would really like are more examples of its type: pithy or humorous definitions for types of tales in our genre. What exactly is a "had-I-but-known mystery?" What is the difference, if any, between a thriller and a suspense novel? If you can offer such a definition or comparison put it in the comments or email it to me. Be sure to include the author if known. Just to be clear, I'm not looking for scholarly definitions. I'm looking for panache.
Leading with a Jack
In recent months we have written occasionally here at CB about the TV series 24. If you are a fan, you owe it to yourself to get your hands on Dave Barry's new book I'll Mature When I'm Dead. These are long essays, now that he is free from his weekly newspaper column, and one of the best is a script for you-know-what TV series.
It is full of those plot twists we came to expect from the show.
The Vice President (peering at the president): Wait a minute. You're a kangaroo.

The President: Yes. The writers already did an African-American president and a woman president, so this season they were thinking, 'Maybe a Jewish president?' And then they thought, "Nah, too unrealistic." So they went kangaroo.
But my favorite moment was this over-the-phone reunion of two beloved characters:
Chloe: Jack? I thought you were decapitated and consumed by boars.

Jack: Not anymore.
Slevin up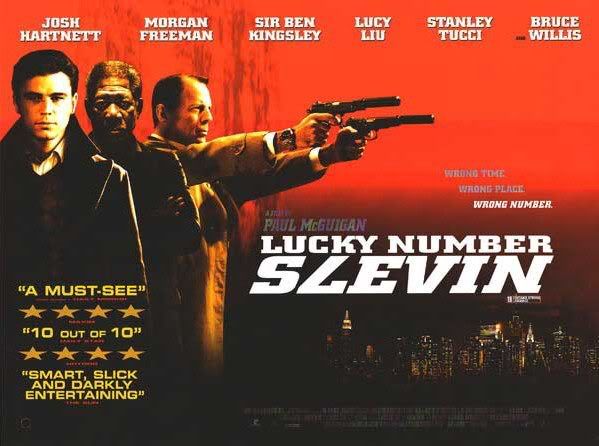 There is a reason no one invites me to vote on the Oscars. I would always pick the wrong movies. For example, I recently saw two crime movies made in 2006. Martin Scorsese's The Departed won four Oscars. Paul McGuigan's Lucky Number Slevin didn't even get an Edgar nomination. Guess which one I liked better?
Here's the story: A young man named Slevin Kelevra visits New York and two crime lords mistake him for a guy who owes them huge amounts of money. Suddenly his life is in danger, and, oh yes, he meets a beautiful woman the same day.
Maybe that sounds familiar. It is the plot of many movies including (as one character notes) North By Northwest. But don't tune out; without leaving New York this witty flick gets complicated enough to make Hitchcock's cross-country jaunt look like a stroll across the street.
For example, the movie begins in what looks like a waiting room for the afterlife with one character telling a stranger a story about the Kansas City Shuffle. This is a clue that the movie is all about story-telling. Slevin can't assume anyone is telling the truth, and neither can the viewer.
And the movie is beautiful. Almost every room has elaborate, even gaudy, wallpaper. Speaking of gaudy, take a look at the cast: Josh Hartnett, Ben Kingsley, Morgan Freeman, Bruce Willis, Lucy Liu, Stanley Tucci . . . even walk-on parts are played by Robert Forster and Danny freaking Aiello.
Then there's the dialog. Slevin answering the inevitable question about going to the police: "These guys buy cops like cops buy donuts." And this wonderful pick-up line, delivered by Lucy Liu: "I was just thinking that if you're still alive when I get back from work tonight, maybe we could, I don't know, go to dinner or something?"
But the best line is: "Sometimes there's more to life than just living." I know, that sounds a bit pollyanna-ish. But you have to understand that the character is saying it to someone he just killed.
A wild ride. I recommend it.