ELECTRIFYING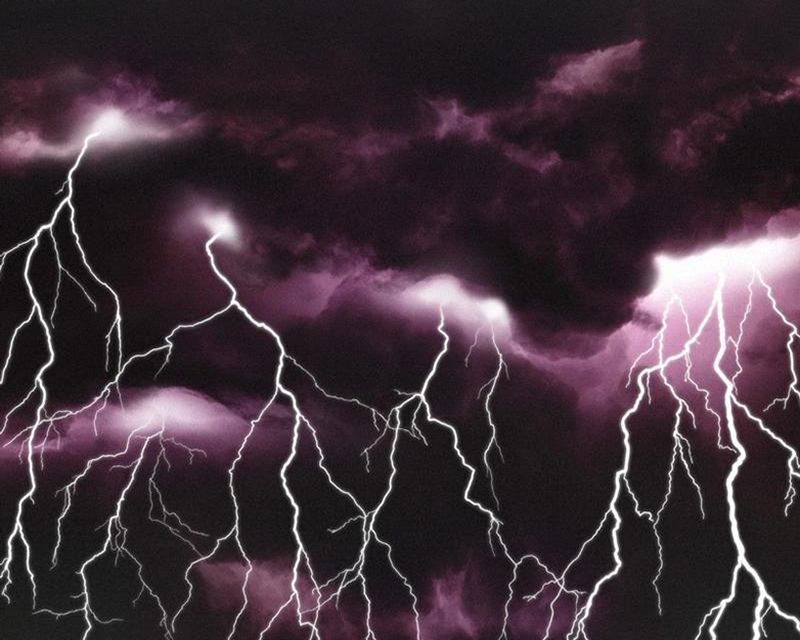 by Leigh Lundin
It was a dark and stormy night; the rain fell in torrents, except at occasional intervals, when it was checked by a violent gust of wind which swept up the streets, rattling along the housetops, and fiercely agitating the scanty flicker of the lamps that struggled against the darkness.

Through the storm, the victim sometimes slept, other moments efficiently finished tasks, carefree but unwittingly vulnerable to attack. Death loomed, never a happy prospect but worsened when death was preventable.

Insidious death with a multitude of dark possibilities:

Death by sharp instrument, a short, sharp stab to the heart.
Death by drowning, submerged in suffocating tidal waves.
Death by strangulation, weakened, blacking out, expiring.

Shocking when the victim is your computer.
Execution by Electrocution
As mentioned last month, some of us recently suffered from power problems, either too little (as in outage) or too much (as in meltdown). I've heard it claimed central Florida is some sort of lightning capital, so shrewd companies and individuals take that into account, especially when working with computers.
Some of the material here came from a friend of Thrush and mine who died young, Dr. Z. He had Nero Wolfe appetites and philosophy– eat, drink, and be merry. Z posted a sign by his desk "Thank you for not breathing while I smoke." He angrily dropped out of a club he helped form because members voted to ban smoking at meetings.
Z had an encyclopedic memory. Mention Osborne, Morrow, or an obscure processor, and he could quote specs, page number, and anecdotes about the designers. More germane, he gave talks about how to protect your property and computers against the ravages of power gremlins.
Shocking Facts
Once upon a time in merry ol' England, power plant managers girded themselves every evening when, at the hour on the dot, the UK exploded with huge, gulping demands for power. It turned out the nation was addicted to a certain television show, which everyone gathered around to watch (including power plant managers). As soon as the programme ended, citizens jumped up, flipped on their ovens, kettles, hair dryers, power tools, washing machines, and their computers to read the latest Criminal Brief.
Power engineers monitored the situation closely. If they acted too late to bring double or triple the number of dynamos on-line, the nation risked rolling brownouts or sections of blackout. If they anticipated too early, they could release a flood of power into the grid that could wreak a different kind of mischief.
What's Watt
blackout

Nothing, no power, nada, zip, nil, zero, zilch.

brownout

Your electricity may drop below 110 volts (in North America), probably below 100. While that might prevent some devices from working at all, other motors and equipment may struggle on, straining and overheating in the process. Either way, that's not good.

surge

A surge is a relatively prolonged rise in power from a relatively small amount, perhaps twenty per cent, to a few hundred volts. An appliance designed for 120 volts might survive a fractional-second blip of 600v, but a seeming eternity of a second or two would likely cook it.

spike

A lightning strike might introduce thousands of volts into a power line sizzling through the transformers outside your house or office, straightening the hair on your terrier, and turning Jeopardy into snap, crackle, pop. Spikes are much shorter than surges, but have terrifically high voltages.
An Ounce of Protection
In the 1950s, televisions came with massive transformers that could stomach sharp power variations. Today, the present Chinese electronics are far lighter and more fragile. Because manufacturers won't over-engineer to accommodate electrical eccentricities, we consumers have to handle matters ourselves.
Whether we call it power protection or line conditioning, you can take several steps to safeguard your equipment. Note that fuses, circuit breakers, and ground fault circuit interrupters provide protection when devices go haywire inside your house, not from outside assault.
The Family Joules
In the US, household circuits are designed to operate in a range of 110 to 130 volts. You can compare this to water pressure: Too little, and your dishwasher won't work. Too much, and you risk blowing it up. Likewise, surge and spike protectors come with specifications that most consumers ignore, but the savvy customer pays attention to.
joules

This is the amount of energy a protector can absorb before failing. An 'okay' device will spec at 500J and a superior device will be rated at 1000-2000J or better.

amperes

Spec sheets may not list the ability to dissipate current, but 20kA is 'okay', while 40kA and above is much better.

clamping voltage

This is the voltage at which protection kicks in, typically 330v, 400v, or 500v for 120 volt consumer devices in North America. The lower the number, the better.

clamping time

Consumer spec sheets may not show response time, but it typically will be in nanoseconds (ns), microseconds (µs), or occasionally milliseconds (ms).
Stacked, Baby, Stacked
At first blush, a shorter clamping time would appear ideal, but often the fastest reacting technologies are lightweights in absorbing power hits. Likewise, the slowest reacting devices (such as lead oxide or gas tubes) kick in slowly, but can take substantial pummeling.
This leads to an axiom of Dr. Z. He recommended stacking multiple surge and spike protectors of differing technologies. He argued there's no such thing as stacking too many devices.
Shock Absorbers
A good way to combine multiple technologies is to install a whole house arrester outdoors and deploy wall-mounted protectors and surge power strips indoors. A whole-house protector is a gadget, sometimes a small box, sometimes about the size and shape of a 60w light bulb. Your local power company may offer a package price to install a whole house protector under your electric meter, potentially a good deal when factoring in the price of an electrician.
Indoors, you can use individual plug-in protectors attached to surge protector power strips or wall-mounted protectors. Stacked protectors provide an additional benefit of cushioning blinks of power. Multiple protectors can help a device to 'jump the gap' of a momentary outage as energy ebbs rather than chops off abruptly.
Sacrificial Lamp
You won't hear this in a sales pitch, but most technologies break down as they protect your equipment, giving their lives in service to you. Unless they melt into a puddle, you won't see them deteriorate. They're like crash helmets– you won't see damage accumulating until the day they fail.
If you know your house took a heavy lightning hit, replace the whole house arrester and consider your surge protector outlets nothing more than unprotected power strips. Even without noticeable hits, discard and replace your protectors every few years.
Circuitous Interruptus
Thus far, I've discussed how to protect your hardware, the fragile circuits and delicate disc drives when too much power arrives at the gate. A more subtle problem can occur when power drops out altogether.
Your computer spends a lot of time updating files on its disc drive. There's a good chance if power fails at your desktop computer, its disc drive may lose power in the midst of writing a record. If that happens, the hard drive may be able to scribble only a few incomplete bytes, resulting in a kind of Alzheimer's memory loss. The effect may be subtle or it may be severe. It's amazing how often outages destroy the boot track, crippling the ability of the computer to start up.
In theory, modern drives are supposed to retract the read/write heads in case of a power failure. In theory. If the gasping drive fails to lift the heads, they may 'crash' into the surface, permanently scarring– and ruining– the disc. Odds are that won't happen, but the possibility remains.
So if computers suffer damage from a power loss, what if we made the computer immune to power outages?
Power to the People
To deal with power failures, consider a UPS– an uninterruptible power supply. Loaded with batteries, these come in Baby Bear, Mama Bear, and Papa Bear shoebox sizes up to about the size of a (no pun intended) boot box. The larger the UPS, the longer your computer will run before being forced to shut down.
Note that the primary purpose of a UPS isn't to allow you to indiscriminately continue working, but to give you a chance to shut your computer down gracefully. Smarter UPS units come with a USB cable you attach to your computer. This cable signals the percentage of power and time left before engaging the shutdown sequence. Additionally, the cable connection can provide a hint when it's time to recycle your old UPS batteries for new ones.
Besides your computer, you'll want to attach any external drives to your UPS as well as your router and possibly your modem. Attaching your printer can be counter-productive. Laser printers in particular gulp energy and you don't want that when you're running on limited power.
Spark of Inspiration
A small UPS can be useful for your bedside alarm clock and a strategic UPS can save you from having to reset your entertainment center. The best advice is not to wait until it's too late, but protect your computer now from that dark and stormy night.