OFFICE SPACE
by Steven Steinbock
Last week I told you all about what my friends over at Murdurati have been doing. They're still at it: exposing the inner secrets of their inner sanctums (or is it sancta). I also shared some recollections of visiting the homes of Ed McBain and Janwillem van de Wetering, and getting an inside look at Janwillem's studio.
(I haven't forgotten he requests of Rob Lopresti and Jean Pierre Engels; once I've had a chance to dig up my ancient interview notes and see what other photos I have, I'll tell you all about the brief visit I had with Ed McBain/Evan Hunter).
This week I'm exposing myself.
My workspace, anyhow.
I should say, workspaces in the plural.
For the last fifteen years, the attic has been my domain. I've had a desk and bookcases. Over the years more and more books have taken residence and have very nearly squeezed me out. Now, every time I go up there, I see all the books I haven't read yet, all the books I've read, all the magic tricks I could be practicing, and all the piles of notes, papers, receipts, and other bits of ephemera that I know I should file or toss. Distractions kill my concentration.
Here's a view of my desk: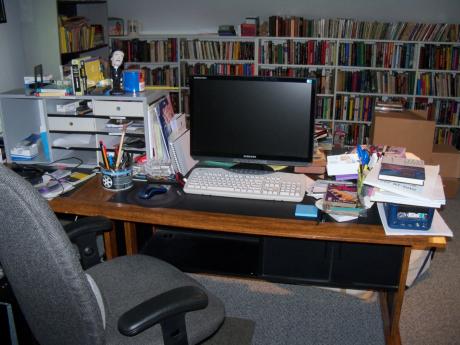 Here's another view of my desk:
Having an attic in Maine also means that for four months of the year it's too cold and for three months it's too hot. I have a heater and a window AC unit, but it's just another hassle and just another distraction.
These days, I'm much more inclined to do my work – when I'm at home, anyway – at the kitchen table. Ergonomically, it's not ideal. I usually find myself stuffing an extra cushion under my butt and behind my lumbar and setting a beanbag snake beneath my wrists for added support. When no one else is at home, or when they're all asleep, the table works great. Here you can see my lovely kitchen table set up with minimal distractions: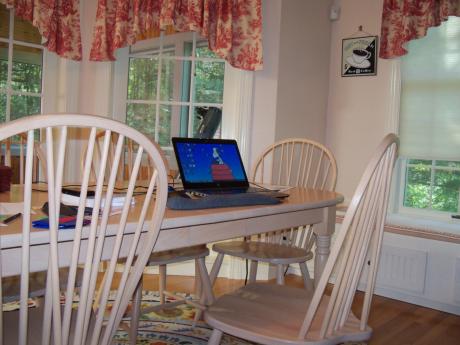 But my preferred workspace is in a coffee house. Last week Stephen Jay Schwartz wrote a beautiful column (aptly titled Too Lonely to Write Alone) in which he expounded the virtues of writing in coffee shops. Like Mr. Schwartz and like a lot of writers, I think I'm something of an introverted extrovert (or maybe an extroverted introvert). I enjoy being by myself. But I enjoy being by myself surrounded by people. The buzz that happens in a coffee shop usually provides the right amount of background noise to keep me working.
My home base is The Royal Bean, the virtues of which I've expounded elsewhere in the annals of Criminal Brief. It's a mile and a half from my home, it's welcoming and friendly, and has become a central gathering place in my little Maine village. The downside is that I run the risk of seeing someone I know. In fact, it's usually unlikely that I won't. So I'm far more apt to find myself enmeshed in a discussion of Jungian archetypes or King Cyrus of Persia than I am of getting a solid amount of work completed.
This is The Royal Bean, and if it were possible to zoom in far enough, you'd see this very column on the laptop at the left side of the photo: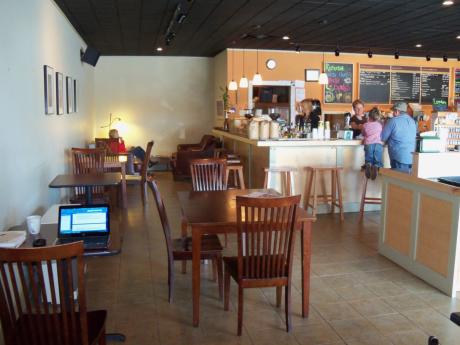 Starbucks usually provides a more anonymous café experience. Earlier this week I met up with Gayle Lynds at the Starbucks in Freeport, which is literally next-door to the L.L. Bean corporate store. The Starbucks is housed in a historical building about which the staff knew nothing. ("Oh, yeah," the young barista told me, "It's old, and it used to be something else before it was Starbucks"). It has a nice layout. Gayle pointed out that it lacks comfy easy chairs, but I always work at a table so I wasn't bothered.
Here I am with Gayle. We're both very focused on work: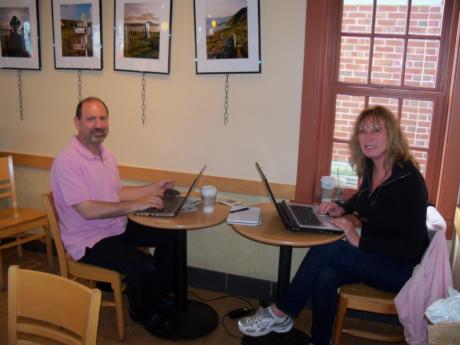 It's nice having Gayle located in Maine. For years she lived in Santa Barbara, and has been our own Melodie's BFF since the Carter administration. I know that Melodie and Gayle are missing each other horribly, but Bouchercon is coming up. Melodie's loss is my gain. Gayle and I had a great co-writing day. We sent creative vibes to each other. Or maybe it was just the caffeine.
Now enough chit-chat. Get your own table. It's time for work.