TEACHING WITH POE
by Steven Steinbock
I came home from the Edgars this year with a lot of excitement, and with an Edgar Allan Poe bobble-head. (The box actually refers to it as a "nodder"). Since my classroom mascot, a Shreck Chia© Pet, had recently died, I decided to bring my Poe "nodder" to school.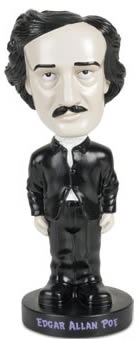 The kids – third and fourth graders – thought Poe was a little weird. Why are his eyelids purple, they asked. Why does he have that dorky haircut? He was an amazing man, I told the kids. He could be quite funny, but he is generally remembered as being a very sad man. He died over a hundred and fifty years ago, and he truly gave the modern short story its basic form.
"Why are his eyelids so purple?" one of the kids asked again. I could have made a wisecrack about paint at the bobble-head factory, but instead, I looked at the questioner, and said, "He was sad. He had a lot of problems. He drank a lot and took drugs."
"They had drugs back then?" the questioner asked.
"Yeah," I answered. "They had drugs. They've always had drugs." I pondered (weak and weary) on how much my eight-to-ten year-old charges needed to know about absinthe, laudanum, and opium. Then I smiled, and conspiratorially asked, "would you like to hear one of his stories?"
"Yeah!" they cried out.
I didn't have time to prepare, and didn't have any Poe texts on had. But my mind immediately turned to "The Cask of Amontillado." I described an elegant party hosted by Montresor at his immense estate, and how he hated the arrogant Prospero. As I described Prospero, I put on airs in a way that the kids quickly found him as annoyingly pompous as did his host. Then I told of how Montresor lured him to his wine cellar to check the authenticity of a bottle of sherry, and when Prospero was a little tipsy and caught up in the taste of the wine, how Montresor sealed him up in the catacombs.
"Another! Another!"
So I told them of a similar story, how a man who had come to hate his wife killed her and sealed her up in a wall, and how he was given away by the meows of a pet cat. I smiled as I finished telling the story, realizing how much Lillian Jackson Braun, Rita Mae Brown, and Carole Nelson Douglas owed to Poe.
"More!"
I gave lively summaries of "The Tell-Tale Heart" and "The Pit and the Pendulum." It surprised me that no one knew what a pendulum was until I drew a Grandfather's Clock on the board. But the notion of torture, whatever the technology, has inherent appeal to third-grade boys.
Last, I said, "One of Poe's most famous stories is called 'The Murders in the Rue Morgue.' But I don't think I should tell you about it. It's pretty disgusting."
"No! Tell us! Tell us!"
So I described how Inspector Dupin came to a home on Morgue Street. I described it as a brownstone inhabited by a woman and her daughter. How the police found every door and window locked from the inside, and how the woman was found horrible scratched and beaten to death, and how the poor daughter was found stuffed up the chimney. When the police first opened the house, there was no one else inside, and they couldn't figure out how the killer got out when all the doors and windows were sealed. "How did they get killed?" the kids asked. "Who did it?"
Then the bell rang.