BOND FANS ARE FOREVER
by John M. Floyd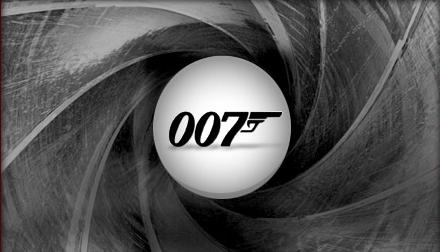 I grew up with James Bond. I read all the Ian Fleming novels as a teenager in the sixties, snapping them up from the library's "bookmobile" that rumbled into our small town once a week, and throughout college I eagerly awaited every new movie in the series (all of which I have now seen multiple times).
I realize none of the Bond books were mysteries, and few contained short stories, but all were crime (or at least spy) fiction, and left me—how shall I put it?—stirred but not shaken. To a kid in Mississippi, those secret-agent thrillers were a connection to barely-imagined things like Rolexes and Aston Martins and exotic settings, and I'm sure they probably influenced my later decision to write tales of suspense and deception.
Like all fans of superhuman Bondage, I have strong opinions about both his novels and his films—I loved most of the Connerys and tolerated most of the Moores—but for this column I plan to jettison my personal feelings and try to report a few trivial things that some folks might not know about the 007 phenomenon.
Drawn mostly from references like Deborah Lipp's fascinating The Ultimate James Bond Fan Book and partly from my own foggy memory, here are some little-known (or at least lesser-known) facts:
For Your Eyes Only was the only Bond movie that did not feature "M." This was shortly after the death of actor Bernard Lee, and M was said to be "on leave."

"Goldeneye" was Ian Fleming's name for the Jamaican beachfront retreat where he wrote all the 007 novels.

Tomorrow Never Dies was originally titled Tomorrow Never Lies. A typo in the early promotional material prompted the change, which the brass thought would be easier than going through the expense of replacing all the material.

The "Q" character, played by Desmond Llewelyn and others, appeared in all but three Bond films: Live and Let Die, Casino Royale (the 2006 version), and Quantum of Solace.

Sean Connery wore a toupee in all his Bond movies.

In Goldfinger the voice of Gert Frobe, who had a heavy accent and knew very little English, was dubbed by an actor named Michael Collins.

At the end of You Only Live Twice, when the submarine was supposed to rise underneath Bond's and Kissy's raft and wind up with the raft resting on top, it wouldn't work: the submarine's waves kept pushing the raft aside. Finally they filmed it by putting the raft on top of the sub, then making the sub dive . . . and then reversing the film.

"The James Bond Theme" was written by Monty Norman, not John Barry.

Ian Fleming is said to have produced each James Bond novel by writing two thousand words a day for six weeks, once a year, at his house in Jamaica.

Never Say Never Again, the only "unofficial" Bond movie since it wasn't part of the EON franchise, was a remake of Thunderball. NSNA and the 1966 spoof of Casino Royale are almost never counted when someone mentions the number (22) of Bond movies.

The view-through-the-gunbarrel sequence at the beginning of Bond films was invented by title designer Maurice Binder, who really did aim the camera down a gunbarrel.

Roger Moore drove or rode in a motor-powered boat in every Bond movie he was in.

John Barry did a cameo in his final Bond film: he was the orchestra conductor in the last scene of The Living Daylights.

Countess Lisl Von Schlam in For Your Eyes Only was played by Cassandra Harris, the late wife of Pierce Brosnan. Brosnan first met the Bond producers (his future bosses) when he was visiting his wife on the set.

The Sylvia Trench character in Dr. No was to have been a Bond love interest throughout the series, but she wound up in only the first two films.

I believe "All Time High" from Octopussy is the only "title" song in which the movie name isn't used. (I'm not counting instrumentals.)

The only Bond film without a major villain was Tomorrow Never Dies. Elliot Carver was a power-mad media mogul, but wasn't as overtly evil as most of Bond's main adversaries.

In all the movies (except one) featuring the Felix Leiter character, Felix was portrayed by a different actor, and in every case the audience was left to wonder who this stranger was, until Bond greeted him as an old pal.

Christopher Lee, who played Scaramanga in The Man With the Golden Gun, was Ian Fleming's cousin.

Licence to Kill was released as Vendetta Privata (Personal Revenge) in Italy because, twenty-seven years earlier, the Italian title for Dr. No was Licenza di Uccidere (License to Kill).

"We Have All the Time in the World" from On Her Majesty's Secret Service was the last song ever recorded by Louis Armstrong.

In Diamonds Are Forever, when Bond's and Tiffany's red Mustang escaped pursuit by tilting onto two wheels to drive through a narrow alley, the car goes into the alley balanced on its right wheels and exits the alley balanced on its left wheels. Probably the biggest goof in the franchise's history.

"Bond—James Bond" is said to be the best-known movie line ever spoken.

When Ian Fleming asked his friend Noel Coward to play the villain in the first Bond movie, Coward is said to have replied, "Dr. No? No, no, no."

Producer Albert Broccoli once stated that half the world's population has seen at least one Bond film. (It has since been estimated that a third—approximately two billion—is more correct.)

The first actor to play multiple characters in the Bond series was . . . Sean Connery. It's true: in the pre-credits "teaser" scene in From Russia With Love Connery played a SPECTRE agent who was wearing a James Bond mask.

The martial arts instructor for Never Say Never Again was Steven Seagal.

No Bond movie has ever received an Oscar nomination in any of the six top categories: Best Picture, Best Director, Best Actor, Best Actress, Best Supporting Actor, or Best Supporting Actress.

M's temporary quarters in Licence to Kill was Ernest Hemingway's famous home in Key West.

In The Secret Life of Ian Fleming (1990), Fleming was portrayed by Sean Connery's son Jason.

"Always have an escape plan" is the last line ever spoken by Desmond Llewelyn as Q, in The World Is Not Enough.

The skiing-off-a-cliff stunt at the beginning of The Spy Who Loved Me is widely recognized as the best onscreen, non-CG-enhanced stunt over performed. The setting was Asgard Peak on Baffin Island, Canada.

The Ernst Stavro Blofeld character in both From Russia With Love and Thunderball (unseen except for his hands, petting a cat) is played by Anthony Dawson, who played Professor Dent in Dr. No.

Moonraker had a bigger budget than all the previous Bond films combined, and marked Bernard Lee's last appearance as M.

Among the actors considered and rejected for the Bond role in Dr. No were James Mason, Cary Grant, Rex Harrison, Trevor Howard, and David Niven. Trevor Howard???

Licence to Kill's original title was Licence Revoked. It is said to have been changed because Americans might be too stupid to know what "revoked" meant.

Only two Bond movies lack a "teaser" scene before the title sequence: Dr. No and Never Say Never Again.

The only time that years were specifically referenced—1943 and 1969—was on the headstone of Bond's widow's (Tracy's) grave in For Your Eyes Only.

Scaramanga's Island in The Man With the Golden Gun (actually Khow-Ping-Kan in Thailand) was re-named James Bond Island and became a major tourist attraction.

Cameos in Die Another Day included Justin Llewelyn (Desmond's son) as a witness to a swordfight and Deborah Moore (Roger's daughter) as a flight attendant who served Bond a drink.
More facts than you wanted or needed to know, right? Hey, I said they were trivial.
Did I also say I'd keep personal feelings out of this column? I lied. In my opinion, the best Bond movies by far were Goldfinger and From Russia With Love, and the worst (also by far) were A View to a Kill, Moonraker, and The Man With the Golden Gun.
But what do I know? I still think Blazing Saddles should've been up for Best Picture in 1974 . . .