THE LONG RED LIGHT
by Rob Lopresti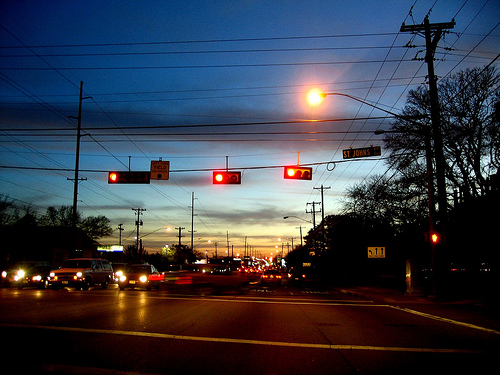 So, I am bicycling home. I reach the busiest corner on the trip, one of the busiest intersections in this small city. There are three lanes in each direction. I arrive just as the light is turning yellow, a little too late to go through, so I know I am going to have a wait of perhaps two minutes.
I look to the right. There are cars in each lane of the cross street. The only vehicle in the middle row is a police car.
The light changes and the cars in the left lane start turning left. Eventually the main light turns and the cars in the right lane start moving. The cop car stays in place.
Well, that's odd, I think. I peer at the police car but I can't see through the shaded glass.
The light turns yellow and I hear a zzzzz as a bicycle comes racing up behind me and shoots right through our red light.
You're in for it, now I think. I expect the cop car to light up the cherry top and the siren and take off after the cyclist. Nope. The patrol car just sits there. Now there are three cars behind it.
The left hand signal turns green in my direction and cars start to move. I watch the police car until my light turns green. I apply some torque and move across the street. Then I stop and look behind me.
When the light turns again the last car behind the police car hits his horn. Apparently he doesn't realize who's slowing down the show.
Reluctantly I pedal away. I never find out what happened, but before I get home my brain has offered me five explanations.
Something very bad has happened to the health of that police officer.
The cop is asleep.
The cop is taking a personal call from a desperate relative and is too occupied to even notice the changing of the light.
The cop is getting an urgent message from headquarters and is writing down the details before rushing off on a desperate mission.
The cop is having an existential crisis and can't bear to go off on one more domestic, DUI, or stupid shoplifter call. The cop is trying to decide how to tell his family that he has decided to quit his job and go back on the road as a blues guitarist.
There you have it. The opening scenes of five short stories, and I don't have time to write any of them.
Mr. Lopresti, where do you get your ideas?
The corner of Lakeway and Lincoln. Why do you ask?