A FISTFUL of VALOR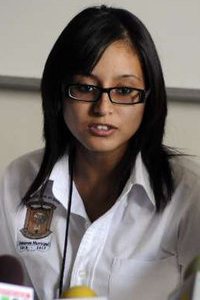 by Leigh Lundin
Today, meet a heroine. Her name is Marisol Valles García, a 20-year-old criminology student. She's the new police chief of Praxedis G. Guerrero in the state of Chihuahua, Mexico (near Ciudad Juarez and Guadalupe) a law officer who doesn't carry a gun but packs two personal bodyguards.
I'm wryly fond of bad criminal news items, the inexplicable, the incomprehensible, the inexcusable. This time, I write about the intrepid, Chief Marisol and her nineteen officers, half of them newly recruited women. The town is launching a new effort in the region with the highest murder rate in the nation where police stations remain shuttered if not shattered.
God knows they have their work cut out for them and one hell of a dangerous job. They grasp the risks: intimidation, corruption, betrayal, injury, torture, death. If she gives in to bribery, she loses respect as a heroine. If she's incautious, she loses her life.
Painting over the bullet holes that pockmark the police station is merely symbolic. Officers are mindful the previous police chief was murdered, leaving open for more than a year a job no one else wanted. Ms García's professor, Dante Haro at the University of Guadalajara, said getting elected as mayor or police chief "is like winning a tiger in a raffle."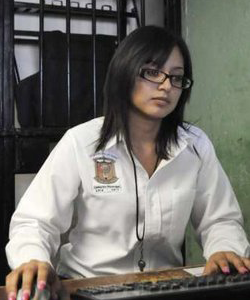 At the Autonomous Technological Institute of Mexico, Professor Miguel Sarre, was even less sanguine. "Let's hope it is not a reckless act on her part. A municipal police force cannot protect itself against such powerful forces." Likely, media attention makes her more of a target but– not that drug gangs are renowned for subtlety– her death would provoke ever greater outrage.
Four years earlier, President Felipe Calderon declared war on the drug cartels. The battle has been brutal. In the frenzy to feed America's ravenous appetite for cocaine, the death toll approaches thirty thousand. Mayors and police have been specifically targeted, some beheaded, some tortured to death. Three weeks ago, Tancítaro's mayor Gustavo Sánchez was found beaten to death, his hands tied behind his back. Elected in January, he'd said, "The fear is always there, but if you have courage and a desire to make a contribution, that outweighs the fear."
Before the war on drugs, Marisol's town was once a quiet rural population of nine thousand. Presently two rival cartels, the Juarez and the Sinaloa drug gangs, fight for control of the nearby highway, a deadly Thunder Road. Residents hide in their houses from fear. Violent death lurks day and night. In the hour before finishing this article, a gang attacked yet another house of innocents in Ciudad Juarez, killing several children at a birthday party.
The town's lionhearted mayor, Jose Luis Guerrero, knows the risks of being a public official. Eleven mayors have been murdered in recent months. After they recently took refuge in nearby Ciudad Juarez, the mayor of Distrito Bravos and the assistant mayor of El Porvenir were tracked down and killed. Undeterred, Guerrero reached out to the community. Marisol García reached back. She said,
"I took the risk because I want my baby son to live in a different community to the one we have today. I want people to be able to go out without fear. We're all afraid in Mexico now. We can't let fear beat us."
I celebrate their stout souls. While many authors write about the big city, I like writing about small town sheriffs and police chiefs, 'untouchables' on a local scale, the small heroes. Those like Gustavo Sánchez and Marisol Valles García are the real thing.