'TIS THE SEASON
by Deborah Elliott-Upton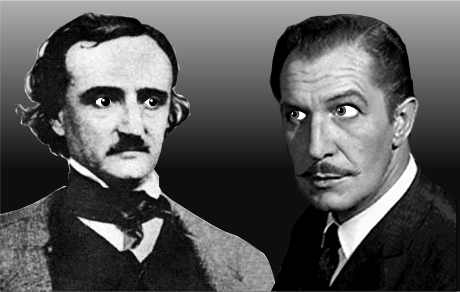 The best part of October is looking forward to the masquerade at the end of the month. For one night everyone can be who or what they wish without fear. You always thought yourself a bit of a witch or a ghoul? It's okay. You're leaning more to Jean Harlow or Rhett Butler? That's fine, too. Perhaps you have a yen to feast with the Twilight or Harry Potter crowd. Whatever inner secret life you'd like to play for a day, your time has come. As for me, I am leaning toward either Vincent Price or Edgar Allan Poe, and wondering which would actually be the scariest.
Edgar Allan Poe was certainly melancholy, but composed some of his most compelling work while in that state. Everything he did, he felt. A middle child, his parents were actors. In today's world, we could read much of the torment of his later life from this information alone. Poe's work lives on because they are masterpieces. Poe pushed the edge of the envelope and the resulting trip for readers has been a pure delight.
The publishing industry of the 1830s was not that much different than today. New technology made publishing easier, but many periodicals ended within a few issues. Some publishers didn't pay on acceptance and some not even after publishing. As it still is in 2010, making a living as a writer in Poe's time was tough. Yet Poe's work withstands time because it was so well done. Being a published author didn't keep Poe from being poor or occasionally feeling miserable about his life's work. His lack of money in the bank didn't keep him from being remarkable in his trade or from being remembered as one of the best writers in American literature.
Vincent Price's legacy includes a vast amount of horror film adaptations of Edgar Allan Poe's writings (including "[The Fall of the] House of Usher", "The Pit and the Pendulum", "Tales of Terror", "The Raven", "The Masque of the Red Death" and others). Price also was a philanthropist. Coming from an affluent family, he studied Art History and Fine Art in college. His acting earned him a nice lifestyle, but he also inherited a fortune from his grandfather, the inventor of "Dr. Price's Baking Powder," the first cream of tartar baking powder. Vincent Price and his wife donated more than 90 pieces of art from his personal collection to establish a "teaching art collection" at East Los Angeles College in Monterey Park, California. Worth more than five million dollars, the collection now includes over 2,000 pieces. His bank account allowed him to share not just his talents, but also his love of art.
Two men at opposite ends of society, yet they share inescapable bonds. As a writer and an actor, both were entertainment artists. Both had voices that made strong impressions through their work. Both were commanding—and perhaps a bit daunting—in their appearances. Does one man's life ever fail to touch another's in some manner?
Vincent Price is paired with Poe again as the narrator in Tim Burton's "Vincent." That year (1982), he also voiced the rap to accompany Michael Jackson's MTV cult favorite, "Thriller."
Vincent Price or Edgar Allan Poe? Neither would be a bad choice for my costume this year. I think I'm going to have a horrifically fun time.