IS IT LITERATURE, YET?
by Melodie Johnson Howe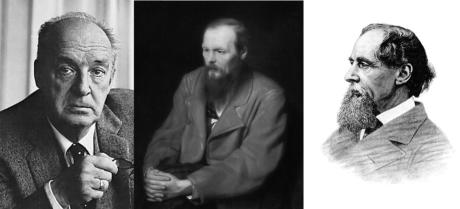 At Bouchercon I went to a panel I had not intended to go to, don't ask, and found myself listening to writers telling very funny horror stories of trying to sell their books and dealing with wacky fans. The authors and the audience were having a jolly time until one not so wacky fan stood up and asked a serious question. It was something like this: Do you think that mystery novels can ever equal great literature?
The panel fell silent. The audience hushed. Then John Connolly, no slouch of a writer, spoke (and again I am paraphrasing), "No, I don't. I mean not compared to Nabokov . . ." and he listed the names of several other great writers
His once jolly comrades turned on him and began to grumble and say, "That's not true." One announced that Dashiell Hammett's The Maltese Falcon had made the top one hundred best literary novels list.
Connolly tried to persevere using such words as fragile and ephemeral to describe literary plots as compared to mystery plots. I think what he was trying to say was that the suspense/mystery novels have more of a hard logic at their core. But he was drowned out by the other writers who began to throw out titles such as Crime and Punishment, The Great Gatsby, and the more contemporary The Lovely Bones, as being examples of literary mysteries.
I have heard this argument over and over about whether genre books and short stories, such as the ones we write, can be considered literature; or will we always be the stepchildren, the great unwashed, compared to our much better writers. I remember when television was deemed inferior as an art form to the movies, so I have a rather jaded point of view about all this. By jaded I mean a French shrug of the shoulders preferably with a cigarette in the hand.
The discord that question brought to the panel stayed with me. I couldn't figure out why it upset the other writers except John Connolly to think they could not be allowed into the blessed golden circle of literature. And so they had to trot out the old warhorses such as Dostoevsky, Fitzgerald, Dickens, etc.
It was during one sleepless night that I figured out, along with many other important things (what else are restless nights for?), what was disturbing me about this argument.
The answer came in two words: author's intent.
Nobody on the panel asked if Fitzgerald intended to write a murder mystery when he wrote The Great Gatsby.
The answer is no. He did not. At least I haven't read anything to suggest otherwise. If someone has, please let me know. The murder of Gatsby was the inevitable end to a life built on dreams, fantasies, and corruption. Gatsby became the sacrificial lamb for a woman he could never have, Daisy. We know who killed him and we know why. The killer had the wrong guy. He should have killed Daisy. It is heart-wrenching, but it is not a mystery. And Fitzgerald did not intend to write one. So why say that it is?
Okay, the novel is called Crime and Punishment, but is it a mystery? Did Dostoevsky sit down to write a novel of suspense? I don't think so. He was exposing the consequences of crime and punishment on many levels from the soul to the cell. Was he really writing in the mystery genre? No.
Dickens of course was writing in serial form and, do I dare say it– for the masses. He was a popular writer who wrote to entertain and he was brilliant at it. (There are academics that still question whether he should be allowed into the golden circle.) Dickens did toss in a few murders into his multi-layered plots, Bleak House for example, but that doesn't make him a mystery writer. And he never referred to himself as one. Besides, Dickens was only interested in killing off the lawyers.
Does it matter if our books and short stories will never be accepted as great literature? Not to me. I'll just settle for great, and the acknowledgement that I intended to write a mystery.