TOUGH GUYS AND THE GREAT DETECTIVE
by Steven Steinbock
I've had tough guys and The Great Detective on my mind.
The tough guys are because of a project I'm doing with Audiofile Magazine. We're doing a celebration of hard-boiled audiobooks, and I was asked to come up with a list of great detectives (and other hard-boiled heroes) that we'll be profiling. Stay tuned for details.
Audiofile has also arranged for me to interview Jack Reacher. Well, not the real Jack Reacher. That would be difficult. (At Bouchercon, incidentally, Lee Child hosted a cocktail party at which three male models were posing as Jack Reacher, and attendees voted on which one looked most like Reacher. I don't know who won).
No, for an online podcast I'll be interviewing actor Dick Hill who will be answering questions in character as Jack Reacher. Hill has narrated every "Jack Reacher" novel from Day One. He does a good job. You can read about him and about the audiobook adaptations (with samples) at Lee Child's website as well as on Dick's own website.
WHAT ABOUT THE GREAT DETECTIVE?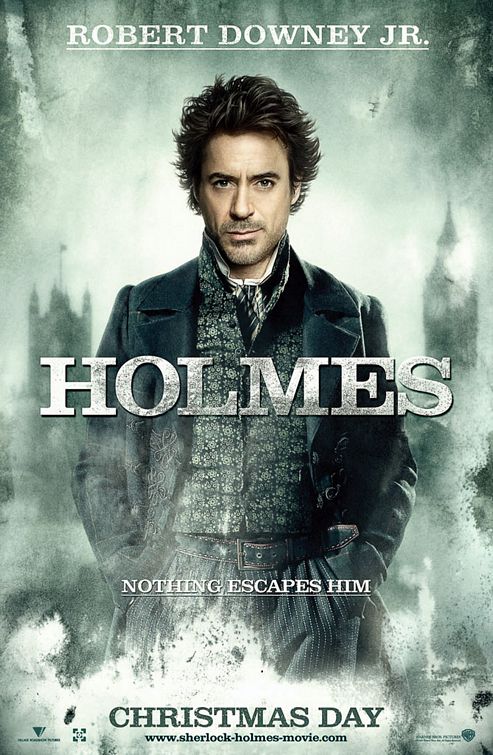 There was a moderate amount of discussion last winter when the film "Sherlock Holmes" was released with Robert Downey Jr. in the title role. The question asked of anyone who had any connection to Sherlockiana was: "What do you think of the film?" The answer I heard on most peoples' lips (including my own) was a cautious "It was entertaining." It's true. Robert Downey was spectacular, and the gaslit – almost steampunk – tone of the film was nicely done. Let's leave aside the fact that the Sherlock of the film engaged in far more action sequences than he did deduction. (And I was a little bothered that most of the intellectual scenes were tied more to fight moves than they were to solving crimes).
But that movie is already old news.
This past summer in Great Britain, a new series of Holmesian 90-minute films – co-produced BBC Wales and Hartswood Films. One of the creators and executive producers of the series is Steven Moffat, the Scottish writer who was so instrumental in bringing Doctor Who to the Twenty-first Century.
No one could replace Jeremy Brett in my mind, but other than that, so far, so good.
But then I learned that the series was to be set in modern London rather than on the coal-stained gas-lit streets of Queen Victoria's realm. This I thought, can't be good.
Then I watched the first two episodes. They were brilliant. The first one aired in the States (on PBS) last Sunday, and the second will air on Halloween.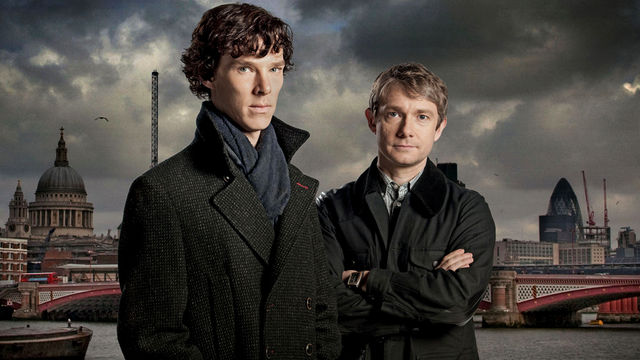 What struck me about the series is how this Sherlock Holmes was so much closer to Sir Arthur Conan Doyle's character than Robert Downey's portrayal of Holmes as a flamboyant action hero. Laptops, cell phones, and Twenty-first Century forensics aside, Benedict Cumberbatch gives us Holmes as an attractively brooding genius with a hint of Aspergers and a touch of OCD. If Doyle were alive today, this would be his Holmes. Although the stories are original, their faithfulness to the themes and characters of the original stories is stunning.
SHERLOCKIAN BITES
The other reason I've been thinking about The Great Detective is that I've begun reading Graham Moore's debut novel, The Sherlockian. This was one of the handouts at Bouchercon, to be published and officially released in December. Even chapters tell the story of the murder of one Sherlockian scholar while another young scholar searches for a lost volume of Doyle's personal journals. Odd chapters, set at the end of the Nineteenth Century, follow Arthur Conan Doyle, having killed off his own detective hero, trying to solve a murder of his own. I'm not far, but I'll guess that Moore's novel will provide a new twist on why Doyle resurrected Holmes, ending the Great Hiatus.
There have been numerous pastiches over the years in which Sherlock Holmes comes face to face with Count Dracula. But as far as I can recall, The Sherlockian may be the first novel to team Doyle up with Bram Stoker.