HONEST FIBBING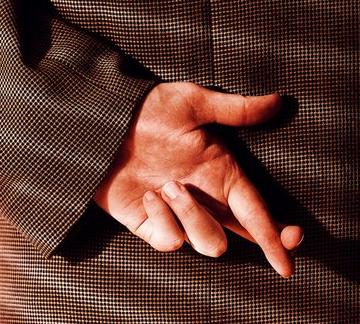 by Steve Steinbock
In his foreword to Deborah's column yesterday, James Lincoln Warren (who probably never lived in a log cabin, worked in a Wild West Show, or committed murder while masquerading as a barber on Fleet Street) explained Deborah's hesitation at posting a column so similar to Rob's column from Wednesday.
Why Deborah was nervous, only Deborah and her biographers can tell. But Deborah (who never chopped down her father's cherry tree, leaped from her bathtub crying "Eureka," or invented the Internet) had no reason to be nervous. She wrote a wonderful column dealing with issues of fact and fiction, truth and falsehood. There have been a number of such columns here on Criminal Brief. Who knows, one day the Criminal Brief team may co-publish a book on the subject. Crazier things have happened.
Before I meander so far that even I have forgotten my point, let me state it now: Lying (or what we in the literary world call "fiction") is perfectly ethical just so long as there is an agreement between the liar and the listener (or reader) that all this stuff is made up. Modern standards of journalistic honesty (New York Times notwithstanding) are miles ahead of what they were in the days of Ned Buntline's dime novel "histories." Then again, in a hundred years, scholars may look at records of 2008 and laugh at how anyone in that primitive world could believe anything they read.
Twenty-five hundred years ago, the Greek historian Thucydides scoffed at the so-called histories of his predecessors. He criticized the way his predecessors (i.e. Herodotus) practiced history, emphasizing the importance of rigorous scrutiny and clear separation of fact and fable. He wrote:
To hear this history rehearsed, for that there be inserted in it no fables, shall be perhaps not delightful. But he that desires to look into the truth of things done, and which (according to the condition of humanity) may be done again, or at least their like, shall find enough herein to make him think it profitable. And it is compiled rather for an everlasting possession than to be rehearsed for a prize.
Great words. But by modern historical standards, even Thucydides lapsed into the very sort of muddiness he was criticizing.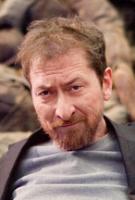 Speaking of Herodotus (whose Histories recounts the Persian Wars and were written a generation before Thucydides' Peloponesian Wars), Rob mentioned in the comments to his column that he hadn't seen Frank Miller's "300" but lamented at how it made the villains "more gay" and the heroes "more straight." I haven't seen the film either. I've enjoyed Miller's take on Batman, but I can't stomach the way he seems to have glorified the Spartans and demonized the Persians. I know, it's just a story. But it seems to have flip-flopped the characters while retaining the basic facts of the battle.
The other night I saw a television commercial that showed a rack of General Mills breakfast cereals. A consumer was comparing a box of Special K with a box of Lucky Charms, and then put the Special K back on the shelf, knowing with confidence that the Lucky Charms she was buying were made with whole grain, as were all General Mills products. No, I'm not making this up. I may have jumbled the details a little. It may have been Cocoa Pebbles and not Lucky Charms. But to the best of my ability, I'm recounting what I actually saw on television. And I'm completely confident that my statement of "facts" shows a lot more integrity than that of General Mills. (That won't stop me from eating Lucky Charms, though!)
A few months ago I was chatting with a neighbor about Al Gore's "An Inconvenient Truth." I told her that I was bothered that Gore fudged with a number of the facts. She told me that the goal of reducing greenhouse gasses was more important than getting the facts straight. I asked for clarification. Did she really believe it was okay to scare the public into action with exaggerations? She said yes. But I don't think she believed it.
Around six years ago the US President made what I thought was the biggest blunder of his career. He said (and I paraphrase) that we needed to invade Iraq because they were harboring terrorists and developing weapons of mass destruction. I admit that I was glad to see Saddam Hussein deposed, and that regime change has been a good thing for the Iraqi people and the world. I also think that Iraq probably was friendly toward al Qaida and that they very likely had WMD in development. But by linking his war plan with exaggerated details and muddied facts, he cheapened the entire mission.
Funny. When I sat down to write this column, I'd planned on using examples of how the Bible sometimes plays fast with facts and history. But instead, I'll wrap up this week with an example from one of my other hobbies, magic.
When I perform a trick, I form a (usually) unspoken but very clear contract with my spectators that I can't really read minds, penetrate steel, or transpose matter. The same is true with fiction. On the other hand, when I explain a trick to another magician, I'm as rigorous as I can be to explain the moves clearly and to give credit to the various sources. I've always been bothered by the way Uri Geller, among others, presented himself as a man who truly could read minds and bend spoons with the power of thought.
If you're going to lie, do it honestly.