MORE TOUGH GUYS
by Steven Steinbock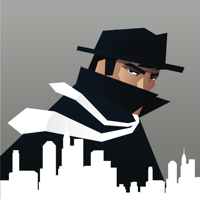 This past week I've continued my mission as the evangelist of noir for The AudioBook Community. They've given me an official identity and even a cute little hard-boiled avatar. If you haven't stopped by, the discussions have been in the the Get Caught Listening discussion area. The celebration of Tough Guys continues through the weekend.
During the first week I profiled Sam Spade, Philip Marlowe, Lew Archer, Mike Hammer, and Nero Wolfe's leg-man, Archie Goodwin.
This week I moved to the latter half of the Twentieth Century with Spenser, Parker, Nameless, Matt Scudder, and Keller. I thought I'd share shortened versions of my profiles with you today.
Robert B. Parker's Spenser
We never learn his first name, but that doesn't matter. Robert B. Parker's "Spenser" is a classic tough PI brought into the latter part of the 20th century. Spenser was an ex-boxer, a Korean War veteran, and one-time State Trooper. Spenser breathed life into what many thought was a fading subgenre when he first appeared in The Godwulf Manuscript (1973). There have been thirty-nine "Spenser" novels, and even though Parker died earlier this year, a fortieth is slated to come out next year. Parker's novels spawned a long-running TV series, "Spenser: For Hire" starring Robert Urich.
Despite being a tough guy in the classic mold, Spenser was an innovative creation in many ways. For one thing, he was in an ongoing relationship (with psychologist "Susan Silverman"). More importantly, he had a sidekick who was both likable and frighteningly violent ("Hawk"). I almost forgot to mention, Spenser is an accomplished chef.
Donald Westlake's Parker
Donald Westlake created "Parker" under the pen-name Richard Stark. Unlike all the other tough guys I've looked at so far, "Parker" doesn't solve crimes, he commits them. Parker is a crook, a career criminal. And he's ruthless.
First appearing in The Hunter (1962), Parker has been the central character of twenty-four novels. Although not well known outside of the world of tough-guy fiction, Westlake's "Parker" novels have been an inspiration to many authors, including Max Allen Collins and Stephen King, and are beloved by hard-boiled aficionados and devotees of the caper-novel.
Bill Pronzini's Nameless PI
Beginning with The Snatch in 1971, Bill Pronzini has written something like thirty-four novels and three short story collections about a nameless private eye. Pronzini didn't plan on calling his character "Nameless." He just never got around to giving him a name. But with a name like "Nameless," who can forget him?
"Nameless" is tough but real. He's an everyman hero. With him readers experience honest emotional experience as well as action and problem-solving. Over the years Nameless has gathered a small entourage of friends, and these days operates a small PI firm. Some critics have called the "Nameless" books "character driven" as opposed to "plot driven." I disagree. As with most of Pronzini's writing, plot and character both flow naturally and are both inseparable aspects of the stories he weaves.
Lawrence Block's Matthew Scudder
One of the signature traits of Tough Guys is their ability to belt down oodles of liquor and still have the coordination to handle a gat and the insight to solve the crime. But Matthew Scudder broke with that tradition in the emotional final chapter of Eight Million Ways to Die (1982) when he introduced himself at an Alcoholics Anonymous meeting. Created by Lawrence Block for the 1976 novel Sins of the Fathers, Scudder began his career as a hard-drinking unlicensed PI after quitting the NYPD.
When he wrote that pivotal chapter in which Scudder renounced alcohol, Lawrence Block thought he'd written himself out of a job. But the fact is, the series and its hero became all the more popular and many writers have tried to imitate the move. There have been a dozen "Matthew Scudder" novels since Eight Million Ways to Die, bringing the total to seventeen titles (that included the yet-to-be-released A Drop of the Hard Stuff). Along the way, Scudder had garnered a PI license, a wife, and a young protege. But the series has lost none of its bite.
I'm not ashamed to admit that Block's books are my top-shelf choice. His writing is honest, witty, and wry (that's wry, not rye).
Block's Hitman, Keller
As Chip Harrison once said, Lawrence Block is "as together a person as he is a writer and you can't get much better than that." Who am I to argue? So I conclude by skipping to the opposite corner of the Block and the other side of the law with his conscientious hit man John Paul Keller. Reporting only to his broker/receptionist Dot, Keller travels the country killing people for a price. Keller has certain standards, though. By and large, he only eliminates people whom the world would be better off without.
Keller first appeared in the short story "Answers to Soldier" which appeared in the June 1990 issue of Playboy. At the time, Block thought that was that. But you can't keep a good hitman down. Eventually a collection of Keller stories was issued as a sort of a novel, Hit Man (1998). It was followed by Hit List, Hit Parade, and Hit and Run. During the course of the series, Keller has gone through therapy, taken up stamp collecting, and contemplated retirement. As fictional tough guys go, Keller isn't all that tough. That's the wonderful paradox of the character and of Block's writing.
And that, as they say, is that. If you get a chance, get your browser over to the Tough Guy page at Audiobook Community. And let me hear from you. Did I leave out your favorite Tough Guy? I purposely neglected John D. MacDonald's "Travis McGee" because the profiles were targeted at audiobooks, and sadly there aren't any "Travis McGee" audiobooks being published. But next week I hope to make up for my neglect with a special column devoted to the southern Florida recoverer of lost property. Stay tuned.