THANKS TO MR. GIBSON
by Rob Lopresti
Tomorrow millions of Americans will be chowing down on turkey and the trimmings, and that made me think of the Thanksgivings of my childhood. And those memories brought to mind a very unusual style of storytelling.
No, I am not referring to your Uncle Manny who regaled you every T-day with garbled stories of the time he scored the winning touchdown in high school. This is something from my own past.
Like a lot of families, mine had a special set of plates they only brought out for holiday meals. Ours had been a wedding present for my mother's parents, way back in (gulp) 1905.
And each plate had a drawing on it. Here is an example of one of the plates (not my family's copy, by the way).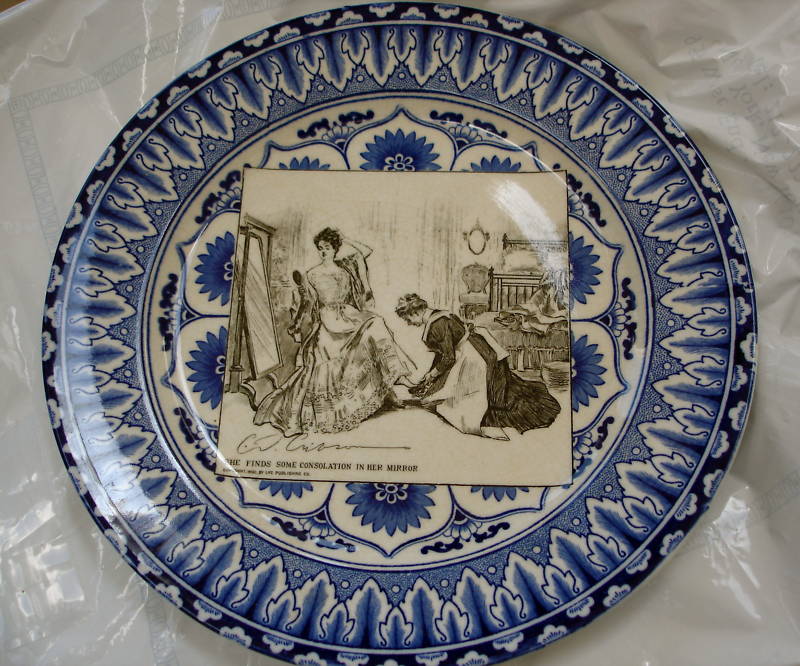 When I was a kid these pictures fascinated me. Before dinner I would walk around the table, trying to see each of the drawings. Each showed the same young woman, and here is how Susan E. Meyer described her in America's Great Illustrators: "She was taller than the other women currently seen in the pages of magazines.. infinitely more spirited and independent, yet altogether feminine. She appeared in a stiff shirtwaist, her soft hair piled into a chignon, topped by a big plumed hat. Her flowing skirt was hiked up in back with just a hint of a bustle. She was poised and patrician. Though always well bred, there often lurked a flash of mischief in her eyes." (Thanks to the livelyroots website for that quote.)
Each plate showed her in a different setting, sometimes vaguely comic, sometimes quite gloomy. They seemed like illustrations for stories, but where were the stories? The captions were mostly self-evident while being enigmatic at the same time. Where was the book that these pictures accompanied?
Well, there was none. The drawings were part of a book of drawings (dare we say it was a graphic novel many decades before the term came along?) entitled A Widow And Her Friends. I guess that explains the gloomy tone of many of the drawings, not what I was used to in, essentially, cartoons.
The man behind the plate
Charles Dana Gibson published his first drawings in 1886. He created the iconic figure known as the Gibson Girl four years later and wound up both editor and owner of Life magazine (a comic rag at the time, not the photo show that came later.)
His focus was mostly on beautiful young people, especially those hourglass women, but he also loved wonderfully expressive faces of older people as well. For example, he did two drawings, one showing three men reacting to an exciting baseball situation – and then this one showing the same gents after their side had struck out.
The girl behind the girl
So, before we turn on the oven and start mashing 'taters, can we squeeze a crime element into this story? You bet.
Gibson supposedly had three models for his lovely girls. They were his wife, Irene Langhorne, her sister Nancy Astor, and chorus girl Evelyn Nesbit. The latter was the woman whose former husband, Harry Kendall Thaw, murdered her lover, architect Stanford White. (Remember the movie Ragtime?) Not an event that Gibson chose to commemorate, I am happy to say.