FEEDING THE SPIRIT
by Deborah Elliott-Upton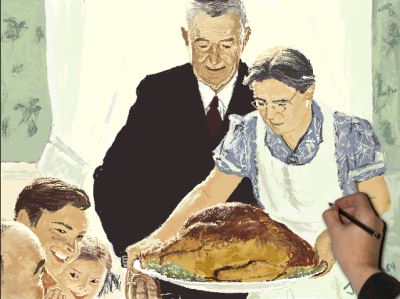 "You know that just before that first Thanksgiving dinner there was one wise, old Native American woman saying, 'Don't feed them. If you feed them, they'll never leave.'" —Dylan Brody
Right about this time, I'm thinking I ate too much turkey and dressing and I haven't even sliced a cake or pie. I am feeling in dire need of a nap, but while company—though most are family and the rest are as close as family—are here, it seems rude to disappear and catch some Z's.
That doesn't mean I can't steal a few minutes for myself to regroup. Perhaps we need a brief mental exercise to recharge.
I'm in awe of the talented people who put together 5 Minute Mystery. In less than time it takes to carve a turkey, you can earn points for finding clues, deciding who is most likely guilty, and solving the case. Read the mystery, then select which clues incriminate or exonerate each suspect. Choose your culprit, and solve the case. New short mysteries are posted each Monday and Friday and are addictive, but at least it's only five minutes. The relatives probably haven't even had enough time to miss you yet.
We could grab the newest anthology (have you purchased John Floyd's Clockwork or Tony Burton's Mil-Spec For Murder yet?) This could be the perfect time to read a quick short story. Have our Alfred Hitchcock or Ellery Queen mystery magazines subscriptions just arrived in the mail? Perhaps Thanksgiving is an excellent time to choose a little Edgar Allen Poe.
Taking a break from the festivities allows a breather from the brother-in-law who wants to discuss politics (there's always at least one who does—and of course, he doesn't vote the way you do), or an aunt who has never let go of an argument someone had with her a decade ago and she wants to rehash. Occasionally, someone brings a date with whom everyone wants to share interesting and often embarrassing tidbits about her or his companion. For me, this is perfect timing to gather up a group of the children and either read or tell them a short story.
Sometimes I locate the children of all ages to sit with me in a circle on the floor and explain we are going to write a short mystery story together. I start with a prompt and each person in order will add a line to the story. (One popular one I've used is: No one knew who had stolen the last piece of pumpkin pie, but everyone knew . . . )
In the beginning, there is always a bit of reserve, but once the story takes off, we are apt to go anywhere. I like to videotape this portion as it is probably my better stab at attaining a Norman Rockwell Thanksgiving moment than preparing the perfect meal. Someone always insists we have at least one dreadful recipe simply because "That's how we've always done it," and "Aunt Edna adores it." (For one thing, Aunt Edna isn't even coming this year.) It doesn't matter that no one eats this but takes a small portion to make it look like they did. We then carefully wrap it up and refrigerate The Glop (my secret name for the hideous dish) until it grows moldy and finally can empty it into the garbage without any remorse. It seems like a wasted effort to me to prepare, much less serve, The Glop.
On Thanksgiving, we feed the spirit as much as the stomach. I'm thinking there's nothing wrong with adding a sprinkling of mystery on the menu, too. (Just don't make it a mystery meat. That's just wrong.)
Wishing all of you a blessed day, a beautiful meal with those you love and a great story to make your day complete.