JLW here. I'm taking the day off. But here's a real treat for a guest column. Steve Hockensmith was one of the first people I asked to write a column for CRIMINAL BRIEF three years ago when Rob Lopresti and I were first developing it, but he passed because he was under deadline for a novel, and then as now, as he says below, he's "been too busy with other projects to write much short fiction lately." We saw each other at Bouchercon and caught up a little, but it was actually after Bouchercon that he wrote to Rob (they had somehow missed each other in San Francisco) asking if he could write a guest column for us. This is rather like Pericles asking if he can say a few words at the funeral. Anyway, here's what Steve has to say for himself:

"Steve Hockensmith is the author of the "Holmes on the Range" mystery series as well as the New York Times bestseller Pride and Prejudice and Zombies: Dawn of the Dreadfuls. He recently collected his holiday stories in an e-book , Naughty: Nine Tales of Christmas Crime. You can learn more about it (or just leave Steve insulting messages) at www.stevehockensmith.com."
IT'S THE MOST WONDERFUL TIME OF THE YEAR . . . FOR CRIME
by Steve Hockensmith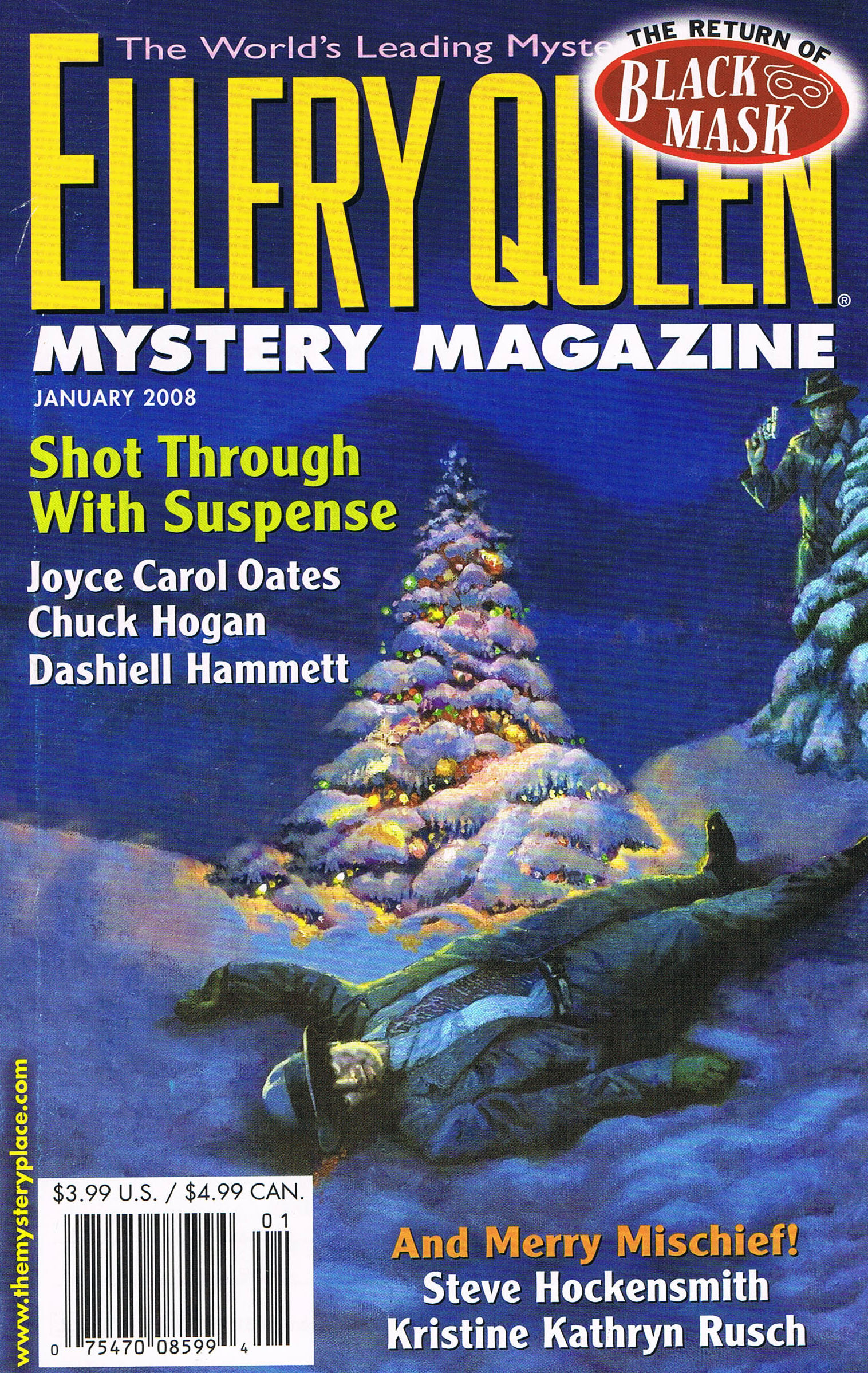 Ten years ago, I received my favorite Christmas gift ever: an acceptance letter from Ellery Queen Mystery Magazine. Sure, it came in June or July. Yet still— it was definitely a Christmas present. I wouldn't have cracked EQMM without a little help from Santa.
I'd been writing mystery stories for a couple years at that point, and though I'd managed to sell one to Alfred Hitchcock, Ellery Queen was resisting my charms. The rejections were very nice, very encouraging, but still . . . rejections. I was close without a cigar.
So how did Santa help me lay hands on a stogie? I drafted him for a story. It's a little trick I now recommend to anyone looking to sell genre short fiction: Go seasonal. After all, if an editor's trying to fill an autumn issue with a picture of a murdered pilgrim on the cover, isn't she going to look a little more favorably on a story about, say, a Thanksgiving turkey stuffed with stolen jewels? If she's got some space left in the issue coming out around Independence Day, isn't a story about murder-by-roman-candle at a fireworks display going to have a leg up on the competition? When she's planning her annual Arbor Day special, wouldn't that be the perfect time to hit her with a story about . . . ummm . . . the suspicious death of . . . oh, I don't know . . . a lumberjack?
O.K., maybe it wouldn't work for every holiday. But there's always going to be a market for stories with an yuletide angle. The proof in the Christmas pudding: In the years after selling that first holiday story—about a mall elf going up against a very, very bad Santa—I sold eight more to EQMM and AHMM.
Sadly, I've been too busy with other projects to write much short fiction lately, so I haven't produced a Christmas story in quite a while. But, hey—so much the better for you! Now there's even less competition for those precious Christmas issue slots. Here's how to nab one.
Each time I sat down to plot out a new holiday story, I started (appropriately enough) by making a list and checking it twice. The list: things I associate with Christmas. What I was checking for: ways those Christmasy things could be tied to a crime. My first list might have looked something like this.
Mall Santas
Caroling
"Secret Santa" gift swaps
Fruitcake
"Black Friday" store stampedes/toy crazes
The North Pole
Charles Dickens's "A Christmas Carol"
Kids trying to find Mom's stash of hidden presents
Christmas Eve church services
If words like "caroling" or "fruitcake" don't seem especially evocative of dark deeds and fiendish schemes, that's O.K. With a little imagination, even the most innocent thing can be made to look menacing and malicious. Just ask Glenn Beck. Ba-da-BING!!!
Actually, I've never gotten a good vibe from fruitcake anyway, so let's use caroling as our example. It's a charming tradition. [CUE OMINOUS MUSIC] Or is it? Total strangers knock on your door, and when you answer they start demanding, en masse, something called "figgy pudding"?
"We won't go until we get some," they bellow at you, "so bring it right here!"
Well, obviously, this is extortion—a yuletide shakedown.
"All I've got are Fig Newtons," you sob. "Please . . . just take them and go!"
But noooooo. Now the bastards want a "cup of good cheer." Who are these maniacs?
That question became a story of mine: "Naughty." In it, the carolers weren't going door to door to spread the Christmas spirit (or strong-arm their way to dessert). They were crooks scouring a ritzy neighborhood in search of a mark—a man they knew had some particularly pricey items under his Christmas tree.
See how easy it is? And there are plenty of holiday staples I never got around to writing about. I always wanted to hide a body in a snowman, for instance. And wouldn't an icicle have made a great, undetectable murder weapon back in the days before everyone went all CSI on us? And aren't there certain songs that could drive an otherwise stable, peaceful person to murder? "I didn't mean to do it, Lieutenant. But he just wouldn't stop singing 'Grandma Got Run Over by a Reindeer,' and before I knew it the garland was around his neck."
It would be great if those stories popped up in EQMM or AHMM one of these days. And if they do, I hope they have your name on them.
Because then you'd owe me some money. Well, maybe just a shout-out on Twitter. At least remember to send me a Christmas card.
Saaaaaaaay, Christmas cards! No one's done those yet, so far as I know. Hmmm. Maybe a guy's murdered while taking his cards to the post office . . . and he I.D.s his own killer by clutching the card he was going to send her? Nah. Too corny. There's got to be another angle, though.
I leave it to you to find it.
Happy holidays!