Happy Thanksgiving, everyone. For today's Bandersnatch, I've invited my son, Sam, to contribute an essay he wrote for school. His Language Arts assignment was to write—in letter form addressed to the teacher—an account of a book he read. I had recently recommended The Deep Blue Good-by (as the first of the "Travis McGee" novels by John D. MacDonald) to him. I had a feeling he'd like it, but had no idea how much. In fact, I'm almost embarrassed at how enthusiastic his praise was. I'll let him speak for himself. Below is the report as he wrote it. As an indication of his tenacious independence, Sam wouldn't let me proofread, or even preview, his report before submitting it to his teacher. Sam is thirteen years old. —Steve Steinbock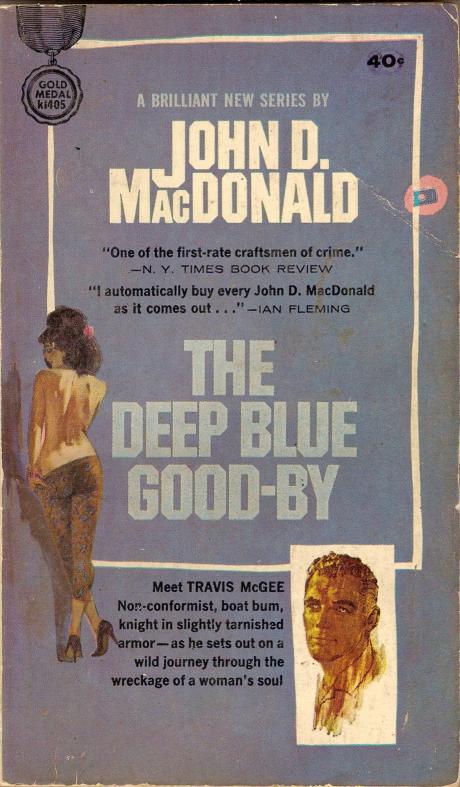 DEAR MRS. SMITH
by Sam Steinbock
Dear Mrs. Smith,
The most recent book I have read this school year is one that you have probably never read. It is called The Deep Blue Good-by by John D. MacDonald. It falls in the genre of Murder Mystery. Not only is this book well written, but it is amazingly developed and well thought through all the way to the last words of the last chapter. It is the first of many books in the "Travis McGee" series, which are all books based on a man named Travis McGee, or as he prefers to be called, Trav.
I'll tell you a little bit about Travis McGee. He is what really gives the Travis McGee novels their oomph. You see, what Trav does is quite complicated. I will try to put it as simply as possible. What Travis does is he finds things that people have lost. Most times this means money. Other people, let's say person y, had money that they deserved but that money was taken away from them by person x. Then Travis comes in, person z, and he takes the money away from person y and returns it to person x for a fee, a fee of half the retrieved amount. This may seem like a lot, but the way he and person x see it, is that half of something is better than nothing of nothing.
In this specific story, Mr. McGee is asked by his friend to help out one of her new employees. This employee was not a very wealthy woman, and as it turned out, her father had stashed away a huge amount of money, but he had gone to jail and never been able to tell his family where the money was, or even that there was any money at all, before he died. But then a man came, telling the family that he knew their father/husband, and tricked the family into helping him find the stash, without the family even knowing. Now Trav just needs to find the man, and find the money.
The way John D. MacDonald writes is amazingly. He does so many things right. The thing he does that stands out the most is how he puts so much thought into the character Travis McGee. You really know what's going on in his head. You could almost argue that you knew everything about him if the question were presented. You really know what's going on in his head. Yes, I understand that most authors have a way of doing this, but I have never seen it done as well as John MacDonald does it in his writing.
The setting is also a key for greatness in this book. This book takes place in Florida, and for almost every scene I can remember, he is along the water. In fact, for many points in the book, he is cruising out in the ocean. You can tell that John D. MacDonald must have loved Florida, because the way he writes about it blows me away. He uses great description and development of the setting that I can picture the place so well. He doesn't even have to take a long time on it, like some authors do. Some authors take a huge amount of time explaining the setting and trying, sometimes failing, to get you to picture the setting. But when it comes to John, he just says a few words and you instantly can picture everything around him.
One thing that I absolutely loved when reading The Deep Blue Good-by was that the ending didn't leave me still thinking about some things that were missed or never explained. There was some sadness at the end, but when getting past that, the ending was fulfilling of its purpose. To wrap up the book and not leave the reader puzzled by anything. This was truly fantastic, because many of the previous books I read end up screwing up on the exact thing that really leaves you with a final impression of the book.
This book is like nothing I have ever read before. I believe it would be impossible to connect it to anything, literary or worldly, based on the fact that the ideals of this book are virtually unheard of by the real world (or at least most would think). It is amazing how John D. MacDonald just throws an idea out there and explains it so well that you can just grasp it and believe it from the start of the book. No Fictional book that I have ever read with such an outlier idea like this has ever grasped me so quickly. There is no way to describe or compare.
I absolutely loved this book. I would rate it of the utmost greatness, giving it a 10 out of 10. With all the great things that John D. MacDonald does, and how great a character Travis McGee is, this book has matched up with all the best books I have ever read. In fact, as I was writing this letter, I was also talking to my dad about it. As you may know, My dad has been out of town for over four weeks, and during that four weeks, he went to the World Mystery Convention, called Bouchercon. When his friends heard that I was reading The Deep Blue Good-by, they all thought greatly of me and said, "Man, you are raising a child the right way!"
If I were to recommend this book to anyone, it would most likely be adults, for there is a lot of content that is, putting it lightly, not at all what so ever kid friendly. Even so, this book is amazing, And anyone reading it would love it, Especially you!
Sincerely,
Samuel Steinbock