REMEMBERING LEN
by Steven Steinbock
The mystery fan community lost a pioneer earlier this week. Len Moffatt, of Downey California, died early Tuesday morning at the age of 87. His wife, June, said that it was just a few days before their 44th anniversary.
If you recall, last week for my Criminal Brief column, I posted my son, Sam's review of John D. MacDonald's The Deep Blue Good-by. Remembering that Len was a huge John D. MacDonald fan (from 1965 to 1999 he and his wife June published JDM Bibliophile, a fanzine dedicated to MacDonald's work), and recalling that the Moffatts met Sam when we went to dinner together at the 2004 Left Coast Crime Convention in Monterey, I dropped them an email. I few hours later I received word from June that Len was in the hospital, complaining about his liquid diet.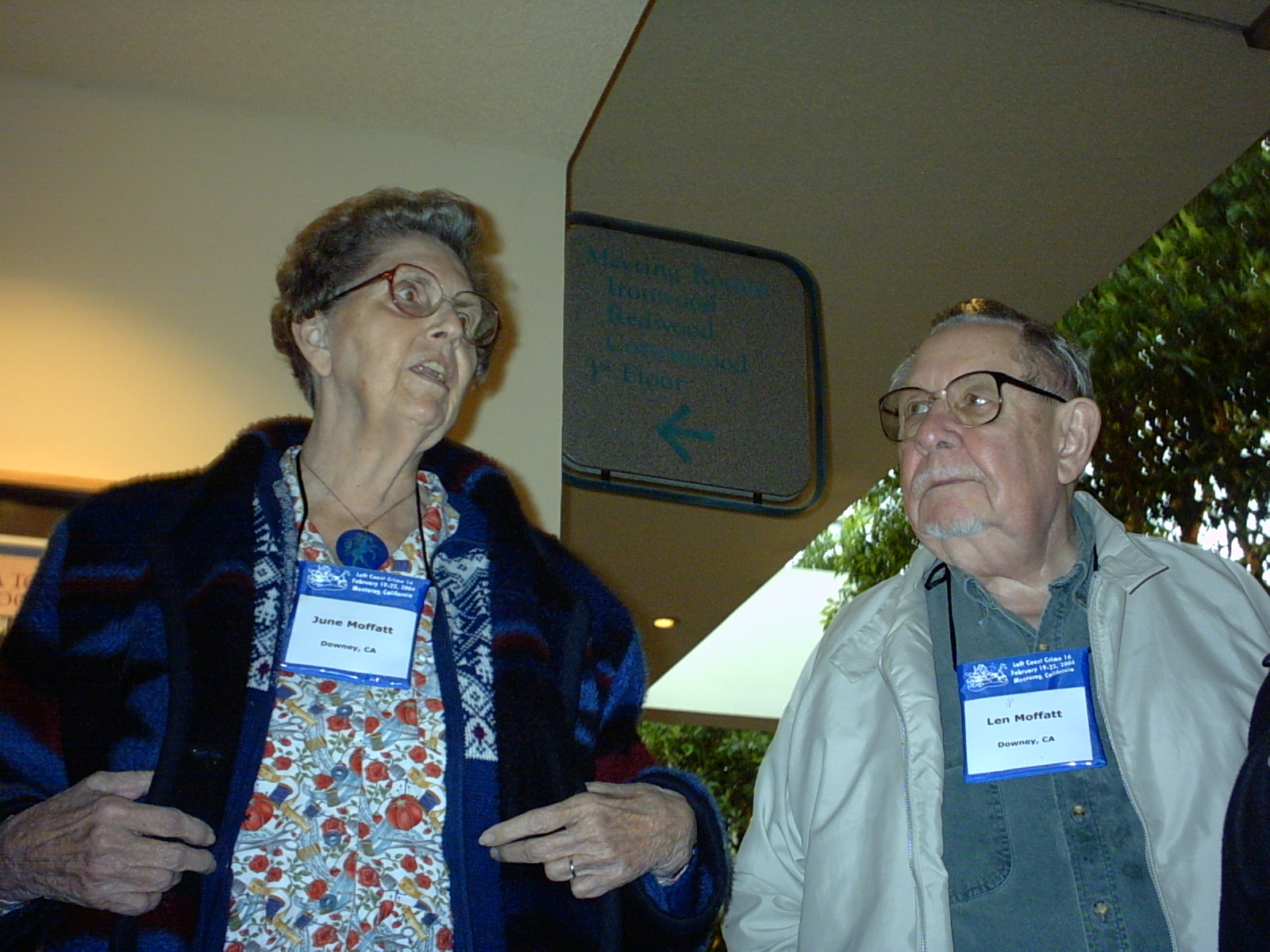 The above photo was taken by my son Nate, who was ten at the time, of Len and June Moffatt at the 2004 Left Coast. Note the unique kid's-eye-view angle.
Len was born in 1923. Throughout his life he loved all aspects of popular culture. It was through his involvement in the Science Fiction fan community that he met his wife, June. The two of them were always together, and seemed to share every area of interest. They were involved in Sherlockiana (through the Blustering Gales from the South-West), film (regular attendance of Cinecon), and more science fiction societies and clubs than I could list. I mentioned their work for more than 35 years on John D. MacDonald scholarship. I should add that June is the semi-official bibliographer of Edward Hoch's writings. For many years she published and updated a comprehensive and cross-referenced list of every story Ed ever published. I got to know Len and June primarily through DAPA-EM, a small international group of mystery fans who shared fanzines for the past thirty-five years.
The Birth of Bouchercon
Anyone who has attended a Bouchercon knows how central the bar is to all the action. What most people don't know is that Bouchercon was born in a bar. It was at a Science Fiction convention in Santa Monica, California in July 1969. Len and June were sitting at the bar with mystery writer/reviewer Anthony Boucher and fellow fan Bruce Pelz. Someone said, "I wonder if it's time to put on a mystery convention." Plans began to move forward, but Boucher died before the convention could be realized. Instead they named it after him.
There had never been a Mystery convention before. Science Fiction fans had been gathering for conventions since the late 1930s. But Most people in the know knew that Mystery people didn't have the same enthusiasm as their SF counterparts, and a Mystery convention was unlikely to succeed. But the Moffatts and a few other faithful decided it was an experiment worthy of trying.
On Memorial Day weekend, 1970, according to mystery historian Marv Lachman, eighty-two fans gathered at the Royal Inn in Santa Monica. The Moffatts served as liaisons with Mystery Writers of America. They were extremely active behind the scenes. Bouchercon might not have been a success had it not been for Len and June.
Huevos Rancheros
A few years ago the Moffatts and I began talking about the Mexican egg dish known as Huevos Rancheros. They were on an ongoing quest for the perfect Huevos. I told them that I'd tasted my best Huevos when I lived in Los Angeles many years earlier. They informed me that they were surprised to find excellent Huevos Rancheros at their local IHOP. I checked the IHOP here in Maine, and it wasn't even on the menu. (When I asked the waitress about it, she thought I was nuts). My guess is that it's a specialty of the Downey, California IHOP and unique to restaurants in the southwest.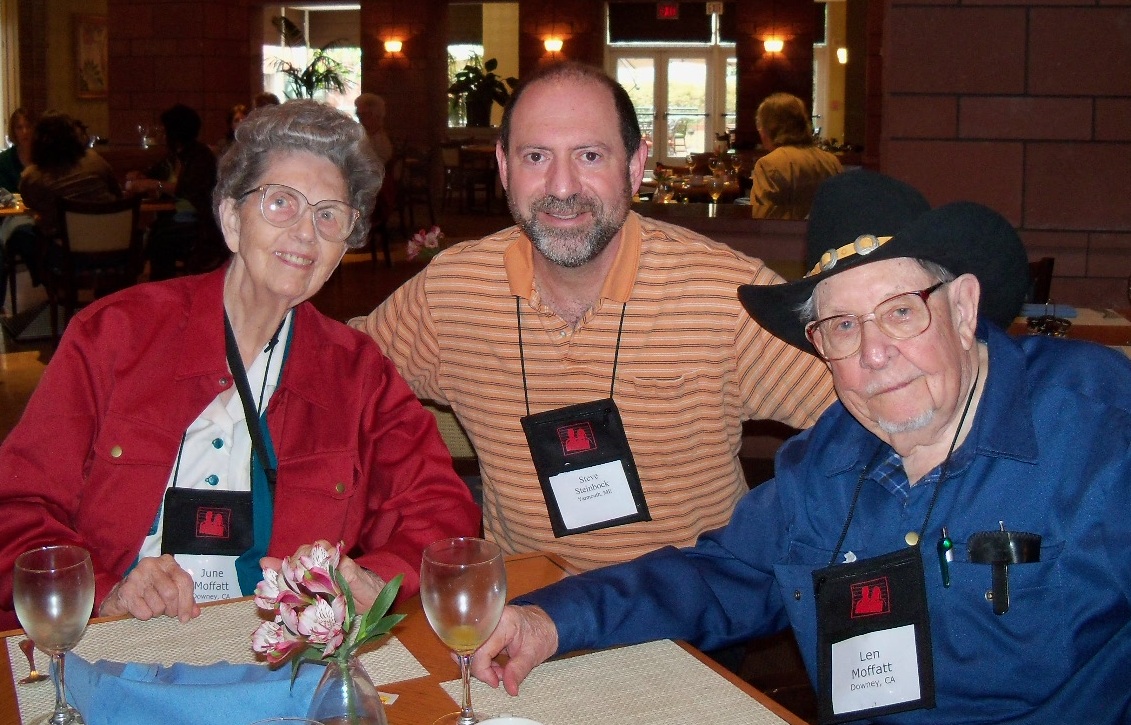 For almost a year prior to the 2010 Left Coast Crime Convention in L.A., the Moffatts and I planned an outing to seek out new Huevos Rancheros and to boldly go where no fan has gone before. The above photo was taken at the hotel restaurant which was as far as we got. (Len and June were both relying on walkers at the time, so we couldn't boldly go too far).
My thoughts go to June, their children, and their grandchildren. I lost a friend with Len's passing. But it's no exaggeration to say that the mystery community lost a pioneer and a visionary.