WIKILICKS
by Leigh Lundin
Today: Plotting, intrigue, war games, crimes, and confusion. If you ever wanted fuel for your hi-tech thriller, take notes. In this intrigue, the so-called good guys do bad things and the so-called bad guys do good.
As usual, read 'allegedly' before every sentence and all parties are considered innocent until proven guilty.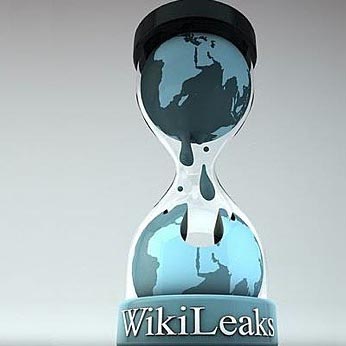 WikiLeaks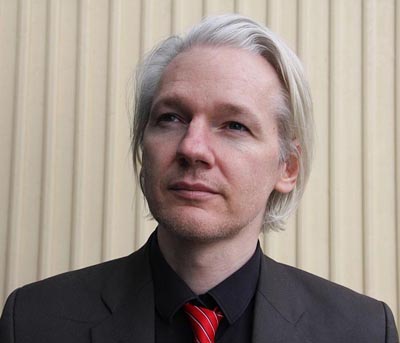 Julian Assange
Those Who Live by the Sword …
You're probably aware of WikiLeaks and vaguely know they received classified government documents. They've published thousands to date, embarrassing government officials across the planet. You might remember its elusive director, Julian Assange. You may even know that Assange was arrested last August when two Swedish women claimed sexual assault. Charges were dropped the next day, but three weeks later, following a European arrest warrant, Swedish authorities reopened the case. An extradition hearing is pending, but you ain't heard nuthin' yet.
You don't have to admire or loathe Mr. Assange to appreciate the delicious irony when he objected to his personal information being released. That aside, were the accusations accurate? Did Assange fall into a honey trap? Was it a plot to bring him down?
Wiki-Tiki-Tavi
In the beginning, WikiLeaks' goals were admirable. It was founded by a confederation of technologists, mathematicians, social engineers, and dissidents (Chinese and African) as a whistleblower site. If you discovered wrongdoing in your company or your government, you were invited to submit evidence that would be evaluated and published if it could be verified.
From the beginning, the site was both castigated and honored.
In 2008, The Economist awarded WikiLeaks its New Media Award.
In 2009, Amnesty International UK gave it their Media Award.
In 2010, the New York City Daily News named WikiLeaks the top organization "that could totally change the news."
In 2010, Time Magazine named Julian Assange the Readers' Choice Person of the Year in 2010.
In 2011, the British Information Commissioner honored WikiLeaks, saying they "empowered citizens."
In 2010, following videos of erroneous air strikes, WikiLeaks began publishing material from classified US government documents.
At that point, many supporters drew the line.
Could these documents, edited and redacted as they were, hurt us? Harm allies? Aid enemies? Help terrorists?
WikiLeaks has recognized that in an effort to do right by their lights, they might one day find "blood on their hands." To be fair, WikiLeaks asked the Pentagon and human-rights groups to help remove names from documents to reduce potential harm caused by their release, and they were turned down by both. Assange had burned through the good faith good people extended him.
Battle Lines
Much of WikiLeaks' greatest support comes from American libertarians including Ron Paul, Connie Mack IV of Florida, and Daniel Ellsberg of Pentagon Papers notoriety. Another backer is constitutional and civil rights lawyer, columnist, and writer Glenn Greenwald.
But others disagree. WikiLeaks angered both the far right and far left, resulting in peculiar conclaves of cyber-attacks against Wiki servers.
PayPal, MasterCard, Visa, and Bank of America refused to accept donations for WikiLeaks, claiming such donations might be illegal. As constitutional attorneys pointed out, their refusal to process legitimate payments might itself be a violation of law. But, BankAmerica had a deeper motive… WikiLeaks possessed BoA internal documents that weren't pretty to investors or customers.
Follow the Money
America's largest bank began life in 1904 as Bank of Italy and later acquired Banca dell'Italia Meridionale. For this reason, some associate the Bank of America (renamed in 1930 following another acquisition) with the mafia. Whether or not there was ever a link, Bank of America felt documents WikiLeaks obtained would be damaging if exposed.
Perhaps thinking they might have a common enemy, BoA asked the Department of Justice for help. Rather than aid the bank, Justice recommended they consult a law firm, Hunton & Williams.
Since WikiLeaks hadn't yet done anything illegal, Hunton & Williams and Bank of America allegedly settled upon a "dirty tricks" collaboration. This bag of baddies would include false documents, disinformation, and sabotage. They also decided to "disrupt" author and attorney Glenn Greenwald (mentioned above) to make him consider his own "survival".
Toward that end, they brought in three other companies, Palantir Technologies, Berico Technologies, and HBGary Federal, together called 'Team Themis'. Documents further suggest planned collaboration with the national level Chamber of Commerce involving a $200,000 fee for a limited "smear campaign" against Chamber critics (Change to Win, Chamber Watch, Think Progress, and the SEIU) and $2-million for a larger "disinformation campaign against progressives".
An old saw says only the finest of lines separates cops from crooks, and it's certainly true in WikiLeaks versus Bank of America. A law firm, the nation's largest bank, and three corporations prepared to break the law to wreak vengeance upon an organization that was technically not guilty, even if it wasn't innocent.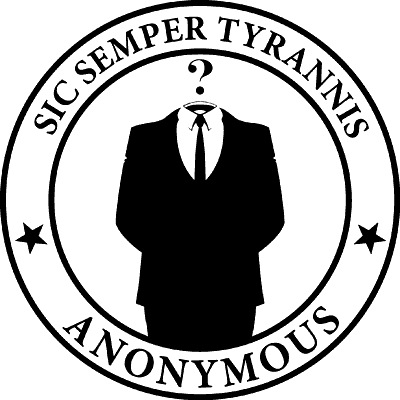 Anonymous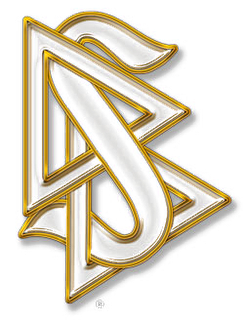 Scientology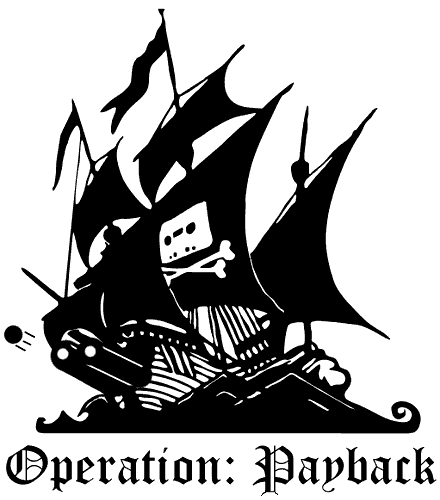 Op Payback
Anonymous
Another group surfaced, one called Anonymous. I first bumped into Anon on the streets of Orlando when members in black tights held a peaceful protest outside a Scientology recruitment office on Colonial Drive. Scientologists called the police who pointed out that picketing was perfectly legal in Orlando, and have a nice day.
People differ whether Scientology is a church, a corporation, a cult with a heavy hand toward critics, a criminal organization not above breaking into government offices and homes, or a zany bet between science fiction authors gone horribly wrong. It's safe to say Anonymous took one of the latter views.
Anonymous appears to the outside world as a loose confederation of 'hactivists', activists comprised of computer hackers and crackers. Members claim ages of 16 through 66 and encourage an aura of anarchy, although a closer look offers a different story. They've waded into frays in China, Libya, and Yemen to help political dissidents. When not only extremists attacked WikiLeaks but corporations piled on as well, Anonymous sided with WikiLeaks by going after their attackers.
Life Gets Interesting
HBGary specializes in computer security and consider themselves one of the top in their field. They find civil liberties a trifling inconvenience whether operating on either side of the law. HBGary Federal's CEO Barr wrote Palintir that security companies should track and intimidate people who donate to WikiLeaks. "Security firms need to get people to understand that if they support the organisation we will come after them."
Although associated with McAfee, HBGary has long been thought to have more than an academic interest in computer viruses. Recent revelations hint that a slithery HBGary may be willing to exploit viruses for customers' purposes. They also worked up 'Magenta', a Windows 7 'rootkit', a software exploit that allows them to invade anyone's computer with little or no trace.
As the Bank of America / Hunton & Williams consortium ramped up, HBGary decided to infiltrate, undermine, uproot, and expose Anonymous… for profit. In fact, they intended to sell information about Anonymous' upper echelon to the FBI. Before bringing down WikiLeaks, they planned to destroy those pesky Anonymous urchins. A dozen disorganized dudes 16 to 66? No sweat. They were going to 'pwn' them, hacker 'leet speak' for "own their ass".
Clock Cleaning at 13:37
CEO Aaron Barr thought he'd uncovered the hackers' identities and like rats, they'd scurry for cover. If he could nail them, he could cover up the crimes H&W, HBGary, and BoA planned, bring down WikiLeaks, decapitate Anonymous, and place his opponents in prison while collecting a cool fee. He thought he was 88% right; he was 88% wrong.
HBGary, super-duper security firm hardly knew what hit them. Within hours, Anonymous pwn'd them, taking over their computers, their web site, their eMails, their projects, and databases. Much of the takedown is technical or cast in hacker leet-speak, but for the technically inclined, the spy-vs-spy is fascinating.[1][2][3][4][5][6]
In the fallout, Anonymous uncovered the BoA/H&W plot hatched against themselves, WikiLeaks, and reporter Glenn Greenwald. Not long after, Penny Leavy, humiliated president of HBGary, found herself in an Anonymous IRC chat room begging for mercy.
HBGary Federal's feckless CEO Aaron Barr, faced with humble pie instead of 'delicious cake' (leet-speak for fruits of victory), tried to spin the notion Anonymous forged 71,802 eMails plus documents, but reactions from other co-conspirators suggest the eMails are genuine.
Both Palantir Technologies and Berico Technologies announced they were severing their relations with the HBGary, Bank of America, and H&W law firm's sabotage 'project'. Although they didn't admit to anything, they promised not to do it again, "severed all ties with HBGary going forward," reaffirmed their belief in free speech, and apologized to author/advocate Glenn Greenwald.
Lawyers within Hunton & Williams could face disbarment for what Forbes calls their "Nixonian campaign".
Chamber of Horrors?
Thanks to holes in the released documents, I don't completely grok the connection, but eMails leaked so far don't quite implicate the Chamber of Commerce in the BoA plot; rather the Chamber reportedly approached the firms involved to implement a similar plot for them.
The CoC refutes accusations and disowns any planned smear and disinformation campaigns, but they deny culpability in a most bizarre way. As they distance themselves from the wreckage, they blame seemingly uninvolved "progressive organizations" for engineering this debacle as a "smear campaign" against them.
A Healthy Dose
I have mixed feelings about WikiLeaks or more accurately I have sour feelings about Assange. We'll survive quite nicely, thank you, and some things our State Department said about other world leaders must be heard. Unlike the British military, the Pentagon addressed a few issues that needed to be taken care of. The jury's still out, but it's possible we may experience a net benefit.
As for Bank of America at the moment, I don't care what their dirty laundry or dirty money might be. They did wrong. What they instigated (or at least agreed to), went beyond the pale.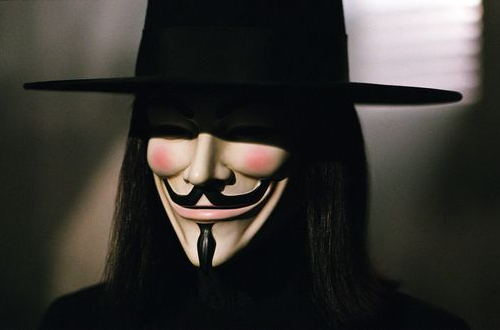 Anonymous V
Anon. Anon
As for Anonymous, I'm going out on a limb with an unpopular opinion and suggest the bandits perform a useful function, not only combatting tyranny in China, Lybia, Myanmar, and Yemen, but also in a free society.
Can they screw up? Of course, and if they go too far, they'll pay the price. They goose the body politic when it becomes too fat and complacent. They may not obey the law, but they follow a code. If we listen very, very closely, we can hear a tiny ping of conscience.
As I wrote above, a thin line separates the good guys from bad guys. As this article demonstrates, it's not always clear who is who. In my former life, I specialized in operating system internals and decoding machine code. In a handful of challenging cases, I went after bad guys who defrauded banks, regrettably not banks who defrauded the public. When the game is afoot, the battle becomes an exhilarating combination of chess and poker because no one at this level lacks brains.
And that line is so, so fine …