BOWLED OVER
by Leigh Lundin
Earlier this week, I read news about a freshly minted teen tenpin champion that suprised me as I read his story.
So, you might ask, how does a story about Tim Wolchko, a student and bowling hero, relate to crime? Here's how.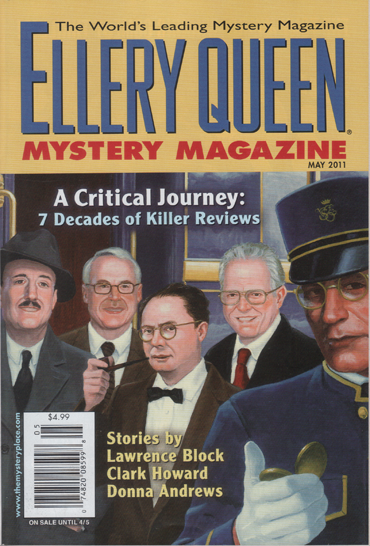 Wolchko's feat provides interesting sports news, but by coincidence and thanks to the impeccable taste of my dazzling editor, Janet Hutchings, a parable called English appears this month in the May issue of Ellery Queen. English is about an unusual champion bowler who happens to use "a two-handed grip … in an odd cycling motion" down the boards, and a man who deals with crimes large and small his own way.
Until I saw Wolchko's video this week, I thought two-handed bowling was my own flight of fancy. I admit I'd never seen or even heard of a two-handed bowler past the age of five, but in recent days I've received eMails about champion two-handed bowlers, including an article sent from Australia.
The Slow Lane
In the spirit of full disclosure, I've bowled twice in my life, once in my teens and again a decade later in Massachusetts. You might not count my second attempt. New England sneers at fat ten-pins and huge sixteen pound bowling balls. "How could you miss?" they sniff haughtily. They roll a four pound 4½-inch ball at considerably thinner candlepins and duckpins. (According to those harsh guys at the International Candlepin Bowling Association, their highest sanctioned score is 245 out of a possible 300.)
In the past year, I noticed bowling enjoying a resurgence, but what in my vast ignorance of the sport qualifies me to write a fable about it? What would make any writer dream up a crime story about bowling?
Self-Made Man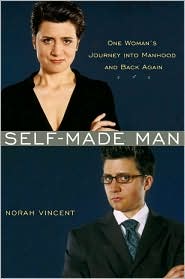 Norah Vincent
Norah Vincent's Self-Made Man should be on the reading list of every author who wants to get inside the head of the opposite sex.

In the tradition of Black Like Me, Norah spent a year and a half as a man and she's one of the few people to reveal the truth: most writers get it wrong. Not out of malice or wrongheadedness, but because we perceive one another based upon our internal models and experiences.

One of Norah's first steps was to join a men's bowling league. The tale is humorous, touching, and sometimes tender. One of the wry moments comes when her bowling buddies– little knowing– tell her she bowls like a girl.
Get the Ball Rolling
'Dream up' in this case was literal. I find ideas for tales in that twilight state before drifting off to sleep or when waking. I literally dreamt the tale. I scribbled the story down and then plied the internet to research bowling, learning weights and physics of bowling. When it came to light my friend Steve had been a high-end roller in upstate New York, he read over the story and pronounced no glaring errors.
It seemed to me a two-handed bowl would give my hero a control edge, adding a boost of english. I didn't come across mention of two-handed bowlers, but I've since confirmed two-handed bowlers can as much as double a ball's spin up to 800 RPM. Two hands may signal the wave of the future.
Striking Influences
The story didn't percolate entirely on its own. First, I'd watched a documentary about immigrants and bigotry. About the same time, I read Norah Vincent's bowling chapter in Self-Made Man, which likely influenced my creative process. The result sprang almost fully formed, rather than the usual incremental style.
Although the story's only three pages, it's character driven, literally character– about one's moral center– bigotry, kindness, and risk in the face of danger. Besides the heroic, I appreciate people rehabilitating themselves, even if it's sometimes self-serving, the reason Liam and his skanky girlfriend grew beyond their small-mindedness. That bowls me over.
King Pins
Congratulations to Tim Wolchko, Matt Jones, American pre-teen Chaz Dennis, Australian Jason Belmonte, Finnish Osku Palermaa, pretty much the entire Bolivian Federation, and other bowlers who dare to be different– those who find their own nonconformist way of winning. English is a tribute to that spirit.