THE QUICK READER
by Melodie Johnson Howe
I discovered in my library a very small paperback book called a Quick Reader titled Time Out for Murder. I can't remember where I bought it. Inside are four mystery short stories, each preceded by a great illustration.
From the photograph you can see how small the Quick Reader is compared to a regular sized book. It's almost the size of an iPhone, about 3"x 4". In fact when I read the short stores it was like reading on my iPhone only with the feel of very old toast-colored paper between my fingers. Even the name Quick Reader sounds like the Kindle where you can download thousands of books on it. But this only holds four short stories and is a comforting gem.
The publishers of Quick Reader were Royce Publishers in Chicago, Illinois. On the inside of the back cover is a list of authors and titles produced in the Quick Reader form. Not only do they have short stories by De Maupassant, Benchley, Parker, etc. but they also have novels such as Nana by Zola and Dickens' A Tale of Two Cities. I don't know, but I would assume they're abridged. Also listed is a Ben Hecht novel, The Florintine Dagger.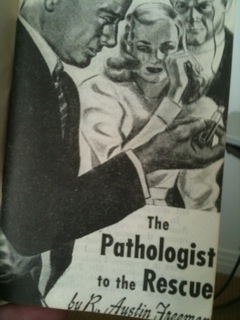 This first short story in the Quick Reader is "The Pathologist to the Rescue," by R. Austin Freeman, featuring the pathologist Dr. Thorndyke. Since it was written in 1927, Dr. Thorndyke does not have the use of DNA to catch a murderer. But using the clue of a disease found in a blood sample left at the scene of the crime, he is able to detect what happened. Today Dr Thorndike would be a character on CSI or Bones.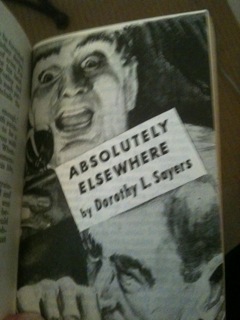 The second story is titled "Absolutely Elsewhere" by Dorothy Sayers and features Lord Peter Wimsey. It's a locked room mystery where the use of telephones is very important. When Parker says to Wimsey that all the suspects where elsewhere, Wimsey gives this priceless response:
"What do you mean by 'elsewhere'?" demanded Wimsey, peevishly. Parker had hauled him down to Wapley, on the Great North Road, without his breakfast, and his temper had suffered. "Do you mean that they couldn't have reached the scene of the murder without traveling at over 186,000 miles a second? Because if you don't mean that, they weren't absolutely elsewhere. They were only relatively and apparently elsewhere."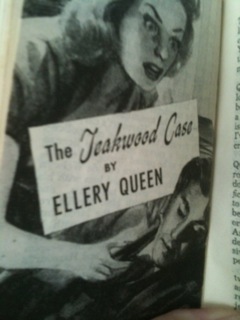 "The Teakwood Case" by Ellery Queen is the third story. There is a very surprising moment in the story, and along with Sayers', it is one of the best.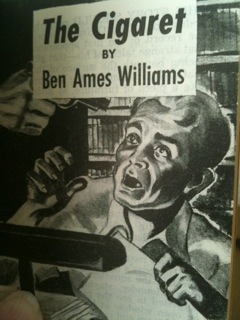 The fourth story is "The Cigaret," by Ben Ames William, an author I had not of heard of before. There is glaring serendipity in the opening page; but what is noteworthy about this story is that it follows the murderer planning and executing his terrible deed and how an observant policeman catches him. I could not help but think of Colombo while I was reading it.
If any of our dear readers, dear book collectors, and dear writers know anything about the Quick Reader I would love to hear your comments and learn more about these charming little books.