WHERE THERE's a WILL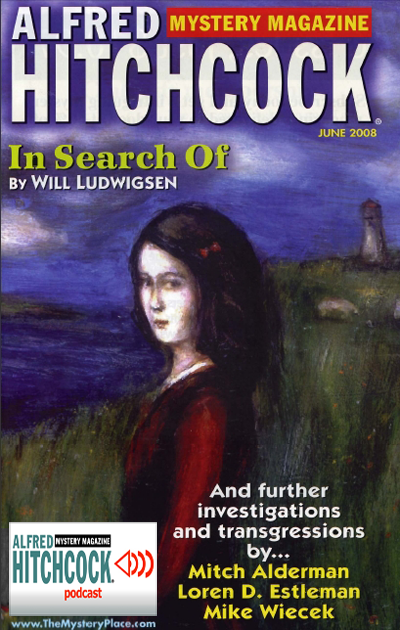 by Leigh Lundin
Before you continue, listen to this.

Really.
I'm not sure how I missed the June 2008 Alfred Hitchcock, but I'm glad I did, because I stumbled across the AHMM podcasts. Their introductory offering was a little recording called 'In Search Of'.
For a bachelor, solitary meals are more about fuel than food. I sometimes settle in a living room chair with breakfast in hand and listen to an audiobook. One day I started iTunes playing AHMM's first podcast as I began my cholesterol assault.
I paused, puzzled that the opening lines seemed more science fiction than crime. Had Dell mixed up an Asimov or Analog recording?
No problem. Like my CB colleagues, I cut my teeth on sci-fi and continued listening.
But… my eating slowed.
I forgot my fork. And the food.
The story grabbed me.
I'm not sure how it happened; drops of moisture collected in my eyes, probably from too much pepper in my food. (If anyone claims they were tears, I'll deny it and kick their ass.)
I did something I don't ordinarily do. I listened again. And again. And a couple more times. Unlike other audiobooks, readings, and radio plays, I didn't delete it from iTunes.
Knowing I wanted to write an article about it for CB, I pondered what to say. I thought 'In Search Of' was kind of an instant classic. The story was bloody brilliant and so unique no one would be able create anything quite like it.
I worked my way around to wondering about the author, Will Ludwigsen, and I located his web site. Who could better talk about the story than its creator?
So I contacted Will and offered him fame and fortune as only CB can. He generously acceded and created today's article.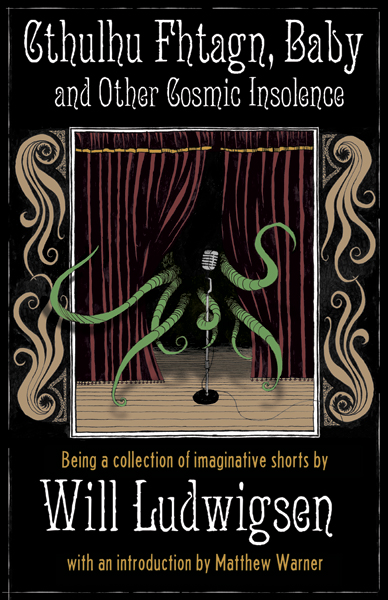 Note that throughout, he speaks of weirdness. Funny, but I don't find it weird at all. It all seems normal to me.
In exchanging eMails, we discovered we shared many of the same influences, Lovecraft, Poe, Doyle, Shirley Jackson and Bob McCammon's Boy's Life, and even faded wallpaper. Will's fiction has appeared in Weird Tales, Cemetery Dance, Alfred Hitchcock's Mystery Magazine, Strange Horizons, and the Interfictions 2 anthology. He also has a book out, Cthulhu Fhtagn, Baby.
Will and his partner Aimee Payne live in Jacksonville, Florida. He's a graduate of the University of Southern Maine's Stonecoast MFA program as well as the Clarion workshop. He blogs frequently on applied weirdness at his web site.
If you haven't listened to the powerfully understated recording by the voice actor, Daniel John Kelley, listen to it before continuing.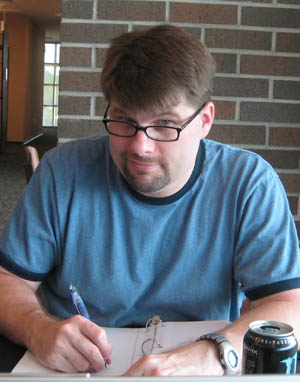 In Search Of
by Will Ludwigsen
I'm not good at explaining what kind of writer I am, so much so that I'm reluctant to even admit I am one. The first thing people ask when they find out is, "What do you write?"
And here I stumble and stammer. If I say "horror," the person says, "Oh! Like Stephen King!" If I say "fantasy," the person says, "Oh! Like Tolkien!" If I say "dark fantasy," the questioner squints at me and assumes I'm a pornographer.
If I told the truth, I'd say "weird mysteries," and my story 'In Search Of' would be the prime example.
In the late 70s and early 80s,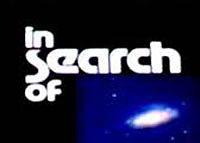 I grew up watching the In Search Of television show for which the story is named. In it, host Leonard Nimoy guided credulous viewers (especially me) through investigations of UFOs, Amelia Earhart, ghosts, the Bermuda Triangle… you know, all the good stuff. I particularly remember being scared to death of the Jim Jones episode, ending as it did with the image of Jones's face on a black background as actual recordings played of him pleading for his followers to kill themselves.
Creeeepy.
When other little boys took home books from the elementary school library about sharks and motorcycles, I took home ones about missing people and poltergeists. I knew more about the Manson family than the Brady's. I was the only nine-year-old in my town with elaborate theories about D.B. Cooper. My nightly prayer in terrifying Florida was, "Dear lord, please let there be no bugs in my bed and no vampires coming to get me. Amen."
Where this interest in the strange came from, I'm not sure. I didn't exactly grow up in the most peaceful and stable household, so I wonder if I was searching for signs of magic and mystery. My life was weird in all the wrong ways, and I think I wanted there to be meaning, intelligence, and imagination behind the weirdness. Behind the fear, really.
So I fell in love with odd stories, The Twilight Zone and Alfred Hitchcock Presents, Edgar Allan Poe and Shirley Jackson, Arthur Conan Doyle and Robert Bloch, all of them structured and plotted to make the shaky foundations of reality seem a little more… purposeful.
I didn't have a name for the kinds of stories I liked to read (and, increasingly, to write), but I knew certain names were reliable. Alfred Hitchcock was one of them, and I always begged my mother or grandmother to buy me Alfred Hitchcock's Mystery Magazine. It was the November 1985 issue that changed everything.
Inside, I found a story by Nancy C. Swoboda called "Roomer Has It." In it, a man recently paroled from prison moves into a curious room in a boarding house with faded cherub wallpaper. One night over drinks, he brags to his hosts about getting away with murder before going off to bed. They sigh, regretful, and begin reading from an ancient book. The next morning, they go into the man's room, see that the cherubs on the wallpaper are vivid and fat again, and pack up the things of the now-gone boarder.
The last line of the story reads something like, "Look, Thaddeus! They still won't eat the buttons!"
Creeeepy. And wonderful.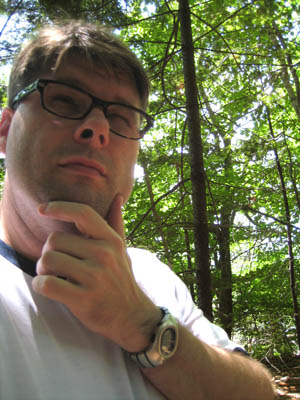 I've never found Nancy C. Swoboda but I owe her a great debt. It was her story that rang my mental bells so precisely that it occurred to me that people wrote these things on purpose, mostly for other weirdoes like themselves. It awakened me to the possibilities of writing about the things I loved, not the boring literary stuff we had to read in school.
It gave me license to be strange. the show In Search Of started me consuming the weird, and Alfred Hitchcock's Mystery Magazine started me creating it.
In the twenty years after, I wrote plenty of strange stories and started selling them in 1999. I appeared in Weird Tales, Cemetery Dance, and– yes– Alfred Hitchcock's Mystery Magazine, usually with tales intersecting crime and the peculiar. They were eerie, chilling, and often funny… but not quite right, somehow.
In late 2006, I started writing a story with the perfect fantasy premise: "When I die, somebody had damned well better tell me what the hell was going on in Dealy Plaza in November 1963. And where D.B. Cooper ended up. And what the Loch Ness Monster was." Heaven won't be heaven if I don't get some answers.
The story's working title was "Debriefing" and I wrote it fairly quickly, over the course of a few days at most. It was easy, after all: most of those theories I already had.
A friend has taught the story to one of her classes. Many of the students wondered how I "knew all that stuff." I told her to tell them that I was a retired CIA agent.
Part of my writing process now includes what I call the "near draft," something I confuse with the completed story because I'm just so excited that it looks any good at all. I sent off 'Debriefing' to a few places and it came back with rejections.
I wasn't surprised. Something didn't feel right about it to me, either.
I'd written the story just a few short months after my divorce and a few more after completing the Clarion workshop for writers of science fiction and fantasy. I'd learned recently that art is never stopping short, that doing it right meant going all out and sacrificing something of yourself.
And that's what unlocked the story and many more since: I had to make the story personal. It had to be about someone, someone very much like me, someone interested in big mysteries because he wanted to get at the little one inside him.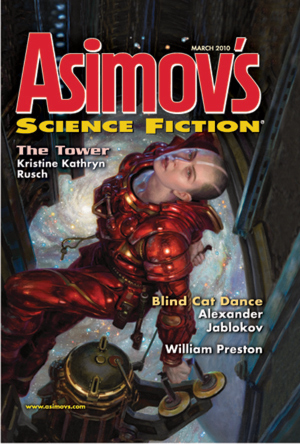 I had to make it a story only I could write in quite that way. So I rewrote sections of it, adding the real mysteries about the narrator's life, many of them details from my own and my family's.
I stopped using stories to hide from my weird and terrifying past and started using them to share it with readers who also had their own weird and terrifying pasts. I ponied up myself.
The lesson didn't quite sink in immediately, but 'In Search Of' was a turning point in my career. It got me my first cover on Hitchcock's, a great and appropriate honor. It led to other stories where I got personal, including "Remembrance is Something Like a House"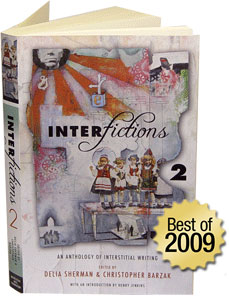 from the Interfictions 2 anthology, "The Speed of Dreams" in Asimov's Science Fiction (March 2010), and the forthcoming "We Were Wonder Scouts", also in Asimov (August 2011).
It also led to the novel I've finished recently for the University of Southern Maine's Stonecoast MFA program, one that plumbs my childhood of weird mystery for the story of an idealistic boy of the early 60s who solves crimes large and small, wide and personal, as he comes of age.
'In Search Of' was a very special story to me, and I'm glad so many people have enjoyed it. I think it illustrates once again how cosmic and personal mysteries intersect, and how the weird is truly universal.
Surprise Gifts