FAN MAIL
by Melodie Johnson Howe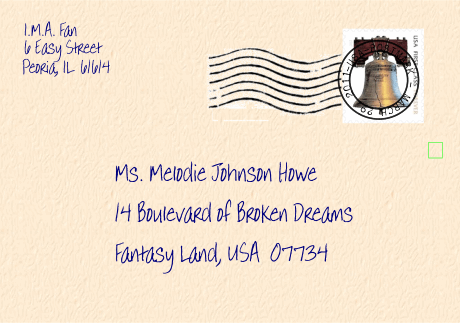 I get fan mail. Some for my writing, but most from having been an actress. Let's face it, a sexy actress. All of my movie fan mail is from men. The fan mail for my writing is from women. Most of the women want to know if there will be a new Claire Conrad/Maggie Hill novel and what's going to happen between Maggie and Boulton. They have a romantic longing for Maggie and Boulton to make love, fall in love, fall out of love, but have love. As a writer I am honored and proud to have these letters.
The emails I receive form the men share a similar kind of longing that the women have for my fictional characters, except that yearning is transferred to me. The young me. Not me now. There are only a few that verge on the overtly sexual and those I save and keep in my scrap book. Just joking. I delete them. As an actress I am honored and proud to have these letters written to me.
The young men who write say directly that they wish I were their age now meaning the age I was back then. Or they wish they had lived when I was young. One wanted women his age to look like they did back in the sixties/seventies. He didn't like the muscled arms, sinewy necks and taunt bellies. He was confiding to his fantasy about his fantasy.
These young men are not being unkind; it's difficult for them to have an ideal sexual object that in reality is old.
This came home to me recently as I was leaning over putting groceries in the trunk of my car and I heard a male voice behind me say, "great ass."
I whirled around. A teenage box boy with a wispy beard growing between his pimples stood in front of me holding onto the empty carts he'd been collecting. His mouth fell open and he gaped at me with a shocked expression that verged on terror. Or maybe horror. It was difficult to tell at that moment.
I smiled and said, "Thank you."
Flushing, he fled pushing his rattling carts at a high speed. I wanted to tell him it was okay to complement a woman on her ass even if she was old enough to be his grandmother. He might have chosen his words better, but I had entered his overly sexed, myopic world by mistake and this is what he'd say to a girl his age.
Driving home I thought about the giant abyss between our fantasies and reality. That abyss which permeates my fan letters. I also wondered if another kid who made the same mistake might act differently, not so appalled as if he'd just committed an act of incest.
Once home, I tried to look at my "great ass" in the mirror. When my husband asked me what I was doing I decided I had my own fantasy/reality problems.
The men my age who write me have a different kind of longing. Time shared. Time lost. There is a sense of lives lived. Many Viet Nam vets, who as one put it, "didn't have time to go to the moves" back in the sixties and seventies have discovered me on the internet and downloaded my movies. Some have read my books. Writing me, or the young woman I once was, gives them a freedom to express themselves and I'm grateful for that.
On the other hand an English teacher I had in junior high wrote that he saw me in the movie Coogan's Bluff. He never mentioned anything about my being a writer. Something's don't change.
Sometimes I think about taking the women who want to know if Maggie and Boulton will ever go to bed with each other, and fix them up with the men who write to the fantasy me but . . .